Winter is an excellent time to visit Israel if you want to tour the main cities, visit the top-notch museums, and experience the holiday season in the Holy Land, the place where it all began. It's less ideal for people who want to spend time on the beach or float in the Dead Sea. You can float there in winter, but it will be cold! Here's all you need to know about winter in Israel.
If you're flexible with dates, you might want to consider coming to Israel in spring – from the end of March to May. Personally, I think it's the best time to go to Israel!
Disclaimer: This post may contain affiliate links, including links from Amazon, meaning I get a commission if you decide to purchase through the links, at no extra cost to you. These links help me keep the website alive and not depend on sponsors! I appreciate your support.
As an Amazon Associate, I earn from qualifying purchases.
When is winter in Israel?
So… is there winter in Israel? The answer is yes. It's usually not like the winter in the United States or Europe because there's very little – if any – snow, but it's still a colder and rainier season. Winter in Israel officially starts in December and continues until the end of March. But with recent weather changes, there's no guarantee that it will really be wintery-cold throughout all those months.  
How is the weather in Israel in winter?
Usually, the temperature in winter doesn't drop below zero degrees Celcius, which is around 32 degrees Fahrenheit. It stays about 10-15 degrees Celcius (50-60 degrees Fahrenheit) during the day and around 5-10 degrees Celsius (40-50 degrees Fahrenheit) at night, depending on your location. If you're higher up, like in Jerusalem or Safed, you can expect colder temperatures compared to lower locations such as Tel Aviv and Eilat.
Winter is also known as the rainiest month in Israel. Sometimes, there are several days of rain in a row. But usually, the rain comes and goes. What bothers more than the rain is the crazy wind that usually accompanies it. It can really blow you away!
And what about snow? It's rare, but there is sometimes snow in the higher areas of Israel, like Jerusalem, Safed, and the Golan Heights. If snow falls, it usually doesn't stick for long. The only place that gets a nice share of snow in winter is Mount Hermon in the Golan, which usually even opens for skiing part of the wintertime.
Important! Always check the weather forecast
You will probably check the weather forecast before coming to Israel, but it's also important to check it while traveling in Israel. Sometimes, there are flash flood hazards in the desert, which are relevant not only for hikers but also for drivers who want to drive to somewhere in southern Israel. There are times when the rain is so intense that flash floods flood roads and carry cars with them. Some people died because of those flash floods. Read about one of those incidents here. So, make sure to keep updated on the weather forecast through Israel's Meteorological Service.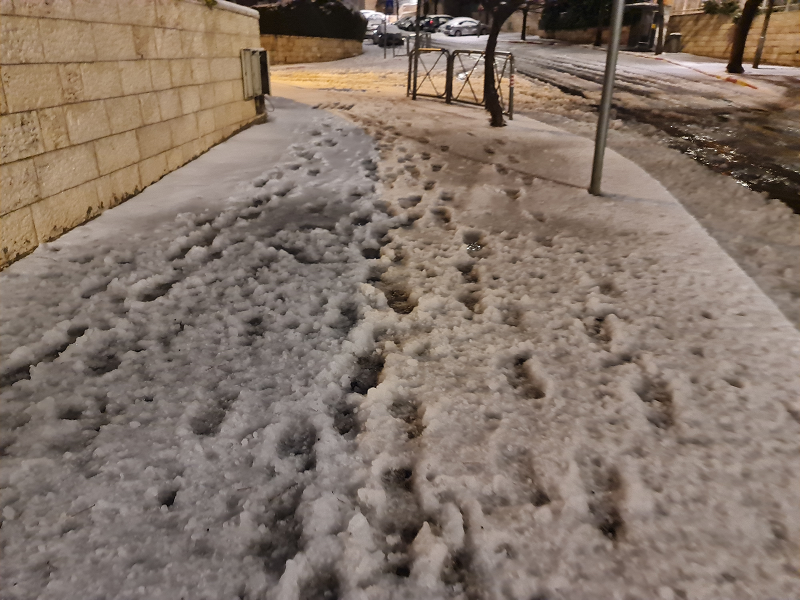 Top things to do in winter in Israel
Explore the Israeli desert
Thanks to the cooler temperatures, the winter is an excellent time to explore the Israeli desert – the Negev, the Judean Desert, and the Arava. Here are some things to do in the Israeli desert in wintertime:
Explore Makhtesh Ramon. 

One of Israel's most beautiful natural sites is Makhtesh Ramon, also known as the Ramon Crater. It's a huge erosion crater filled with stunning rock formations and colors. You can take a Jeep tour through the desert, do stargazing, or hike through its beautiful landscapes. If you want to get the most out of this area, it's best to stay at 

Mitzpe Ramon,

 a small town right next to the crater.

Visit lone farms. 

There are several solitary farms in the Negev, each operated by an individual family. Those lone farms were established to create unique tourism spots in the Negev and protect the land from illegal Bedouin settlements. While traveling in the Negev, you can stop at some of them, learn the story of each farm and about the local agriculture, and, if you have the budget – even stay overnight. Some recommended lone farms include the 

Naot Farm

, the 

Dkalim Farm

, and 

Carmey Avdat Farm

.  

Enjoy Eilat and its surroundings. 

Another ideal place to visit in winter is 

Eilat,

 the southernmost city in Israel. The Red Sea is quite pleasant in winter, so you can snorkel or dive to see the coral reef and participate in various water sports. If you like hiking, you can also drive up to the Eilat Mountains and hike some beautiful trails there, including the 

Red Canyon,

 the 

White Mountain,

 and 

Mount Solomon.

  
With all this said, the nights are freezing, so if you plan to stay overnight in the desert, I'd recommend finding a closed place and not camping outdoors. Some campgrounds offer heating solutions, but you need to make sure that's available before you book the place. 
Experience the Israeli winter in the Golan Heights
Another beautiful region you can explore during the winter is the Golan Heights, the northeastern region of Israel. In winter, the streams and waterfalls should be flowing over there. Usually, around mid-January, there's also snow on the top of Mount Hermon. Everything is green, and the views are beautiful!
Here are some things you can do in the Golan Heights in winter:
Visit the ancient synagogues.

 The Golan Heights was settled by Jews centuries ago – and today, you can visit some of those ancient settlements and synagogues, which have become archeological sites. One of the top sites is 

Ein Keshatot

 (Umm el-Kanatir).

Stop at a local winery.

 The Golan is known as an excellent region for vineyards thanks to its elevation and rich soil. So, you'll find boutiques and large wineries all over the Golan. If you like wine tasting, this is your chance to taste some of Israel's best wines. 

View a list of wineries in the Golan

.

Enjoy the snow on Mount Hermon. 

If you're coming to the Golan Heights in late winter, there should be snow on 

Mount Hermon

, Israel's highest mountain. You can drive to the mountain and use the chair lift to get to one of the highest points on the Israeli side (the other side is under Syrian and Lebanese control). You can build a snowman, snowboard, or ski down the hillside. If you don't have snow in your homeland, this is an excellent opportunity to experience it. But this might not be too interesting if you have plenty of snow back home.
Like in the desert, the nights could also be freezing in the Golan Heights. So, I recommend staying overnight in a closed place. One of my favorite places to stay in the Golan is Givat Yoav, a settlement on the cliff overlooking the Sea of Galilee. Read my review of Village on the Cliff. 
You can view this nice video about Mount Hermon by i24NEWS: 
Experience the holiday season in the main cities
December is the first month of the Israeli winter and one of the most festive seasons in the year. In December, we celebrate the Jewish Channukah, the Christian Christmas, and the New Year's Eve.
During Channukah, you can enjoy the lighted channukiahs in the main cities. In Jerusalem, you'll find many of them in the Jewish Quarter of the Old City and the Nachlaot neighborhood. You can also eat jelly-filled doughnuts, called sufganiyah, and get a Channukah dreidel.
Christmas is less prominent in Israel, but you can still experience it in cities with a large Christian population. You'll find Christmas decorations in the Christian Quarter of the Old City of Jerusalem, Nazareth, and Haifa. If you're interested, you can go to Bethlehem and attend the Midnight Mass. The city is located in the Palestinian territories, so if you don't want to get messed up with transportation, you can use Abraham Tours' Midnight Mass Transportation.
And if you're coming for New Year's Eve, the best place to go is Tel Aviv, where you'll find all the fun parties.
Recommended reads >>
5 Ways to Celebrate Channukah in Israel
Visit some of Israel's top-notch museums
The cold and rainy days are an excellent opportunity to visit some of Israel's top-notch museums. Here are some of my favorite museums in Jerusalem and Tel Aviv: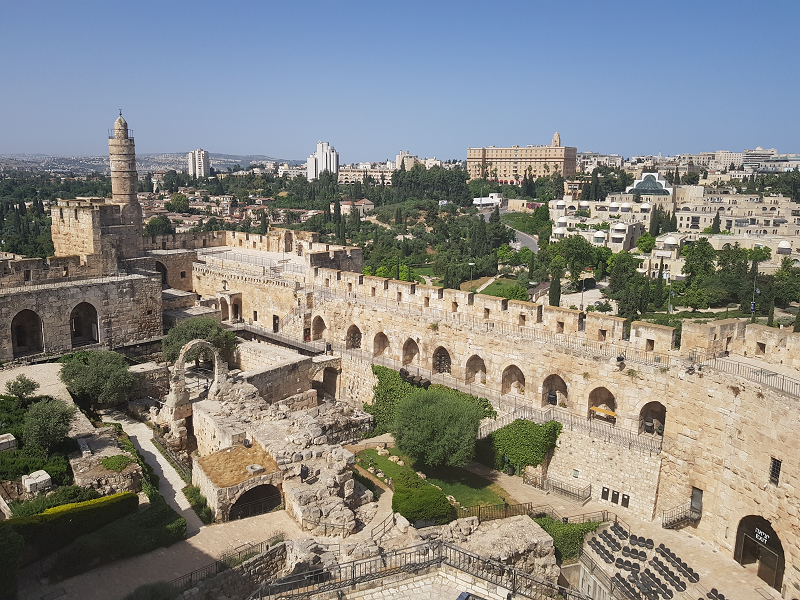 Go on a day hike 
If you like hiking, you can take advantage of the cool weather and go on a day hike. There are beautiful trails all around the country – in the Golan, the Galilee, the desert, and even around the main cities like Jerusalem and Tel Aviv. They are well-marked and range from trails for beginners to trails for well-experienced hikers.
While the cold temperatures are great, hiking in winter also has its disadvantages. It's not recommended to hike while it's raining or a day or two after rainfall, because the trail could be slippery or muddy. It's also freezing at night, so it's not so pleasant to sleep outdoors. And in any case, it's crucial to check the weather forecast before you start hiking, to ensure there are no flash flood alerts. This is especially important for those planning to hike in the desert wadis.
Learn more >> The best hikes in Israel (in my opinion).
Main winter events in Israel
Holiday of Holidays

: 

This annual festival celebrates the diversity of cultures and religions in the city of Haifa. Usually, the two holidays celebrated in this festival are the Jewish Channukah and the Christian Christmas, but once in a while, when it falls in December, there's also a celebration of the Muslim Ramadan. The streets of Haifa are beautifully decorated, there are many tours (mostly in Hebrew), live performances, and street food stalls. 

It will happen on 7-23 December 2023. 

 
Israman Eilat

: 

If you want to race through the beautiful desert landscapes of Eilat and its surroundings, you can do that by registering for "Israman Eilat." 

It will happen on 24-27 January 2024. 

Tel Aviv Marathon

: 

When it's cool outside, it's a good time to run. If you want to join the marathon, make sure to register in advance. If not, you can still cheer the runners. Many roads will be blocked, so take that into consideration.

 It will happen on 23 February 2024. 

Darom Adom Festival: 

If you love flowers, you'll love this festival, which celebrates the blossoming of the anemone flowers in the western Negev. People come from all over the country to witness the carpets of red, walk around the flowers, and participate in various tours and activities. 

It usually happens throughout February. 
Jerusalem Marathon

: 

If you like running, you can join the marathon in Jerusalem to experience the streets of Israel's capital in an exciting way. There are several tracks for different skill levels. If you're less into running, just consider that many streets will be closed. 

It will happen on 8 March 2024. 
Main holidays in winter
Chanukkah: 

The Jewish holiday of Channukah is an 8-day celebration of light and joy. Every night, the Jews light channukiahs – small menorahs – and place them next to their windows or doorways. This is meant to commemorate the miracle of the cruse of oil, when the Maccabees were able to use only one cruse of olive oil to light the Temple's Menorah for eight days.

 Usually, Chanukah falls in December.

Christmas: 

There isn't a large Christian population in Israel, but there are still some celebrations in Jerusalem, Haifa, and Nazareth. You can also celebrate the holiday in Bethlehem, though consider that it's in the Palestinian territories, so it will require passing a checkpoint. Read about places to celebrate Christmas in Israel. 

Christmas falls on 25 December. 

New Year's Eve: 

For Jews, the new year is actually Rosh Hashanah, but since we work according to the general Gregorian calendar, some also celebrate New Year's Eve. The best place to be on New Year's Eve is Tel Aviv, where all the parties are. 

New Year's Eve falls on 31 December. 

Tu Bi'Shvat: 

Known also as "the New Year for the Trees," Tu Bi'Shvat is a Jewish holiday that marks the time when the trees start to bloom and bear new fruits. We celebrate this holiday by eating dry fruit and planting trees.

 Tu Bi'Shvat falls in January or February.
What to wear in Israel in winter?
As mentioned at the beginning of this post, winter is the coldest month in Israel, and there's also a chance of rain and wind. Very rarely, there's snow. So, I recommend bringing a rain jacket that protects from strong winds. You can find some rain jackets on Amazon. Underneath the jacket, you can wear something warm, like thermal fleece clothes or other long-sleeved shirts. You might also want to bring a scarf, a warm hat, and mittens. It really depends on how cold it will be. That's why it's important to check the forecast before arriving in Israel. In any case, bring some clothes that aren't too warm, because you might fall on some pleasant days and don't want to get overheated.
In terms of shoe wear, you might want to bring boots or shoes that are water resistant, in case there will be rain.  
Read also >>
The ultimate packing list for Israel
Conclusion
Winter is a lovely time to come to Israel. Thanks to the cooler temperatures, you can explore the Israeli desert, which is – in my opinion – one of the most beautiful and fascinating deserts in the world. You can also visit some of Israel's top-notch museums, have fun in the Golan Heights, and explore the main cities such as Jerusalem, Tel Aviv, and Haifa.
Save this post for later!
If you liked this post or found it useful, please don't hesitate to like, share or comment (:
If you need any more advice, please don't hesitate to send me a message on my Facebook page or to contact me at [email protected].
If you're searching for a tour guide in Israel, I also offer private tours in Israel.
You can also support my work by buying me a coffee on Ko-Fi.  Your support helps me maintain the site and keep creating content about Israel. It's greatly appreciated!
Yours,
Lior