Jerusalem is my favorite city. On the one hand, there's the Old City with its lovely charm and longtime history. On the other hand, there's the more modern part of Jerusalem, with its vibrant food market, streets full of shops, and fascinating museums. So, yes – Jerusalem is one of the leading destinations in Israel. But where is the best place to stay in Jerusalem? Where can you get the most out of your trip to the Holy City? In short – the City Center and the area near the Old City are great places to book a stay. For more details, keep reading.
Want to plan your trip to Jerusalem? Read my full destination guide to Jerusalem.
This post contains affiliate links, meaning I get a commission if you decide to make a purchase through the links, at no extra cost to you. These links help me keep the website alive, so thank you in advance!
How to pick your accommodation in Jerusalem?
Let's start from the basics. When I search for a place to stay, I usually try to find places that fit my budget, are well located and have good ratings. So, later in this post, I'll recommend accommodation options that fit these criteria. But everyone has different priorities and needs, so if you're searching for something else, that's totally fine.
Here are the questions I ask myself when choosing an accommodation in Jerusalem and anywhere else:
Is it close to the attractions that interest me?
If you know which attractions you want to visit in Jerusalem, it's best to stay near them. For example, if your main focus would be the Old City, I'd look for accommodation near the Old City. If you also want to visit Machane Yehuda Market, Yad Vashem, or the Israel Museum, you might want to be more centrally located in the City Center.
I always open Google Maps and check where the accommodation is located and what's nearby. Also, if it's far away from the city center, I'd check that there is good public transportation nearby. 
Does it have budget-friendly options?
I like to choose budget-friendly accommodations so I can spend my money on more worthwhile things like food and experiences. You may want your accommodation to have dormitory rooms, which are usually the most budget-friendly. In this case, if you're a solo female traveler, you might want a female-only dorm. Lately, some accommodations have also added a capsule option, which is also quite friendly in terms of budget.
Skim through the options and see if the prices fit your budget.
Is it clean?
It's hard to know if a place is REALLY clean without going there, but you can get some sense about it from the reviews. Don't just check if the place got a high score or not. Dive deeper into the reviews and read what people have to say. If many people mention that the place is clean, then most chances it is clean. If many reviews mention disgusting things, I wouldn't go there.
Does it have a good rating?
Again, the reviews. I pay a lot of attention to the reviews. First of all, I check that the accommodation got a significant number of reviews. I usually don't book stays with less than 100 reviews. And after seeing it has more than 100 reviews, I go over them and try to choose a stay with an average score of at least 8.0. Check if the reviews mention any noise problems, unfriendly staff, messy common areas, and so on. Put more emphasis on the newest reviews.
Where to stay – in East or West Jerusalem?
East Jerusalem is the Old City and the area to its east and northeast, where most of the Arab population lives. West Jerusalem is mainly the area to the west of the Old City, where most of the Jewish people live. Today, East and West Jerusalem are connected, so you can freely pass between the two areas. But they are called East and West Jerusalem because between 1948 to 1967, they were separate from each other. Jordan ruled East Jerusalem, and Israel ruled West Jerusalem. 
So, where should you stay – in East or West Jerusalem? It really depends on your priorities and needs. Accommodations in East Jerusalem are usually cheaper than the ones in West Jerusalem but are also much more basic and sometimes very small. Personally, I prefer to pay a bit more and enjoy better conditions. There are some hotels in East Jerusalem that are of good quality, but that will cost you much more than the options in West Jerusalem. So, all the hostels and hotels that I will recommend are located in West Jerusalem.
Some people recommend the Old City as the best area to stay in Jerusalem, but I think differently. First, there are not a lot of stay options in the Old City and most of them are either quite basic or quite expensive. And second, the Old City doesn't have a lot of things to do in the evening, unless there's a special event. Usually, all the shops are closed and most of the restaurants are closed. So, if you're only looking for a place to lay your head at night, the Old City could be a good place, especially if your main focus is the Old City and its surroundings. But if you want to make the most of your time, the City Center might be a better option.
You can search for accommodation in East Jerusalem on Hotelscombined.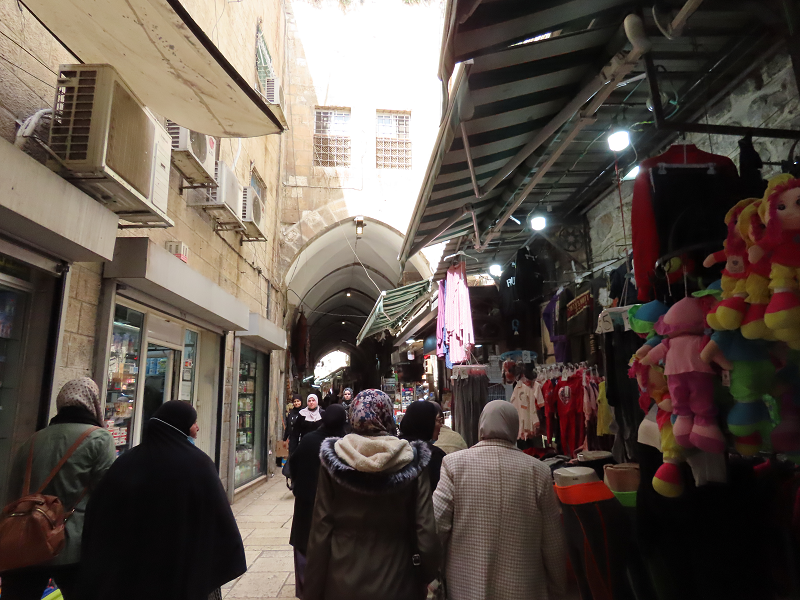 The best area to stay in Jerusalem: The City Center
The City Center (also known as Downtown Jerusalem) is in my opinion, the best area to stay in Jerusalem. In the morning, you can easily walk from Downtown to the Old City in about 20 minutes, depending on your exact location. In the afternoon and evening, you can come back to the City Center to enjoy the lively shop and restaurant scene in this area of Jerusalem. If you don't like to walk too much, you can hop on the light-rail train, that passes on Jaffa Street right through the City Center to all the main attractions.
When I say City Center, I mean all the area from the northwestern edge of Mamilla Shopping Center to the western edge of Machane Yehuda Market. The closer you are to Mamilla, the closer you are to the Old City.
A few recommended places in the City Center
One of the best hostel chains in Israel is Abraham Hostel, and they have a hostel in Jerusalem. Centrally located on Davidka Square, it is about 2 minutes on foot from Machane Yehuda Market and 20 minutes on foot from the Old City. I stayed at Abraham Hostel Jerusalem a few years ago and it was a great experience. The rooms are clean, the staff is friendly, and the common areas are fun.
Check them out on their official website
View this video by Abraham Hostel Jerusalem:
I'll tell you the truth – I haven't been to this hostel, but I've heard a lot of recommendations. It's located at the end of Ben Yehuda Pedestrian Street, about 10 minutes on foot from Machane Yehuda and 15 minutes on foot from the Old City.The reviews say it's clean and overall a good place to stay.
Check it out on Hotelscombined
I've been to many more hostels in Jerusalem. Here's a short summary of some of the places I've stayed at:
What about accommodation near the Old City?
So, as you've read, the accommodation options in the City Center are quite near the Old City. It will take you about 20 minutes on foot from any decent location in the City Center. If you'll take the light-rail train, it will take you much less.
If you want to be right next to the Old City, it will cost you more. Usually, MUCH more, unless you pick a hotel or hostel in East Jerusalem, where prices are generally cheaper. If you have a large budget, Mamilla Hotel is a five-star hotel located near Jaffa Gate and is highly recommended. Another option is Waldorf Astoria Jerusalem, another luxurious five-star hotel not far from Mamilla Shopping Center and Jaffa Gate.
Conclusion
Jerusalem is a leading destination in Israel and it's best to stay a few days to explore it. So where to stay in Jerusalem? If you're looking for the cheapest accommodation options, you'll probably find them in the Old City and East Jerusalem. But the best area to stay, in my opinion, is the City Center or Downtown Jerusalem. It's not far from the Old City and has a lot more going on. Plus, the hostels and hotels are usually more modern and comfortable.
No matter where you choose to stay, have fun and enjoy your time in Jerusalem!
Save this post for later!
---
Think this post is useful or helpful? Don't forget to like, share and leave a comment 🙂
Also, check out my Facebook page, Backpack Israel.
Need help planning your trip? I offer consulting services for travelers to Israel.
Yours,
Lior