A few days ago I went to the Springs Trail, or in Hebrew, Shvil HaMaayanot. This charming trail is located in the Jerusalem Hills region, a short walk from the Hadassah Ein Kerem Hospital. It's a family-friendly trail with several water springs along the way. But between us, there's only one attractive water spring over there, and it's Ein Uzi. But the view is beautiful all the way! So… Here's a review of this trail for those of you looking for a refreshing water hike near Jerusalem. It's highly recommended for families with kids!
Trail length: About 5.7 km. It's a circular trail.
Trail duration: Around 2 hours, depending on your pace and the amount of time you want to spend in the water springs.
Difficulty level: Easy.
Best season: Spring (February-May) and Summer (June-September).
Water along the way: There's a drinking tap at Hurvat Sa'adim, about 3 km from the start of the trail.But I recommend bringing enough water for the whole hike.
View the full trail on a map here.
Looking for more water hikes near Jerusalem?
Ein Prat is a very good option, just about 30 minutes from Jerusalem. And there's also Nahal Arugot if you're willing to drive about 1.5 hours. And if you're ok with farther away hikes, check my top 5 water hikes in Israel.
Safety instructions and general notes
The hike is under your full responsibility, so please be careful
Make sure you hike with good hiking shoes, have at least 1.5 liters of water, and wear a hat. You can pack some snacks for the way, and make sure to bring a garbage bag so you can take your trash with you.
If you plan to hike on a very hot day, make sure to start the hike as early as possible. We started at 6 AM. Otherwise, it would probably not be enjoyable and can end with heatstroke.
The water in the water springs is COLD. Make sure to let your body slowly adapt before jumping into the water.
The phone signal is good throughout the trail.
The trail is marked by a green-marked trail and a red-marked trail.
How to get to the head of the trail?
The Springs Trail is conveniently located a short walk from the Hadassah Ein Kerem Hospital. The most convenient way is to reach the place by car, but it's also possible to reach it by public transportation.
From the Jerusalem City Center, take bus number 19 from 'Ali'ash" station and get off at "Sharet Institution/ Hadassah Ein Kerem" station. Then, walk out of the hospital, turn right, and then left at the roundabout. Continue carefully on the side of the road until you see the left turn towards the Springs Trail parking lot.
The hike on the Springs Trail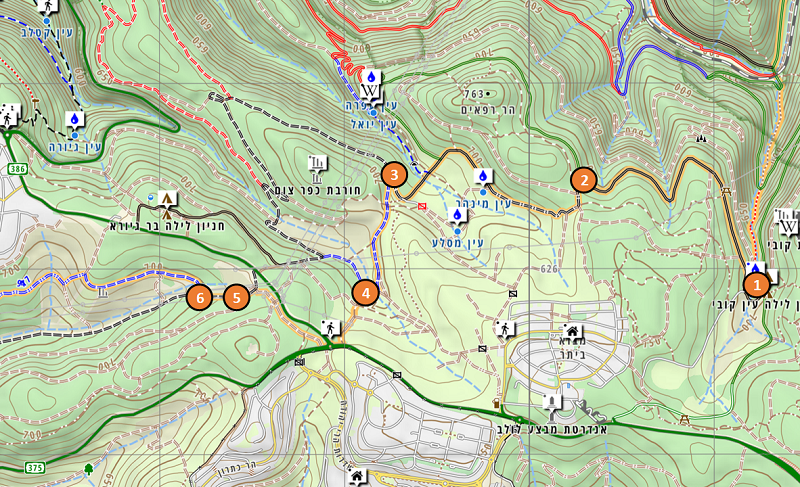 To Ein Sarig
I hiked the Springs Trail two times. Last time, it was with a few friends who wanted to cool off, so we decided to go on this trail because it's a nice water hike near Jerusalem. We arrived by car at the Springs Trail parking lot (1) and from there, started walking on the green-marked trail towards the start of the trail.
About 200 meters from the parking lot, there's a trail junction (2). A black-marked trail leads left to Ein Sarig, another unmarked trail leads towards the moshav of Ora, and the green-marked trail goes to the right. We decided to do a small detour to Ein Sarig (3), just to have a peek.
So, we turned left on the black-marked trail and walked a bit to the water spring. There's a very short and steep climb to the spring, and when we were there, it was slippery. So be careful! The spring itself is very small, but charming, and the water looks clean.
It was too cold to go inside, so after looking at it for a bit, we retraced our steps back to the trail junction and turned onto the green-marked trail.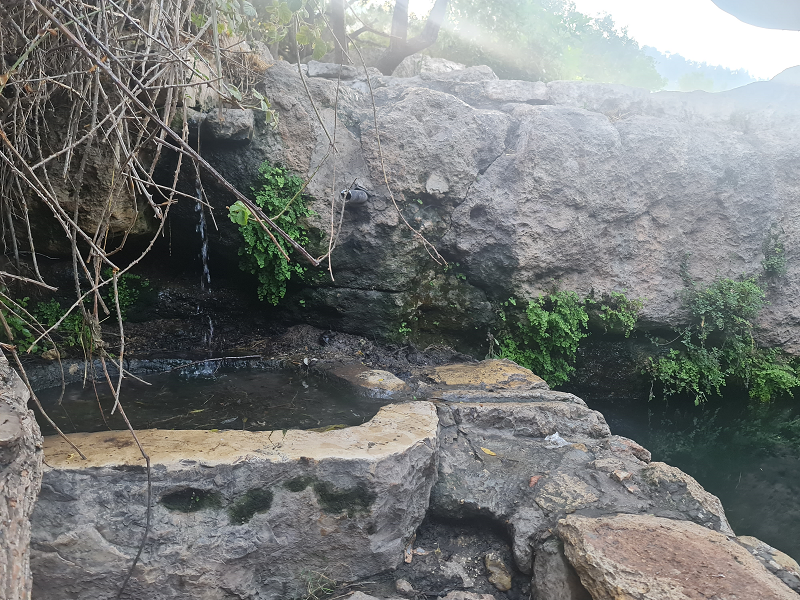 To Ein Tamar
We continued on a very easy trail with stunning views of the Jerusalem Hills. We could also see the moshav of Even Sapir. After about 1 km, we reached Ein Tamar (4). The water accumulates into an artificial rectangular pool, built in memory of Tamar Natan, who died during a trip to South America.  
The water is shallow, but it's surrounded by many beautiful trees, so it's a nice place to stop and eat something. If you're traveling with kids, they can splash around in the water. Just make sure nothing's in there before they enter.
To Ein Uzi
We left Ein Tamar and headed on to Ein Uzi. There are two points called Ein Uzi. The first one (5) is about 300 meters from Ein Tamar. It's off and below the trail, so you'll need to keep your eyes to the right to spot it. We didn't stop there on this second visit to the Springs Trail. But the first time I was on this trail, I did go down to the spring and enjoyed it. It's small, but it's deep enough to put your head inside if you want to.
About 50 meters later, we arrived at the main pool of Ein Uzi (6). This is the largest pool on the Springs Trail. It's also deep enough to swim in, and clean. So, we spent a while there, splashing in the water and eating some snacks next to the pool. Luckily, it was so early that no one was at this spring yet. We saw a couple of bikers who passed by us on the trail, but they didn't stop for a dip.
Back to the parking lot
From Ein Uzi, the trail continues on an easy route through the forest, with a beautiful view to the right. After about 760 meters, we reached Einot Aminadav (7), two water pools located below the trail. To get there, you need to climb down. But from above, they looked very green, dirty, and unattractive. So, we skipped them.
We continued about 440 meters and then reached a trail junction (8). The green-marked trail turned left, and the right trail was unmarked and turned right. We took the right trail this time, but I can tell you that the left one leads to Hurvat Sa'adim. There are picnic tables and a drinking water tap over there. And next to them there are ancient remnants of buildings, mostly from the Byzantine era. If you walk even farther, you can reach the Kennedy Memorial.
But we took the right trail this time. It leads onto a narrow route that passes through low bushes. At the end, it pops out onto a red-marked trail (9). There, we turned to the right and started walking on a wide, exposed trail back to the parking lot. Good thing that there's a beautiful view to the left!
We walked about 2.5 km on the red-marked trail until we reached the parking lot (1). Then, we got into the car and drove to Even Sapir, where there's another beautiful spring – Ein Sapir (10). It's a spring inside of a cave! If it's not too hot, you can also walk there.
Conclusion
The Springs Trail is a beautiful water hike near Jerusalem, on the very outskirts of the city. It has several water springs, with Ein Uzi being the most beautiful! So… If you're looking for a place to cool down during this summer, it's a great option, especially with kids!
Save the post for later!
---
Think this post is useful or helpful? Don't forget to like, share and leave a comment 🙂
Also, check out my Facebook page, Backpack Israel.
Need help planning your trip? I offer consulting services for travel to Israel.
Yours,
Lior