I had to be in Tel Aviv on New Year's Eve, so I looked for someplace cheap that I've not tried yet. The Spot Hostel was on my list for quite a long time, so I decided to use the opportunity and book a private capsule there. I planned to wake up very early the next day, so I preferred not to book a dormitory bed.
When I first entered the hostel, it had a VERY promising look. The lobby is gorgeous, modern, and shiny. The corridors inside the hostel are also super cool. But when you go into the little details, the place is a bit disappointing. On their website, they write, "Never Go to Sleep," and I really couldn't sleep there. It's not soundproofed, and the A/C isn't ideal. Here's my full authentic review of The Spot Hostel in Tel Aviv.
Not sure what to do in Tel Aviv? Read my full guide for backpackers in Tel Aviv.
Disclaimer: This post contains affiliate links, meaning I get a commission if you decide to make a purchase through the links, at no extra cost to you. These links help me keep the website alive and not depend on sponsors! Thank you in advance.
Here's a short video done by The Spot Hostel:
Short summary about The Spot Hostel
Location: 4 stars – The hostel's location is cool but not exactly central. It's located in the compound of Tel Aviv Port, where you can find many shops, restaurants, and party venues. So, it's ideal for party people. It's also a short walk from Metzitzim Beach and the gay-friendly Hilton Beach. And if you like to go jogging in the morning, there's the Yarkon Park just a few steps away. But if you want to explore Old Jaffa, Florentin, and the Carmel Market, some of the top attractions in Tel Aviv – you will need to walk about 45 to 60 minutes. That's fine if you like walking. Or, you can catch a bus from nearby.
Cleanliness: 4 stars – The bedding had pieces of hair on it. In the morning, I also found the common kitchen completely messed up. But other than that, everything seemed clean.  
Staff: 5 stars – The staff at the reception were friendly and welcoming.  
Security: 5 stars – The hostel feels safe. After midnight, they lock the front door, and you can open it only with your hostel card. The capsule room was lockable, too.  
Facilities: 3 stars – The hostel has some nice facilities. The lobby is spacious and beautiful, and there's even a billiard table. The showers are also great, with lockable doors, hangers, soap, and hot water. But the capsule could be better. You have to climb up to your bed, there's a small window to the corridor, and you hear EVERYTHING, including water running down the pipes. And there's no way to control the A/C.
Atmosphere: 5 stars – The hostel has young vibes. There's lots of room in the common area, and people are always around. And the design of the hostel is awesome!  
Value for money: 3 stars – For me, it just wasn't worth it. You pay a lot for a small capsule, and breakfast isn't included. But if you're a party person and don't mind hearing noises all night, it could be a cool place to stay.
A detailed review of The Spot Hostel
Location
The Spot Hostel is located at the edge of the Tel Aviv Port, a few steps away from Yarkon Park. It's about 10 minutes away from Metzitzim Beach and from the gay-friendly Hilton Beach. If you like jogging in the morning, you can either jog through Yarkon Park or jog on the Tel Aviv-Jaffa Promenade next to the sea. But it's also an ideal location for party people because Tel Aviv Port is full of party venues.
It's rather far from the top Tel Aviv attractions. Carmel Market is about 45 minutes on foot, and Old Jaffa is about an hour away. If you don't like walking, there's a bus station nearby, on Dizengoff Street, where you can catch bus number 10 to the city center.
There are some grocery stores along Dizengoff Street, within walking distance from the hostel. There are also many good restaurants in the area. Right on the other side of the hostel, there's the Abulafia restaurant, open all day, where you can get sandwiches, salads, and pastries. 
The Spot Hostel is located at Hatarucha 3, Tel Aviv.
The capsule
I booked the single capsule for one night. It's a tiny room with a small desk, chair, bed, and mirror. That's all you really need.
To get to the bed, you have to climb up a ladder, which isn't convenient. And up there, you have a small space where you can put your stuff, an electrical socket, a reading light, and a small TV screen. The bed itself was fine, except for some pieces of hair I found on the bedding.
But the room's main problem is that it's not soundproof at all. You hear people from the corridor and the neighboring rooms, and you can hear whenever someone opens or closes a door. I could even hear the water go down the pipes every once in a while. It felt like the pipes were right above my head.
The other thing that kept me awake was the A/C. You can't control it from the room, and I felt boiling hot even after taking off my clothes. At some point, I couldn't stand it anymore and went to the reception to ask if there was any way to change the temperature. They told me that it was 25 degrees Celsius, maybe 26 and that it's a central A/C that can't be changed. Usually, I'm okay with 25 degrees Celcius, but when you want to snuggle up in your blanket… It could have been better if the temperature had been slightly colder.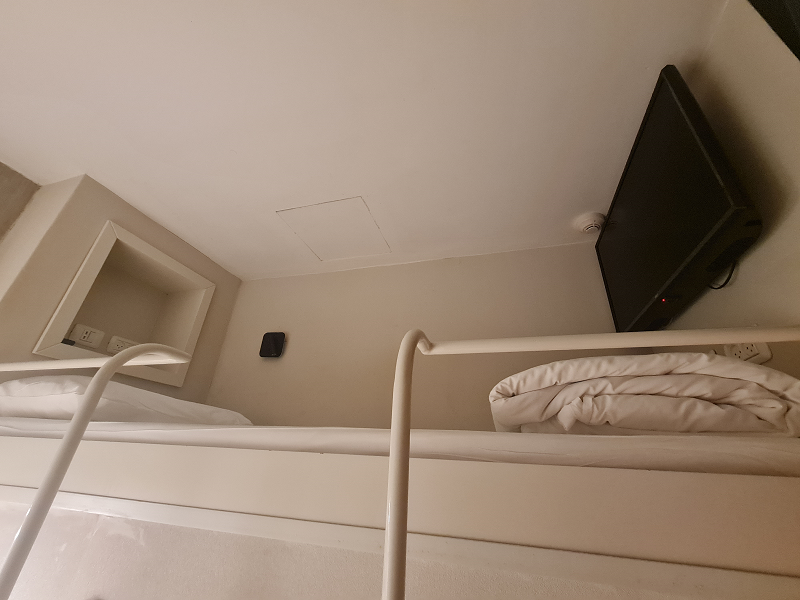 The common areas
The hostel is super appealing and awesome looking. The lobby is shiny and spacious, with plenty of seating areas, a billiard table, and even a bar. So, it seems like a nice place to hang out. Once in a while, the hostel also holds special live music events on the small stage in the lobby.
When you're going to your room, it feels like you're going through a maze of ship containers. I really liked the design.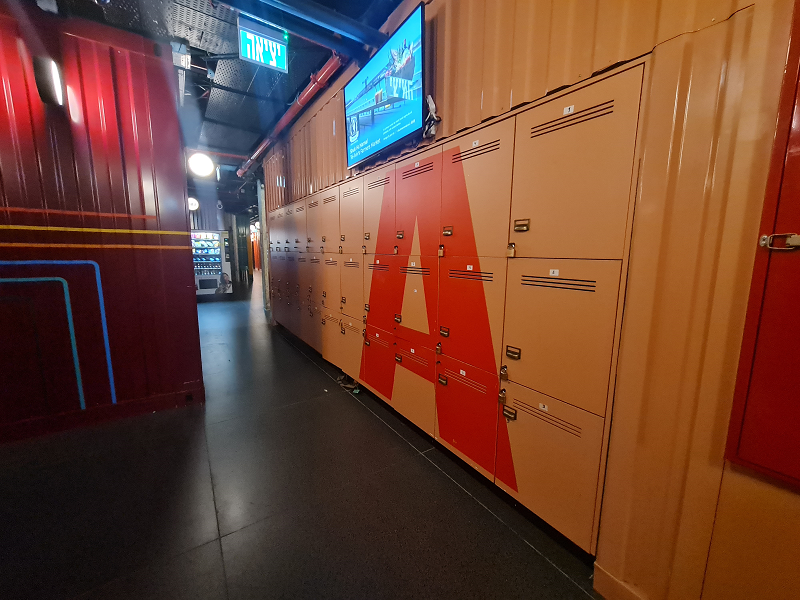 The shared kitchen isn't tiny but also isn't spacious. It was crowded with people when I was there, which made me change my mind about cooking. Compared to other areas of the hostel, the kitchen doesn't look modern or shiny at all. It reminded me of the kitchen I had in my army base. In the early morning, I came into the kitchen to look for a water bar, but there wasn't any. So, I just filled my bottle using regular tap water.
I didn't use the kitchen, but I looked at what it has. There's a large refrigerator, plenty of cooktops, ovens, a kettle, a microwave, and plenty of cooking and eating utensils. It could be a good place to cook when it's not crowded.
Of course, the private capsule doesn't have an ensuite, so you need to use the shared showers and restrooms. They were located a short walk from the capsule, on the same floor.
The restrooms and the showers are in the same room. They were all clean. Every shower has a lockable door, a hanger for clothes on the door, and a soap container. Check that there's soap in the container before starting to shower because you might find out in the middle that it ran out of soap. Happened to me. Luckily, I was able to move to the neighboring shower and use the soap that was there.
When I used the shower, there was hot water.
Staff
Check-in was smooth. The guy at the reception welcomed me with a smile and explained everything connected to the hostel. You should know that they take some balance from your credit card and keep it for a few days after you leave, in case you damage the room.
According to their website, reception works 24/7. I left really early in the morning, and someone came out to me, so I guess they really are there 24/7.
Extras
In private rooms, the hostel supplies free towels. But I've read that if you're booking a dormitory room, you need to pay an extra 15 shekels to rent a towel. Also, the dormitories have lockers but without locks. You'll need to pay an additional 15 shekels if you want a lock.
Other than that, there's also a luggage room where you can store your stuff. And there's free Wi-Fi.
What's not included is breakfast. According to their website, you'll need to pay an extra 40 shekels for breakfast, which includes shakshuka, bread, salads, and granola. I didn't try it, so I can't tell you how it is. It's served from 8 AM to 11 AM.
Security
I felt that the hostel was secure. The front door closes at midnight, and you have to use your hostel card to open it.
Bottom line
The Spot Hostel is modern and shiny and is located in a great spot at the edge of the Tel Aviv Port. But as the hostel's website says, "You didn't come here to sleep, right?" If you're planning on sleeping well, look for other places or bring earplugs. 
Other hostels that might interest you in Tel Aviv
Abraham Hostel Tel Aviv – One of the best hostels in Tel Aviv, if not THE best. Centrally located on Rothschild Boulevard, offering dorms and privates, and it's clean and fun. You can read my review of Abraham Hostel Tel Aviv here.
Jungle Jaffa – A friendly low-budget hostel with a beautiful kitchen, located a short walking distance from Old Jaffa and the Florentin neighborhood. It offers half-pension! You can read my review of Jungle Jaffa here.
Florentin House – I've stayed there in the past but haven't written a review. It's a bit more expensive than other options, but it's very clean and comfortable. It's in the middle of the Florentin neighborhood.
If you liked this post or found it useful, I would appreciate a like, a share, and a comment. If you have anything to add, you're free to tell me in the comments (:
Also, feel free to follow this blog and like my Facebook page for the latest updates – Backpack Israel.
Yours,
Lior