At the beginning of January 2022, I spent a few days in Ramon Crater and hiked a few trails with my friends. Ramon Crater, officially known as Makhtesh Ramon, is a natural wonder – the world's largest erosion cirque. One of the trails we hiked was the Nekarot Horseshoe Trail. It's one of the most famous and beautiful trails in the crater! We did the long circular trail, which took us about 6 hours. But many people do a smaller circular route that takes about 2-3 hours. So… it's your choice.
Here's a summary of the hike.
Disclaimer: This post may contain affiliate links, meaning I get a commission if you decide to make a purchase through the links, at no extra cost to you. These links help me keep the website alive and not depend on sponsors! Thank you in advance.
Important to note
The hike is under your full responsibility, so please be careful while hiking.
Make sure to bring comfortable shoes, at least 3 liters of water, and a hat. If there's a lot of sun, put on some sunscreen, too. Most of the trail has no shade.
Make sure to start the trail as early as possible. Check sunset hours and start the hike at least 8 hours before sunset so you won't get stuck in the dark.
There's no place to fill water on the trail.
Check the weather forecast before coming. If it's too hot, don't come. If it's rainy, check if there are flash flood hazards.
Some parts of the trail don't have a network connection. In case you need it, try climbing up to a high point.
There are a few places where the trail includes steep climbing or descending. Walk carefully. If you're afraid of heights, it might be frightening.
How to get to the head of the trail?
It seems like those in charge of the Ramon Crater Nature Reserve want to keep people away as much as possible. That may be why there are no bus stations inside the crater. So, the best way to get to the head of the trail is by car. Initially, we thought of taking a taxi into the crater, but we checked the prices, and it was too much for us.
If you're staying at Be'erot Campground, you can walk to the head of the trail from there. It will add about 2 km in each direction. 
Anyway, we took the car and parked it at the Ramat Saharonim Day Parking Site. Keep in mind that it is not allowed to drive in this area after dark, so you have to get back to your car before sunset. The head of the trail is located at the parking site. It's a green-marked trail.
The Nekarot Horseshoe Trail
Length: 13.3-km, circular trail.
Duration: About 6 hours, depending on your pace.
Difficulty: Moderate.   
View the trail on Israel Hiking Map: Click here for the trail map.
Here are maps from Israel Hiking Map. I've added numbers to the map to show the route: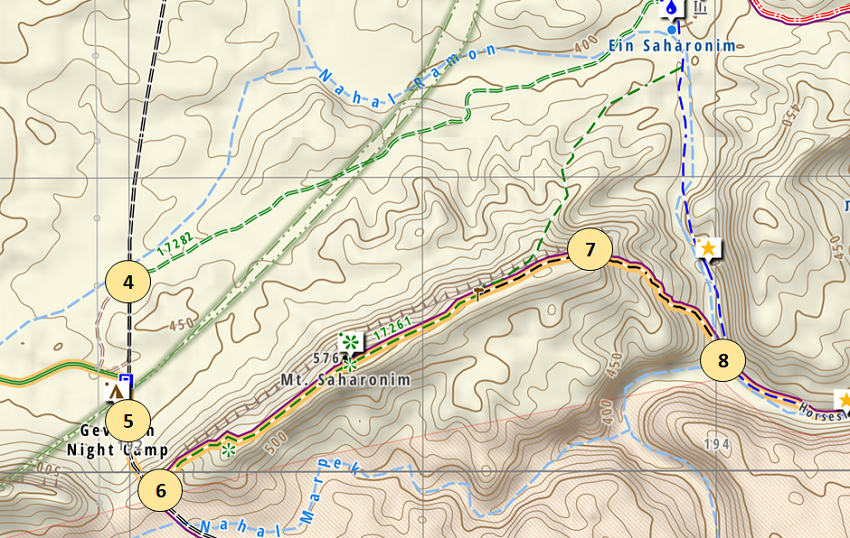 We started the hike from Ramat Saharonim Day Parking Site (1) and got on the green-marked trail. The trail took us south. After a short while, we could see the ancient remains of Saharonim Khan in the distance. You can clearly see it on the desert landscape – a low, fortified structure. It was built by the Nabateans, an ancient tribe that roamed the desert and established the famous Spice Route. They used it as a resting point on the trade route. It must have been impressive back then because it still is today.
We came closer and closer. After about 1.8 km, we arrived at the Saharonim Khan (2), took some photos, and then took a short detour to the Saharonim Spring (Ein Saharonim). The water spring is probably the reason for building the khan here. You can reach it by going a short while on the blue-marked trail, that goes to the west of the khan. There's a lot of water and it's a good place to cool down (3).
Then, we came back to the green trail and walked westward on it. This part of the trail is quite dull and plain. Most of the walking is on a flat trail, but there was one place with a short yet steep climb. After about 2.3 km, we turned left onto a black-marked trail (4), and then the fun part began.
Climbing Mount Saharonim
The black trail passed through the Gevanim Night Campground (5). I have stayed here with a big group in the past, and it was fine. There are a few toilets, but that's it. 
From this point on, the trail overlaps the Israel National Trail, which is always fun. After passing the campground, we started climbing on a wide, steep route. When we reached the top of the climb, we turned left onto a green-marked trail (6). Then, we continued to climb a bit more until we reached a beautiful viewpoint over this area of Ramon Crater.
We took a few moments to appreciate the view, which was extremely colorful and impressive. And then, we continued on our way. There were a few more climbs that required using hand bars, and then we finally reached a flat trail on the upper edge of Mount Saharonim. We walked on this flat path for about 1.4 km and enjoyed the beautiful views of the crater to our left. You can also see the magnificent Mount Ardon to the northeast. Then, we reached the descent to Wadi Nekarot (7).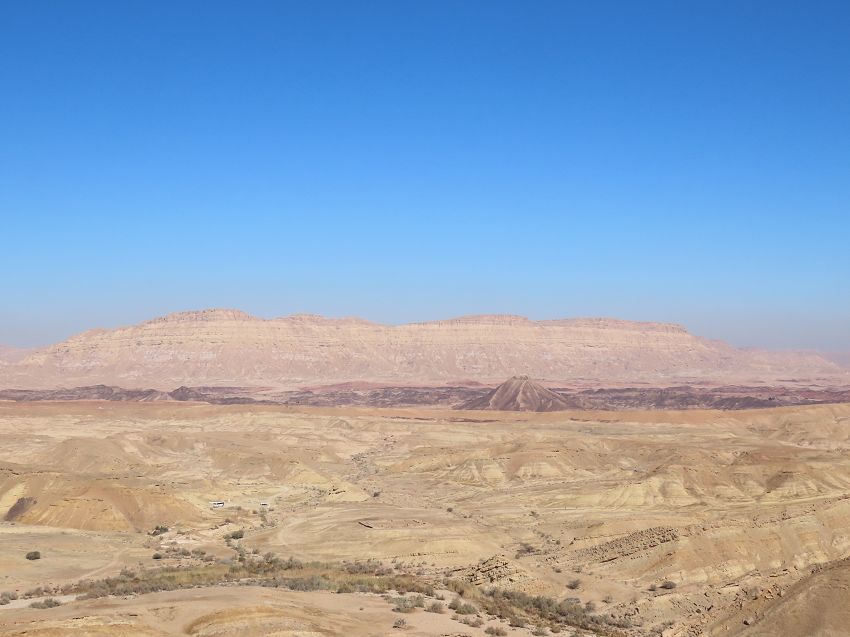 The climb down from Mount Saharonim is a bit steep but isn't long – only about 700 meters. On the way down, we met a young teenager climbing up. "How far is the top?" he asked us, and we said it was right beyond the corner. "I just have to get back to my group. They're having a lunch break," he said and ran up to the top. Then, he ran back down, passing by us. But remember – running isn't recommended. Rocks could be slippery, and there are parts where it's very steep.
Hiking through Wadi Nekarot
We reached the bottom of the mountain safely and turned right into Wadi Nekarot (8). It's a wide wadi with small, white bedrock. I guess people love this trail because of the magnificent walls that stand on each side of the wadi. But I don't like walking on the bedrock.
Wadi Nekarot is one of the largest wadis in the Negev Mountains, spanning a length of 60 kilometers. This part of the wadi is called the Nekarot Horseshoe because the wadi goes in the shape of a horseshoe. If you can't feel it, take a look at the map and see what I'm talking about.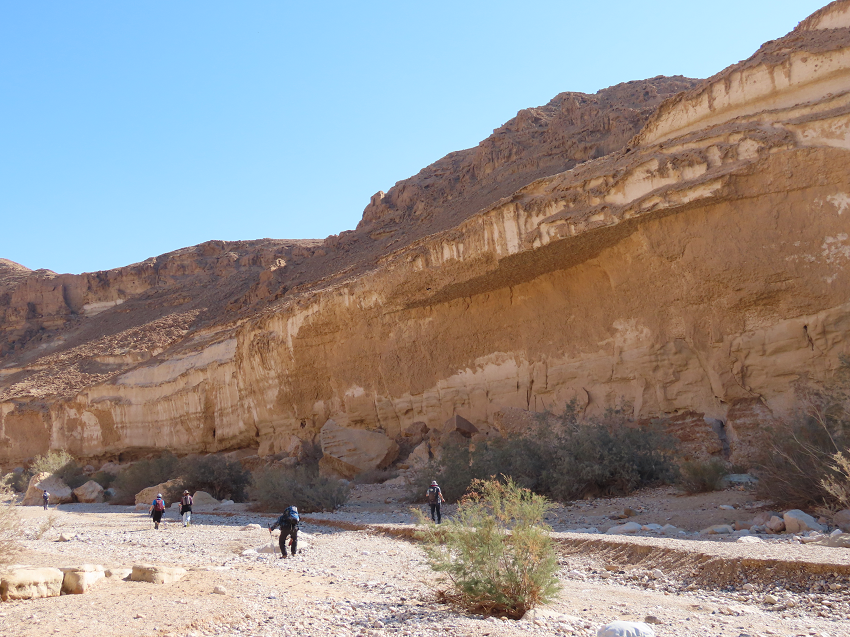 There were a lot of groups here. We passed them as fast as possible so they wouldn't delay us. We walked the horseshoe for about 1.2 km and then reached the narrower part of the wadi, where it turns into a tight gorge (9). The rock formations here are beautiful. In wintertime, after heavy rainfall, this part of the trail may be flooded. We stopped here for a tea break, enjoyed some shade, and celebrated the fact that we were able to bypass all the groups.
When one of the groups passed us, we packed our things and started walking again. The narrow part of the wadi is only about 200 meters long. Then, the wadi opens up again. A short while after the narrow gorge, we saw that the group had stopped at Nekarot Cave (10). We continued straight on the blue-marked trail through the wadi.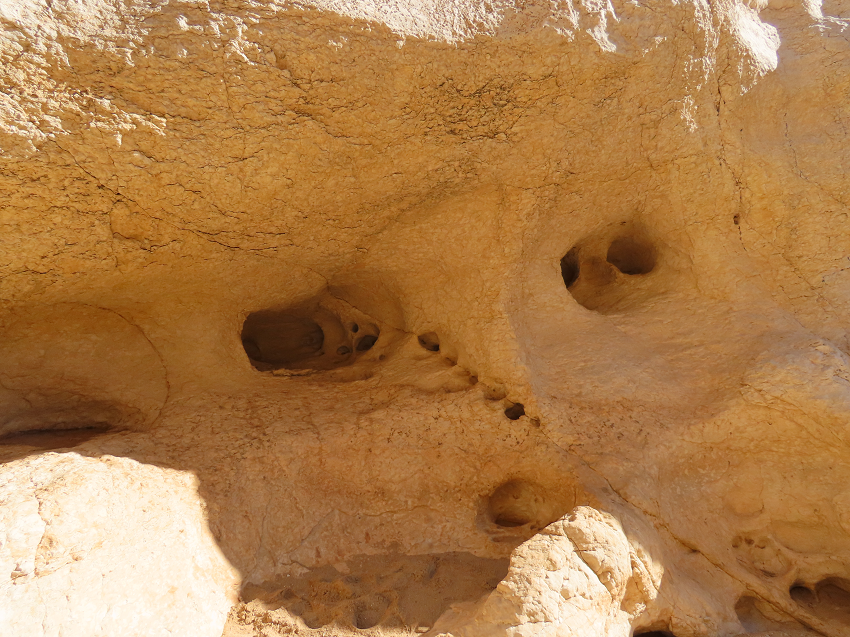 To the dike
After about 660 meters, we reached a junction with a red and a black trail (11). At this point, I also noticed that the wadi was no longer white. The white bedrock had gone and was replaced by orange-reddish ground. Actually, at this point, we were leaving Wadi Nekarot and going into Wadi Ardon. Because Wadi Ardon drains out from the crater, its bedrock is reddish.
We left the blue-marked trail and continued straight on the black-marked trail. We continued for about 1.6 km until we reached the next exciting point of the trail – one of the crater's dikes (12). It's a magnificent tower of rock formed inside a pre-existing rock. It was created millions of years ago when magma flowed through a crack in the rock and solidified. We got close to it and examined its beautiful layers.
One last climb
After resting next to the dike, we went on to one last climb – to climb to the top of Harut Hill. In Hebrew, "harut" means "cone". I'm not sure the hill looks like a cone, but it's a very dominant hill made of dark rocks. We also saw it when we were on top of Mount Saharonim.
So, from the dike, we continued on the black-marked trail for about 430 meters and then turned right onto a red-marked trail (13). By the way, if you don't want to climb the hill, you can continue on the black trail and find your way back to the car.
We climbed a few natural steps on the red-marked trail and then, after about 550 meters, started the climb to Harut Hill. The climb was tough. After about 200 meters, we thought it was the end of the climb, but then we found out that there's a green-marked trail that goes all the way up to the top. "If we're already here, let's do it," my friend said. So, we turned left and climbed all the way to the top of the hill (14).
The climb is pretty rewarding. You can see Wadi Ardon below and the crater in front of you. Unfortunately, the sun was starting to set, so we had little time to enjoy the view. We climbed down the hill on the red-marked trail, turned left onto a blue-marked trail, and then went straight on the black-marked trail. That led us to the parking lot and our car (15).
More trails you can hike nearby
There are many beautiful trails in the Ramon Crater and its surroundings. Here are some options:
Places to stay nearby
If you want to stay in the area before or after the hike, you can camp inside the Ramon Crater or in one of the hostels or hotels in Mitzpe Ramon. 
Inside the crater, a recommended camping site is Be'erot Campground, an organized campground run by the INPA. For a more luxurious camping experience, you can try Selina Ramon, which is also located in the crater. And if you are on a very tight budget, you can also camp in the free campgrounds, such as Gevanim Campground. 
If you prefer to stay in a closed structure, you can stay in Mitzpe Ramon, the closest town to the Ramon Crater. A budget stay option is Spice Quarter Inn. You can find more cheap accommodation options on Booking.com.
Travel insurance
No matter where you travel, it's always a good idea to consider travel insurance. 
Ramon Crater (Makhtesh Ramon) and its surroundings offers many  adventurous activities, including rappelling, Jeep tours, and of course, various hiking trails like this one. If you plan to take part in an adventurous activity, you might want to consider travel insurance, just to be on the safe side. World Nomads offers coverage for more than 150 activities as well as emergency medical, lost luggage, trip cancellation, and more.
Disclaimer: I receive a fee when you get a quote from World Nomads using this link. I do not represent World Nomads. This is not a recommendation to buy travel insurance.
Conclusion
Ramon Crater is filled with unique geological shapes and colors. The Nekarot Horseshoe Trail is one of the most popular trails in it and for a good reason. You can enjoy beautiful views, visit an ancient Nabatean khan, walk through the magnificent Nekarot Wadi, and even see a dike! What more can you ask for?!
If you don't want to do the long circular trail that we did, you can do a shorter version, which is suitable for the whole family. From Saharonim Khan, take the blue-marked trail instead of the green-marked trail, and then you'll arrive at Nekarot Horseshoe without having to climb Mount Saharonim. 
Save this post for later!
I hiked this trail in January 2022.
If you liked this post or found it useful, please don't hesitate to like, share or comment (:
If you need any more advice, please don't hesitate to send me a message on my Facebook page or to contact me at [email protected].
If you're searching for a tour guide in Israel, I also offer private tours in Israel.
You can also support my work by buying me a coffee on Ko-Fi.  Your support helps me maintain the site and keep creating content about Israel. It's greatly appreciated!
Yours,
Lior