The Spice Quarter Inn is a hostel and café located in the artistic quarter of Mitzpe Ramon. Prices for accommodation are high in this desert town, so if you're looking for something reasonable in price, you might find this place online. It could be a nice place to stay if you don't have any sleeping problems. But if you wake up from every small noise, this place is definitely not for you, especially if you plan to sleep in the dorm. That's one of its biggest problems, but not the only one. Here's my summary of my stay in Spice Quarter Inn Mitzpe Ramon.
Disclaimer: This page contains affiliate links, meaning I get a commission if you decide to purchase through my links, at no extra cost to you.
Short summary about Spice Quarter Inn Mitzpe Ramon
Location: 5 Stars – The location is excellent, located in the Spice Quarter of Mitzpe Ramon. This is where most restaurants, shops, and nightlife venues are located, only a few steps away. There's also free parking next to the hostel. But they told us that the municipality is thinking of turning it into paid parking. The edge of the Ramon Crater is only 2 kilometers away, which is walking distance.
Cleanliness: 3 Stars – When I stayed there, the hostel wasn't so clean. The sinks and showers seemed like they weren't cleaned regularly. But still, they weren't in a disastrous state, so I could use them. The towels we got from the hostel had some stains on them, which wasn't fun either.
Staff: 4 Stars – The staff members are all young and friendly individuals, who welcomed us very nicely when we arrived. One of them even gave us some good recommendations for places to eat. Though, they aren't so professional. When we arrived, we were told that the lights and music will be turned off at 10 PM. In reality, the staff member who was in charge of closing during our first night forgot about it and left us with light and music almost all night. The second night was fine, after we complained.
Security: 3 Stars – The staff assured us that the main door will be closed with a security code during the night. But during the day, the hostel is open to everyone because it also operates as a café. The dorm area on the second floor has no entry code and anyone can go up there, so we weren't sure if we should keep our bags there while we were out. In the end, we left them there and nothing happened.
Facilities: 3 Stars – There's a nice inner courtyard where you can sit with friends. The hostel also has its own café, which makes it easy to order food and drinks. They also equipped us with a heater, thick mattresses, warm blankets, and towels. But there's no one at the reception after 10 PM. We wanted to ask the staff about Wi-Fi, but they were nowhere to be found. While there is a kitchen, it's small and limited and doesn't look like a fun place to cook. I also couldn't find any way to fill fresh water except the sink's water faucet, which has almost undrinkable water. There are also only two showers for a large number of guests.
Atmosphere: 4 Stars – This is a hostel for people who aren't sensitive to noise. You can hear everything that is going on in the lobby of the hostel. The atmosphere is young, cheerful, and "chill."
Value for Money: 3 Stars – I've stayed in several hostels in my life. Usually, when you pay over 100 Shekels for a bed, you get a bed in a dormitory with a door, which gives you a bit of privacy. Here, we paid that amount and got a mattress in a space with no real walls, and no breakfast. So, the value for money isn't high.
Bottom Line:
Spice Quarter Inn is a young and "chill" hostel, located in the touristic area of Mitzpe Ramon. It has a unique layout, but the sleeping areas are close to the living areas and that creates problems of noise.
Want to stay at Spice Quarter Inn Mitzpe Ramon? Compare prices and book on Hotelscombined.
Detailed review of Spice Quarter Inn Mitzpe Ramon
Location
It has an excellent location in the Spice Quarter, Mitzpe Ramon's top touristic area. A few steps away you can find great restaurants, shops, and nightlife venues. I personally recommend Ultra, which offers food from Israel and the Caucasus. If you don't want to spend too much money on food, you can find the fast-food restaurants about 1 kilometer away, next to Ben Gurion Boulevard. And the promenade on the edge of Ramon Crater is only 2 kilometers away. So, everything is within walking distance! Though, to get into the crater you will need to hike several hours or use a car.
The common areas
There are two main common areas in the hostel – the lobby and the inner courtyard. The lobby is also where the café operates and the common kitchen is located, so you can sit there and eat something if you'd like.
When we arrived, we were told that the lights and music will be turned off in the lobby at 10 PM. But on our first night, they didn't turn off anything. We had to go downstairs and turn it off ourselves at around 1 AM. In the inner courtyard, the light is on all night long. But it's cold to sit there during winter.
Activities
Like many other places in Mitzpe Ramon, the Spice Quarter Inn offers workshops and unique activities, like Bedouin dinners. But this is available only for people who book in advance, and mostly for groups of over 10 people. So, don't count on any cool activity when travelling solo.
The dorm
I stayed with two of my friends in one of the cubic spaces on the upper gallery floor. This is the dormitory floor. There are mattresses on the floor, and the floor is divided into several cubic spaces, divided by low walls. There's no door at the entrance to the floor nor the spaces, so anyone can come and go. And the fact that the walls are low means you cannot enjoy complete privacy from your neighbor in the neighboring space.
Another issue is that the gallery floor overlooks the lobby area. You can stand and look downstairs. This means that the noise from the lobby can also climb upstairs to the sleeping area, and it does climb upstairs. You'll hear the music from the lobby, and also see the light from the lobby. If someone will come in the middle of the night and talk loudly, it might wake you up.
When we arrived, we got a heater, which turned out to be irrelevant because the heat from the lobby climbed up to the dormitory. We almost died from the heat on our first night, until we got the idea of going downstairs and turning down the temperature in the lobby's A/C.
What I liked about the sleeping area was that there were enough electricity plugs, and the mattresses were thick and comfy. That's about it. So, it feels like camping, but with some facilities.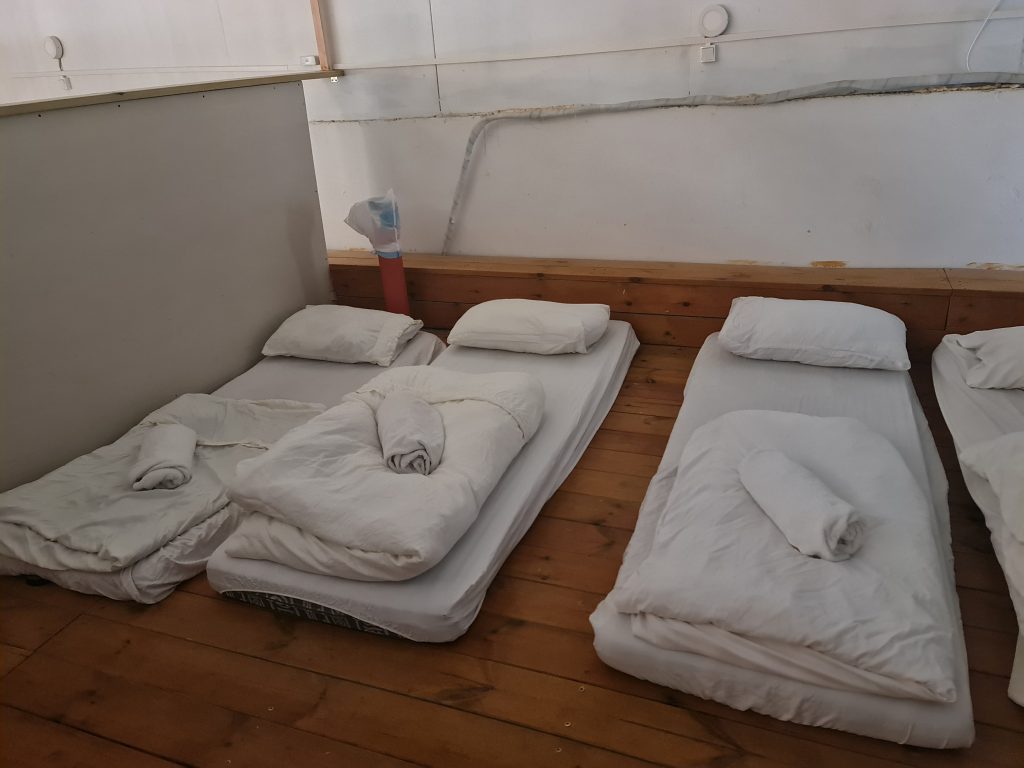 The bathroom
There are no toilets or showers on the dormitory floor. You need to climb down a set of stairs to get to a toilet or a shower. It might be ok during the day, but at night, when the temperature downstairs is freezing, it isn't fun.
Another important thing to note is that there are only three toilets and two showers for quite a lot of guests. Luckily, we were there when the hostel was almost empty, but if you're there when it's almost full, you will probably need to wait in line.
One of the showers face the main corridor of the hostel. While the showers do have doors that blur your figure behind them, you can still see blurry figures passing by you as you shower. So, it's not a pleasant experience. That's why I preferred to shower in the inner shower, located out of the corridor's sight.
The shower I used had plenty of space. I could hang my clothes and towels in a dry place, and there was even a bench where I could lay down some things. There's also soap available. And the water was boiling hot! But it wasn't so clean.
Breakfast and common kitchen
Breakfast isn't free, but guests can get it for a discounted price. It is served starting 9 AM on weekends and starting 9:30 AM on weekdays. We didn't eat it, so I can't tell you if it's worth it. If you're adventurous, you can try to order it and see.
The common kitchen is very small and limited. There's a refrigerator, a kettle, and electrical heating surfaces. There are cooking utensils and eating utensils, but I would wash them again before using them. And bring your own cleaning sponge.
Extras:
We got a warm blanket and a towel when we arrived. Though, I felt that the towel wasn't so clean and would have preferred to use my own towel.
We asked some guests about WiFi, but they didn't know if there was free WiFi or not, and we couldn't find a staff member at the time.
There's also a laundry next door to the hostel, where you can wash your clothes for a few shekels.
Staff
The staff members were all very friendly and talkative and were happy to give us recommendations on places to eat in the area. But they are not always at the reception and if you need anything, it's hard to get them. Also, we were unsatisfied from our first night, when the lights and music weren't turned off at the promised time. We complained in the afternoon and the second night was fine.
Security
The hostel functions both as a hostel and a café, so people come and go regularly. The main door is wide open all day long and closes only around 10 PM, when the staff leaves the place. At night, the door is closed by a code, which is given to the guests. I guess the private rooms have keys to their doors, but the dormitory has no key and no door, so anyone can come and go.
Bottom line
Spice Quarter Inn Mitzpe Ramon is a very central place and compared to other places in town, it's reasonably priced. But it could use some cleaning and some noise-isolating walls. Sometimes, it feels like you're staying in a nightclub or some other entertainment venue. So, if you don't mind the noise, this could be a nice place. But if you're sensitive, don't take the chance.
---
Review written in January 2022. My stay in Spice Quarter Inn was part of a personal trip and was not sponsored by Spice Quarter Inn or any organization.
Think this post is useful or helpful? Don't forget to like, share and leave a comment 🙂
Also, check out my Facebook page, Backpack Israel.
Need help planning your trip? I offer travel consulting service.
Yours,
Lior