I just finished a wonderful tour of the Machane Yehuda Market at night. We saw many beautiful graffiti works on the shops' shutters. Then we went out the main street of the market, which becomes a parking lot at night, and gathered near the minibus, that will take all of them back home, to Tel Aviv.
I wasn't going to get back home to Tel Aviv, because I live at the moment in Eilat. Next month I'm going to move to Jerusalem. Tel Aviv isn't my type. It's too humid all year long, especially in wintertime. But Jerusalem is great. The weather is great all year round, and extremely cold in wintertime, which is great! So I decided to stay in Jerusalem for one night.
"How do I get to Davidka Square?" I asked my guide.
"Ah, you're staying at Abraham's?" my guide asked.
I smiled, "Yeah."
"It's a great hostel, you know," he said, "One of the best in the city. A few years ago it was chosen as one of the five best in the world, if I'm not mistaken. I'm sure you'll enjoy it there."
"Yeah, I heard it was one of the best," I said, "That's why I'm trying it out."
"I'm guiding some of their culinary tours, that's how I know them," he said, "The staff there are really great people."
"Yeah, they were nice when I came there this afternoon," I nodded.
"First time in a hostel in Israel?" he asked, and I nodded. "We really need this kind of accommodation here. Cheap and good quality," he moved on, "There's another hostel that opened not long ago… Post Hostel, if I'm not mistaken. It has a more elegant feel than Abraham."
"Yeah, I had a look in Abraham before I left. It's real chaos, with all the stuff…"
"But remember that's its vibe, that's its thing," my guide said, "There's a lot to do for everyone there. You just need to come into the lounge and pick what you want to do."
"Yeah, I suppose," I chuckled, "I've never seen anything like it."
"Well," he saw that the minibus was about to leave and got back to my first question, "It's really near here," he pointed the street in front of us, "Just go this way and turn left at that big building," he pointed it out, "And you'll be there!"
"Thank you very much," I smiled, "It was nice, the tour."
Then I made my way up that street and left, and to my great surprise, the Davidka Square was right in front of me. A three minutes' walk from the Market! The Abraham Hostel stands right on Davidka Square, in a huge building that once belonged to the city council.
My room was on the third floor. I took the elevator. When the doors opened, I went down the hall to my room, turned the key in the lock, came in and shut the door after me. I turned on the boiler, waited about 15 minutes, had a warm shower and hurried to bed.
–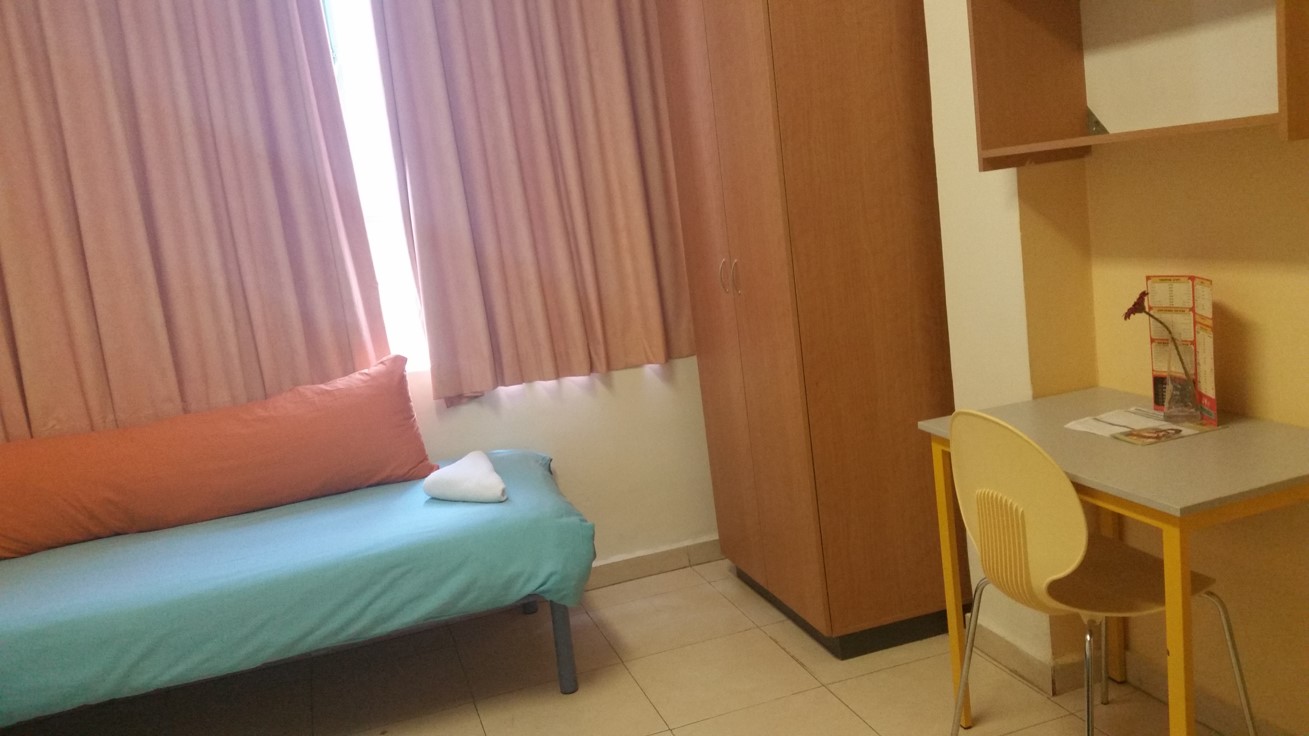 –
The next morning, I woke up quite early and made my way to the first floor. This is where the lounge is and where they serve breakfast. The dining room was very crowded. It seems like Abraham Hostel is very popular. The staff had to open some more tables that were hidden in the corner of the room.
I took some bread, some strawberry jam, cereal, salad, and plums and started eating. Then, when I was finished, I found out that the guests have to wash their own dishes at breakfast (and anytime else). I never had to wash my own breakfast dishes at any hostel I've stayed at, so it was surprising but very reasonable. There were so many people, and in the army I was always a fan of the idea that "everybody should wash their own dishes". So I washed my dish and even dried it!
And then I was off.
---
Want to book a room in Abraham Hostel Jerusalem? Compare the hostel's prices here.