Shabbat is the holy day of the week for the Jewish people. It begins on Friday eve and ends on Saturday night. So, you can call it Saturday. Because Israel is a Jewish democratic state, most businesses and public transportation follow the Shabbat religious laws. This means that most public transportation does not operate on Shabbat. Also, almost all businesses are closed, including shops and restaurants. In this post, I want to focus on Shabbat in Jerusalem. 
The holy city of Jerusalem is strict regarding Shabbat laws, so many places and services will be closed. But there are still some things that do operate on Shabbat. Now, I'll tell you about the top things you can do on Shabbat in Jerusalem. Also, I'll mention some restaurants which are open on Shabbat and aren't too expensive. 
How to get around on Shabbat? Read my post >> There's No Public Transportation on Shabbat. It shows some ways to move around.
And if you're planning to visit Tel Aviv on Shabbat, read my post about things to do on Shabbat in Tel Aviv.
Disclaimer: This post may contain affiliate links, meaning I get a commission if you decide to make a purchase through the links, at no extra cost to you. These links help me keep the website alive and not depend on sponsors! Thank you in advance.
Here's a video by Kinetic Village, which talks a bit about the Shabbat and gives some footage of Jerusalem. The footage isn't necessarily from Shabbat, but I really like it: 
Top things to do in Jerusalem on Shabbat
Explore the Old City
Almost all places in the Old City are open on Shabbat. You can visit the churches in the Muslim and Christian quarters, walk through the Old City Market, explore the Tower of David Museum, and even visit the Western Wall. Just keep in mind that it is not allowed to take pictures in the Western Wall plaza during Shabbat because it isn't allowed to use cameras on Shabbat. If you take pictures, people might ask you to stop (and might not).
The Jewish Quarter is closed on Shabbat. I mean, you can walk through the quarter, but all the stores, restaurants, and sites in the Jewish Quarter are closed. Another main attraction that is closed on Shabbat – and also on Friday – is the Temple Mount, also known as Al Aqsa. 
Recommended read >> Top free things to do in Jerusalem Old City.
And if you like viewpoints >> The top 5 viewpoints in Jerusalem.
Enjoy the graffiti works in Machane Yehuda Market
On Shabbat, the stalls in Machane Yehuda Market are closed. That means that the shutters are down. You'll be able to see dozens of beautiful graffiti works made by the artist Solomon Souza. The graffiti works are painted on the shutters and show the faces of famous people – and less famous people – from Israel's history. There are also some biblical scenes.
Take part in a Shabbat Dinner
One of the most amazing experiences in Israel is taking part in the Shabbat dinner. For Jewish people, this dinner is the most important meal of the week. Religious or traditional families say a set of blessings, sip from the wine, and split the challah bread between all the participants. Many hostels offer a Shabbat dinner to their guests at an additional price.
If you want to experience a more intimate Shabbat dinner, you can join a Jewish family for this important event. Several companies link travelers and families for Shabbat dinner. One of the leading companies is Shabbat of a Lifetime. There's also Get Shabbat, which is a free service run by Jeff Seidel. If none of those work for you, you can also find a Shabbat experience on Eatwith. Please note that I have not tried any of these options. So, if you try any of them and want to tell me how it went, I'll be happy to hear from you. Leave a comment or contact me.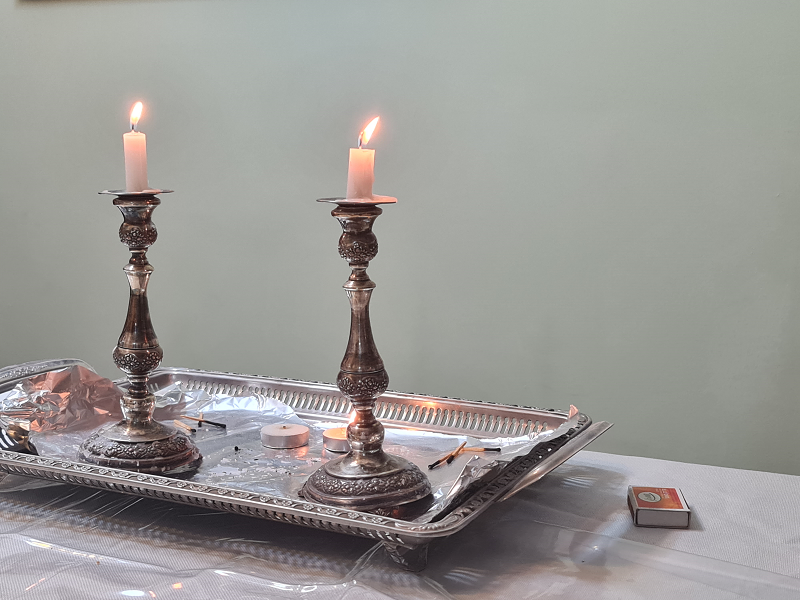 Visit the Jerusalem Biblical Zoo
The Jerusalem Biblical Zoo is open during Shabbat between 9 AM to 5 PM. You can spend a pleasant afternoon walking on the different paths, between the variety of animals. The nearby Israel Aquarium is also open. Though, keep in mind that the zoo is far from the city center. That could be problematic on Shabbat because there's no public transportation. You'll need to rent a car or take a taxi.
Find more info on the official website of the Jerusalem Biblical Zoo.
Join a guided tour
Prefer exploring the city with a guide? You can join one of the tours offered by different companies in Jerusalem on Shabbat:
If you don't want to join a group tour, you can book a private tour. Not all the guides work on Shabbat, so you should ask if they are available on your dates. I sometimes work on Shabbat and can also connect you to guides who work on Shabbat, so you can contact me at [email protected] or through my Facebook page and I'll try to help.
Cheap restaurants open on Shabbat in Jerusalem
(all restaurants are in the city center or the Old City)
Aroma – This is a national chain that serves coffee, sandwiches, salads, and breakfasts. The breakfasts include shakshuka, of course. Most branches in Jerusalem are not open on Shabbat, but one is open on Hillel 18, from 7 AM to midnight.
Hummus Lina – Located in the Christian Quarter of the Old City, this restaurant is well-known for its hummus. Many say it's the best hummus in town. They also serve falafel, French fries, salad, and other tasty dishes. It's located at 42 Al Khanka Street.
Jafar Sweets – Here is the place to go for a perfect kanafeh. This Arab dessert is a pastry soaked in sweet syrup and layered with yummy cheese. But besides the kanafeh, there are also delicious baklavas and other Arab sweets. They have been making sweets for over 60 years, so they know what they are doing. You'll find their restaurant inside the Old City Muslim Quarter, on Beit HaBad Street. 
I'm sure there are more, but those are the ones I know and recommend. Know of any more budget restaurants open on Shabbat? Let me know in the comments or PM me on my Facebook page.
Save this post for later!
Wishing you a great Shabbat in Jerusalem!
If you liked this post or found it useful, please don't hesitate to like, share or comment (:
Also, if you think anything is missing or have any more questions, please send me a message through my Facebook page – Backpack Israel, or email me at [email protected].
Yours,
Lior