Timna Park is one of the most interesting spots along the way to and from Eilat. My family and I decided to take one of our guests to the park on a warm Saturday morning. It was 32 degrees outside at 8:30 a.m. Yes, I highly recommend coming here in winter.
Timna Park is a huge park, covering about 15,000 acres, full of beautiful desert scenery and some historical spots. The Timna Valley was the site of the first copper mine in the world. While touring the place for only a couple of hours, we found many ancient mining shafts. The Egyptians have spent a long time in this area, mining copper, so we also found some ancient Egyptian inscriptions on the rock walls (at "The Solomon Pillars") and the remains of an ancient temple. Our guest, who came from abroad, said she'd never seen a place so enchanting as this.
Some sites to see in Timna Park
The Arches Site
The Arches are made of sandstone and are one of the most beautiful sites in Timna Park. You can climb up to the larger arch by using a ladder of bars stuck in the stone. There's a short and beautiful trail leading from the arch back down, with a high ladder along the way. All around this area, there are also some ancient copper mines, which are closed so you won't accidentally fall into them. One collapsed mine is open to the public, so you can crawl through it if you don't mind getting a bit dusty.
The Mushroom
The Mushroom is one of Timna Park's most iconic rock formations. It's made of red sandstone that's been shaped like a mushroom by erosion. Near the Mushroom is a kind of visitor center with information about the process of copper smelting. If you're coming with children, there's also a model of a copper smelting oven, which all of you can try to operate.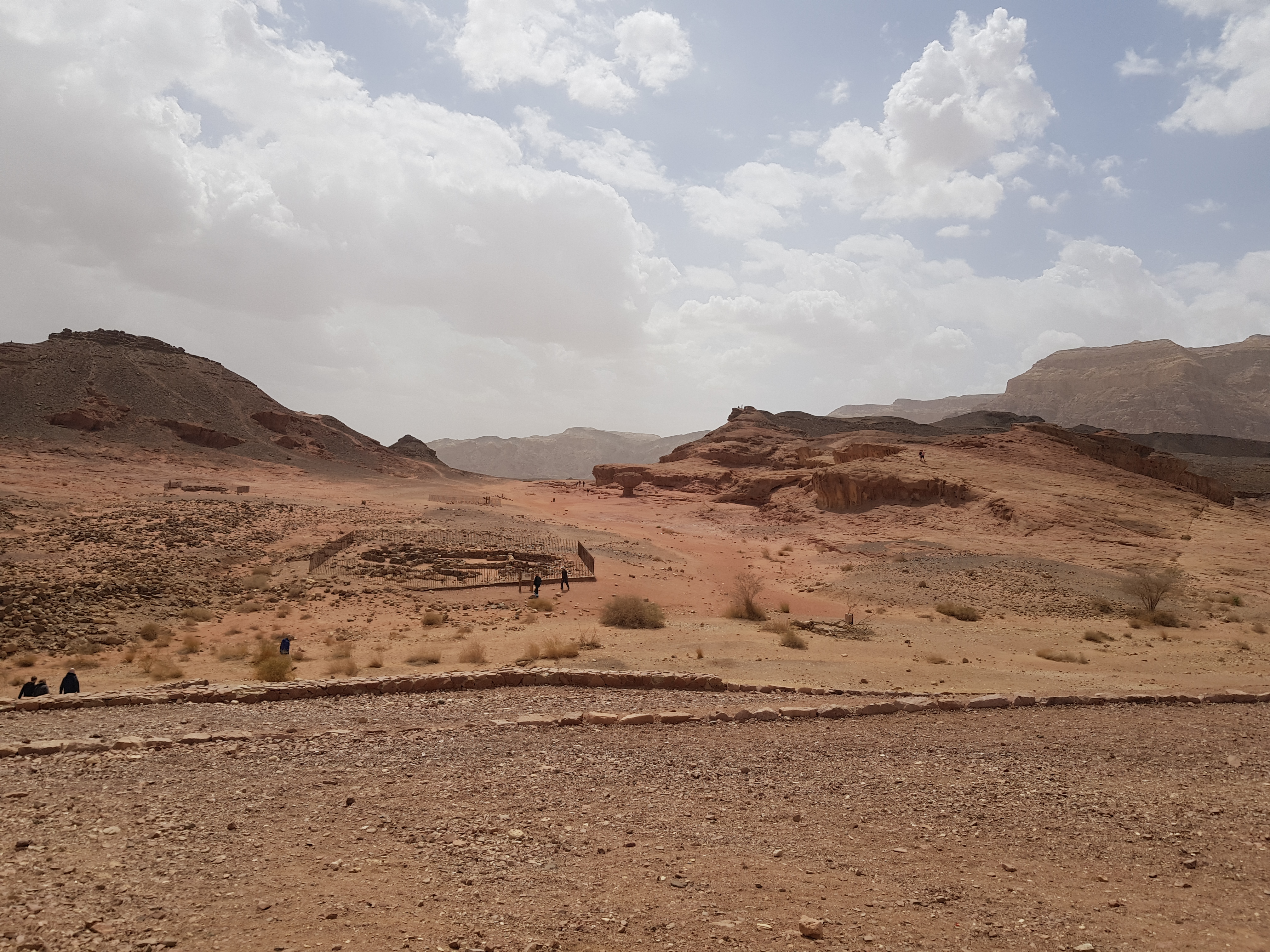 Solomon Pillars
The Solomon Pillars are also one of the top rock formations inside the park. These pillars are also made of sandstone and were shaped by erosion along the cracks in the hard red sandstone. They're called Solomon Pillars, but the truth is that Solomon most likely didn't come here to mine copper. The Egyptians (and other ethnicities), on the other hand, did. If you'll go a bit right from the place photographed in the photo below, you'll find an ancient Egyptian temple dedicated to the Egyptian goddess Hathor. You can also climb up to see an Egyptian inscription on the rock.
Also, make sure to stop at the Timna Artificial Lake and fill up some plastic bottles with colorful sand, so you can take something back home.
Practical info
The park is situated about 25 km from Eilat, a 20 minutes drive from the city. It is possible to take a bus to the station that's situated in front of the road leading to the park, but you should get ready for a lot of walking if you're not coming in a car. It's recommended to visit Timna Park by car. Elsewise, you will have to hike or bike in the park all day and maybe more. I'm not a biker, but I've heard there are awesome bike singles all around the park! And it costs just 60 ILS for a half-day bike rental from the park's entrance.
There is a mid-range entrance fee.
The park is open daily from 8 AM to 4 PM. Check out the official site of Timna Park.
There is an option to camp inside the park. For more details about this option, email the park at [email protected].
Pin this post for later!
---
See how you can combine Timna Park in your trip to Eilat – 3 to 5 Days in Eilat: Travel Ideas.
If you liked this post or found it useful, please don't hesitate to like, share or comment (:
Also, if you think anything is missing or have any more questions, please send me a message through my Facebook page – Backpack Israel or email me through [email protected].
Yours,
Lior