I was searching for places to stay in Haifa, and all the well-known hostels were fully booked or too pricey. So, I decided to book a night at NestHouse Haifa. NestHouse is a new hostel, that opened about 2 months before the coronavirus hit, and only recently reopened. Its location is perfect – a few steps away from the railway station, on the ancient Jaffa Road. The building itself is over 200 years old and was historically preserved. Overall, it was a pleasant stay and reminded me of a home away from home. Here's my full review of NestHouse Haifa.
Disclaimer: This page contains affiliate links, meaning I get a commission if you decide to purchase through my links, at no extra cost to you. My visit to the NestHouse was at my own expense and not funded by anyone.
A short summary about NestHouse Haifa
Location: 5 stars – The location is perfect, a few steps away from Haifa Center- HaShmona Railway Station, and a few minutes' walk from Wadi Nisnas and the German Colony.
Cleanliness: 5 stars – My room and the public spaces were clean. Yes, there was some mess on the rooftop, but that's because they're still working on it.
Staff: 5 stars – The owner was very friendly and professional. Looks like he really loves what he is doing. He also gave me a good recommendation for dinner.
Security: 4 stars – There's an entrance code to the main door. The thing that troubled me was the room's door. The locking process was complicated. And if there's wind from the window, a small gap still opens. So… it's not completely private and if for some reason you must open the door fast, it may be problematic, especially if you're not a lock-lover like me.
Facilities: 4 stars – I really loved the kitchen although I didn't use it. It's HUGE and has everything you might need to cook a great meal. There are also laundry washing and drying machines, three shower rooms with soap, a rooftop, and even a TV in the lounge. One thing that was missing was a storage room for luggage. Another thing that was weird was the light switch that was OUTSIDE my room. Not so convenient.
Atmosphere: 4 stars – Mostly, people sat in the lounge and stared at their phones. For people who like peace and quiet, it looks like a good place.
Value for money: 4 stars – The price wasn't so high, and the stay was overall nice, so it was good value. A small breakfast could have been nice.
Important to mention: To enter the hostel, you must climb a long set of stairs. There's no elevator.
Bottom line
NestHouse Haifa has started operating only recently, so I guess it will become even better over time. Right now, it reminds me of a house and is a very nice place. The owner is friendly, the facilities are overall good, and the location is WOW.
Want to book a room in NestHouse Haifa? Look for the best deals on HotelsCombined.
A detailed review of NestHouse Haifa
Location
The location of NestHouse Haifa is incredible. It's about 2 minutes from the Haifa Center- HaShmona Railway Station, 5 minutes from Wadi Nisnas, and 7 minutes from the German Colony. There are a ton of bus lines that leave from the railway station, so you can get to wherever you need to go. The Carmelit, Haifa's underground funicular railway, is also 7 minutes away.
The hostel itself is located on Jaffa Road 71. It's a historical route that was first built in the 18th century when Daher al-Omar established the "new" fortified city of Haifa. The route developed throughout the years until it turned into a main road during the British mandate. It led from Haifa's "Jaffa Gate" towards the city of Jaffa.
The common areas
There are several common areas in the hostel. I think the common area with the most potential is the kitchen. There's a huge table there, where you can sit and talk with fellow travelers. Of course, this is only a vision that I have, because, in reality, I didn't see anyone around the table.
Another common room is the lounge near the reception. It's rather small, and I wouldn't make too much noise there. It's right next to some of the private rooms, and the doors don't block out the noise.
And finally, there's the rooftop. When I first arrived, the owner told me that there was a nice view from up there, so I had to go up and check. But I wasn't too impressed. The rooftop was also a bit messy because they were still working on it. It's a huge rooftop and there's a small space with a nice seating area, where you can chat on warm days or smoke. When I was there, it was windy and cold.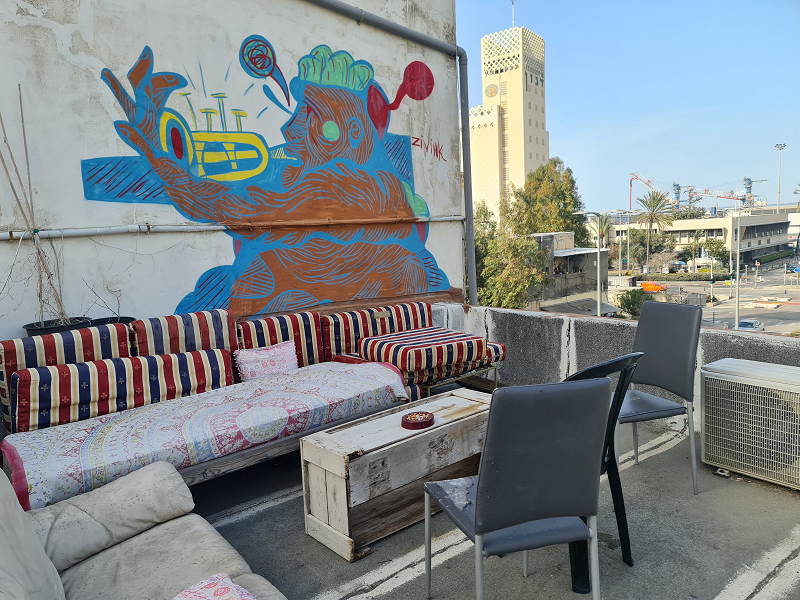 The room
When I was booking the hostel, the only dorm I saw was a mixed one. If I stay in dormitories, I make sure to stay only in female-only ones. So, I had to change my habits and book a private room.
My private room was very spacious, had a double bed, plenty of space for storage, an A/C, and a small mirror. There was even an electricity socket right next to the bed, and a bedside table where you can place your phone while charging.
Some problems in the room:
The owner showed me the room when I arrived and explained about the door. "The building is historically preserved and so are the doors, so there's no proper lock with a key. It has an old-fashioned way to lock up here," he said and touched the upper left side of the door, where there was a rusty latch. To lock it, you must use a separate padlock, provided by the hostel.
Although it's nice to stay in a historically preserved place and use historically preserved doors, it wasn't ideal. First, I don't like dealing with padlocks. It takes me a long time to lock and unlock them. So, I was a bit nervous locking myself in the room with the padlock. Because, what if there was an emergency and I had to unlock myself fast? Also, the door wasn't completely sealed even after I locked it. If there was some wind from the window, then the door could open a bit and there was a small slit. So, it didn't guarantee the privacy you would expect from a private room.
The second thing that was problematic was the light switch. It was located OUTSIDE my room, next to the bathroom. So, I had to go out of the room to switch it off. Someone also switched it off accidentally once. There is a small lamp inside the room, which I could control from inside, but I would have preferred that all switches were inside.
Lastly, the room is located next to the lobby and two of the bathrooms. If someone talks too loud in the lobby, you can hear it. And if someone opens or closes the door of the next-door bathroom, you'll hear it too.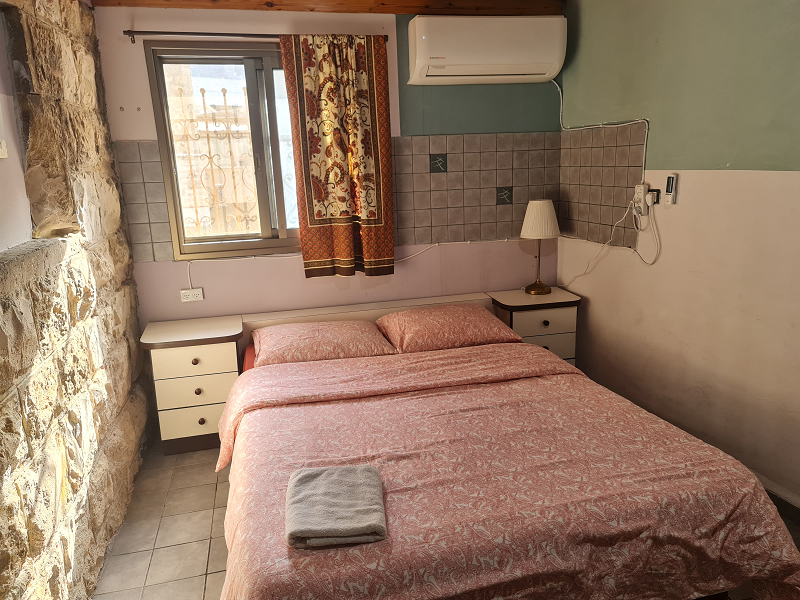 The bathroom
From what I saw, there were three bathrooms in the hostel. One was intended for the dormitory, and two for the private rooms. All of them were shared. The bathroom next to my room was spacious and clean. It felt like it was cleaned several times during my stay. And there was always soap ready on the sink top.
The shower itself had a shower curtain around it. Personally, I'm less fond of shower curtains, because they usually stick to you while you shower and tend to look dirty fast. But overall, it was ok. It took a while for the water to warm up, but once it did, it was hot throughout the entire shower.
In one of the bathrooms, there's a laundry machine and a dryer. It seems you can use it freely, but I didn't try or ask about it.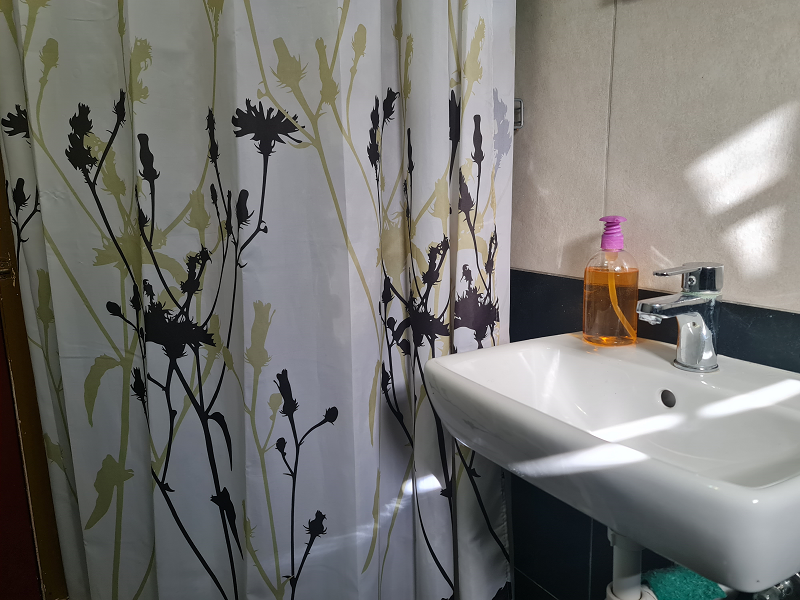 Common kitchen
The common kitchen is HUGE. It looks the kitchen was taken from a family's house and moved to the hostel. There's an oven, electric stovetop, refrigerator, and plenty of cooking and eating utensils. When I was there, the sink was out of order, but the owner was working on repairing it.
Usually, there's a way to mark your food in the refrigerator, with stickers or something. But here you just lay your food in the fridge and hope that no one will touch it.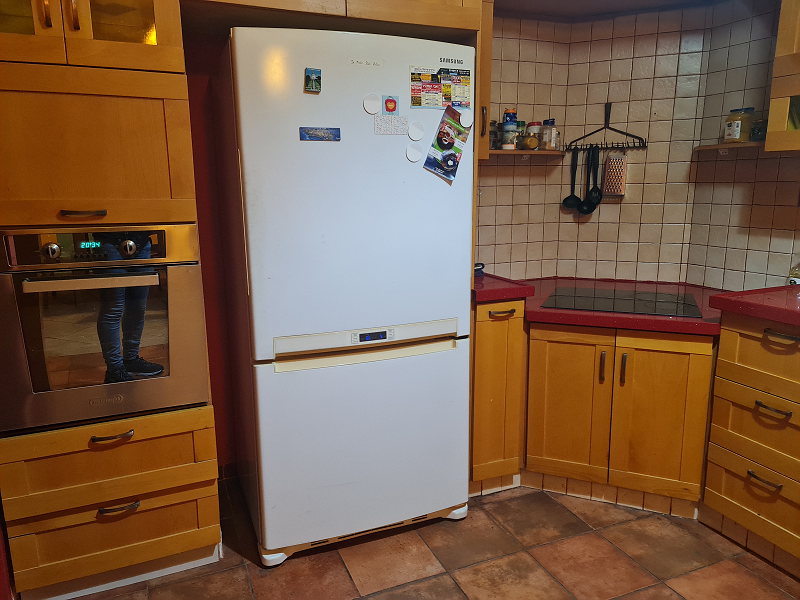 Extras
The hostel provides free Wi-Fi to its guests. They also provide free towels.
Staff
When I was there, the only staff member I saw was the owner, who did the check-in process and took care of the cleaning and general maintenance. Maybe he has some more people who help him out, but I didn't see any. Or maybe there will be more staff members later when the hostel stabilizes. Right now, they are still in the first stages of opening.
The owner, Uri, was very friendly and seemed very passionate about his hostel. He was always with a smile. The check-in process was fast, and he showed me around all the common areas. He also gave me a great recommendation for a place to eat dinner near the hostel and told me where I can find grocery shops.
Security
Overall, I felt safe in the hostel. There's a security code to the front door, which you get after check-in. But as I said before, the fact that I had to use a padlock to lock my door wasn't ideal. And I also didn't feel so secure to leave my luggage in the hostel after check-out, because there was no luggage room.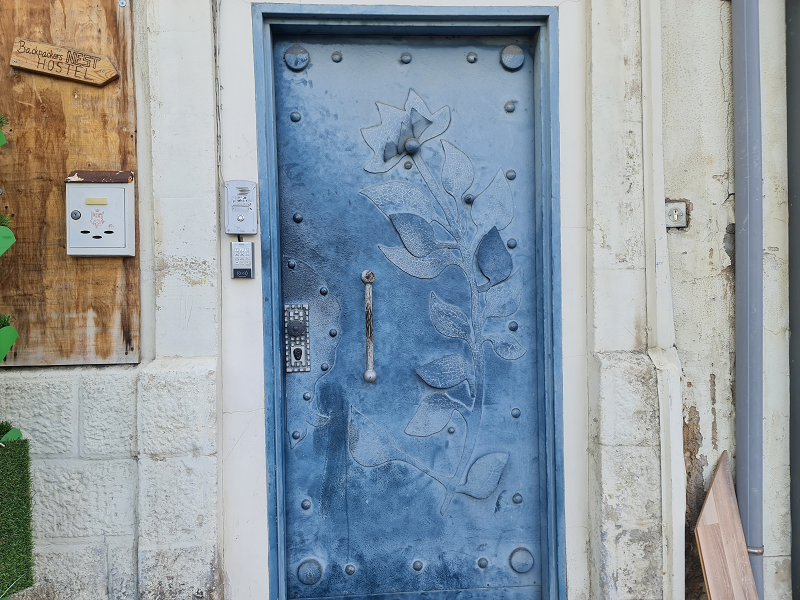 Bottom line
NestHouse Haifa is a new hostel in the heart of downtown Haifa, a short walk from all the main attractions and public transport. It feels like a small home away from home, with spacious rooms, a huge and well-equipped kitchen, and clean bathrooms. Yes, it has some bugs, but they weren't too critical, so if you're looking for a nice hostel at good prices, NestHouse could be a good option.
---
Review written in March 2022. My stay in NestHouse Haifa was not sponsored by the hostel or any organization.
Think this post is useful or helpful? Don't forget to like, share and leave a comment 🙂
Also, check out my Facebook page, Backpack Israel.
Need help planning your trip? I offer trip planning service.
Yours,
Lior