Is Israel Hot? Hell YES! August is probably the hottest month in Israel. And personally, I don't like the heat. Last year, in 2021, we had many days with temperatures that rose well beyond 35 degrees Celcius, which is 95 degrees Fahrenheit. And it looks like we're going to face these scenarios this year as well, with a mix of high humidity. So, it's going to be HOT. If you like the heat, that's great. But if you're searching for ways to cool down or keep away from the heat, here are 5 ways to survive the heat.
But let's start with some basics.
Disclaimer: This post may contain affiliate links, including links from Amazon, meaning I get a commission if you decide to purchase through the links, at no extra cost to you. These links help me keep the website alive and not depend on sponsors! I appreciate your support.
As an Amazon Associate, I earn from qualifying purchases.
How hot does it get in Israel?
As I said, temperatures can soar beyond 35 degrees Celsius (95 degrees Fahrenheit) in the summer. In some places, the temperature even crosses 40 degrees Celsius! Also, there are places, especially near the Mediterranean coast, where the humidity is very high – usually above 60%. This really adds up to the heat. So, the temperature might say 35 degrees, but you'll feel much hotter.
Usually, it starts warming up at the end of May and the heat keeps increasing until the end of August. Then, it slowly decreases until the start of October. But, with the crazy weather changes that we're experiencing lately, it's really hard to tell what we'll experience in the future. Last year, there were unordinary heatwaves in months that weren't even summer.
Where is it the hottest in Israel?
The hottest place in Israel is the Jordan Valley and the Dead Sea area. While writing this post, I'm searching for weather in Ein Bokek, the Dead Sea hotel area. It says it's going to be 42 degrees Celsius today! On some days, it can even reach around 50 degrees Celsius. Though, the good thing about the Dead Sea area is that it's relatively dry, so you won't feel choked by the heat.
These high temperatures can be experienced all along the valley that passes from Eilat in the south to Tiberias in the north. There's a local joke that you can make an omelet by simply breaking an egg into a cooking pan and placing the pan on top of one of the rocks in the Eilat mountains. So yes, it's REALLY hot there, too.
But if you'll look at the historical records, you'll see the hottest temperature ever recorded in Israel was actually in Tirat Zvi, a kibbutz located in the Beit She'an Valley. It's also close to the Jordan Valley, so it makes sense. In 1942, the temperature there was 54 degrees Celsius!
Aside from trying to avoid those places, you should also try to avoid the Negev region, which is the main desert region in Israel. It's very exposed and very hot in the summer. 
5 ways to survive the heat
Pack whatever you need for summertime
If you're coming from abroad, you should bring all you need for the Israeli summertime. Make sure to pack light clothes, but also a light jacket for indoor places. Usually, the A/C is super cold in the summer in museums, public transport, and other indoor places.
Other than that, it's important to bring things that will protect you from the powerful sun. Here are some things you should definitely bring:
Of course, if you're planning to go to the beach or on a water hike, it's a good idea to bring a swimsuit, flip-flops, and anything else you might need to enjoy your time.
Get more packing ideas on my ultimate packing list for Israel.  
Start your day early, but not TOO early
The hottest time of the day is usually the afternoon. The sun's rays are the strongest between 10 AM and 4 PM, so that's the most dangerous time to be outdoors. That's why it's best to start your day early and plan to be outdoors until around noon. You can plan something outdoors in the evening, too, when it gets cooler and the UV rays aren't too strong. In the afternoon, you can plan to go rest in your hotel or go visit an indoor attraction, whatever you prefer.
And why not start TOO early? Because the earlier you start, the more humid it will be. And as we've already mentioned, humidity adds up to the feeling of the heat. Usually, the humidity drops around 9 AM. Check the humidity levels in the weather forecast.
If you plan to travel to the Dead Sea area or to Eilat, where the air is dry, you don't need to worry too much about humidity. So, it's recommended to start your days there VERY early, even around 6 AM.
If you want, you can also start late! Lots of cities in Israel are also lively at night. Just to get an idea, you can read my ideas for things to do in Jerusalem at night.
Drink water, and LOTS of it!
The hot weather in Israel might lead to dehydration if you won't make sure to drink enough water on your trip. So, drink water, and lots of it! The tap water is good and free of charge.
If you're going on a tour in the city, it's recommended to bring at least 2 liters of water for each person in your group. You can always buy water bottles in the city's stores or fill the bottle from water coolers on the way. But if you're going to a nature reserve or national park, it's recommended to bring much more water, I'd say around 3 liters per person.
Stay near water sources
Israel might seem like a dry country, but it's actually full of water sources. So, if you want to cool down, make sure to go to one of the beautiful beaches, water springs, or streams that exist in Israel.
Beaches in Israel
The most popular beaches in Israel are in Tel Aviv. But there are also other great beaches northern to Tel Aviv, like Beit Yanai Beach, Dor Beach, and Achziv Beach. All these beaches are beautiful and usually peaceful.
There are also excellent beaches in Eilat. There, some of the beaches are sandy beaches and some are covered stones. And there's the bonus of seeing the northernmost coral reef in the world if you're up for snorkeling or diving. Lately, a new water park has been opened in the neighboring kibbutz of Eilot. So, if you're traveling with kids, that's also an option.
And if you prefer freshwater, there's the Sea of Galilee, the Kinneret. There are many beaches along the lake, some free and some paid. And there are also some water parks, so it's an ideal place for kids.
Water hikes in Israel
Another option is to go on water hikes in Israel or visit the many water springs all around Israel. Many water hikes combine water springs, so it's a great option. But anyway, make sure to start your hike early, because even if you're in the water, it's going to be hot. You can read more in my post about water hikes in Israel.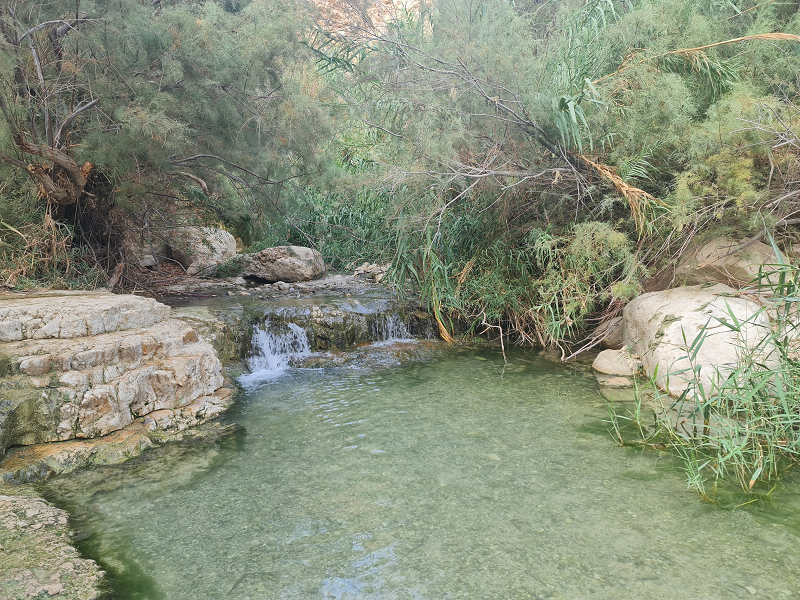 Visit the excellent Israeli museums
With over 200 museums, Israel has the highest number of museums per capita in the world! And the number is always growing and growing. So, if you're looking for an interesting place with A/C, you'll find plenty of excellent museums in Israel.
Some of the must-see museums include the Israel Museum in Jerusalem, which features many archeological finds from all around Israel (check out the highlights), and the Yad Vashem Holocaust Museum in Jerusalem, which tells the story of the Holocaust and the survivors. For families with kids, the Madatech in Haifa, the Bloomfield Science Museum in Jerusalem, and the Children's Museum in Holon could all be good picks. But as I've said, there are endless options. You can find a list of some of the best Israeli museums on TripAdvisor.
Conclusion
Israel is VERY hot during the summer, from the end of May to the start of October. To survive the heat, make sure to protect yourselves from the sun, drink a lot, stay indoors during the afternoon, and spend time in water sources and indoor museums.