We arrived at the Hermits' Mill the other day, and now we were headed to Kibbutz Yagur. We woke up very early after a wonderful night at Abu Atef's Agricultural Hospitality place and started making our way along the beautiful Zippori Stream.
The segment from the Hermits' Mill to Yagur quickly leaves the banks of the Zippori Stream and makes its way through the Lower Galilean landscapes, full of Mount Tabor oaks and free roaming cows. The trail also passes through the Bedouin town of Zubaydat, where there is an amazing bakery and konditorei (at least when we were there in November 2020). Near the end of the segment, the trail descends down to the kibbutz of Yagur. But what I'll remember most from this day was what happened during the night.
Trail length: About 16 km. You can also hike it from the other direction.
Trail duration: About 6-8 hours, depending on your pace.
Difficulty level: Easy to moderate. The main descend is at the end of the segment.
Best season: Fall (October-November) and Spring (February-April).
Water along the way: You can get water at the supermarket in Zubaydat, about 6 km from the start of the trail. There is also a place to fill water along the road in Kfar Hasidim, near the end of the segment – look for a place with picnic tables. There's a water cooler over there. And there's a drinking tap at the end of the segment, in the camping area in Yagur.
Stay options at the end of the trail: We camped at the foot of Mount Carmel, in an area with picnic tables in Yagur, which had a sign next to it saying that it's a camping place for hikers. There are also Trail Angels in the area.
Before we begin, let's go over some safety instructions and general notes:
· The hike is under your responsibility, so please be careful.
· Make sure you hike with good hiking shoes, have at least 3 liters of water, and wear a hat. Pack food and snacks for the whole day, BUT make sure to bring a garbage bag as well and take your garbage with you, including toilet papers.
· Don't go on the hike when it is too hot (over 30 degrees Celsius), because it's not enjoyable and can end with a heatstroke. Also, it's not recommended to hike after rainfall, as the trail could be muddy and slippery.
· Pay attention to sunset hours (in Summer around 6-7 PM, in Winter around 4-5 PM). Try to begin the hike before 6 AM so you will have time to rest a bit during the hot hours of the afternoon and still get it to the end of the trail.
· The phone signal is good throughout most of the trail.
· Before you begin the hike, make sure you have a good trail map. The trail isn't always well marked, so it's good to have a map. You can also use a navigation app such as the Israel Hiking Map. With GPS, you can also see where you are exactly. Though, remember that wherever you do see a trail mark – this trail mark is superior than what's shown on your map.
· The trail is marked with the Israel National Trail colors, orange-blue-white.
· If you need any further help with planning your trail, I recommend posting on the Israel National Trail forum on Tapatalk. Of course, you can also talk to me through [email protected].
How to get to the head of the trail?
To reach the head of the trail, you will need to reach Ras Ali and continue from there by foot to the beginning of the trail at the Hermits' Mill. Ras Ali can be reached by bus number 74, which leaves from HaMifrats Central Bus Station in Haifa and passes through Yagur Interchange and other stations. If you are coming from Jerusalem or Tel Aviv, you will most probably need to use at least two buses. It's best to use a navigation app like Google Maps or Moovit to find the best route for you.
The hike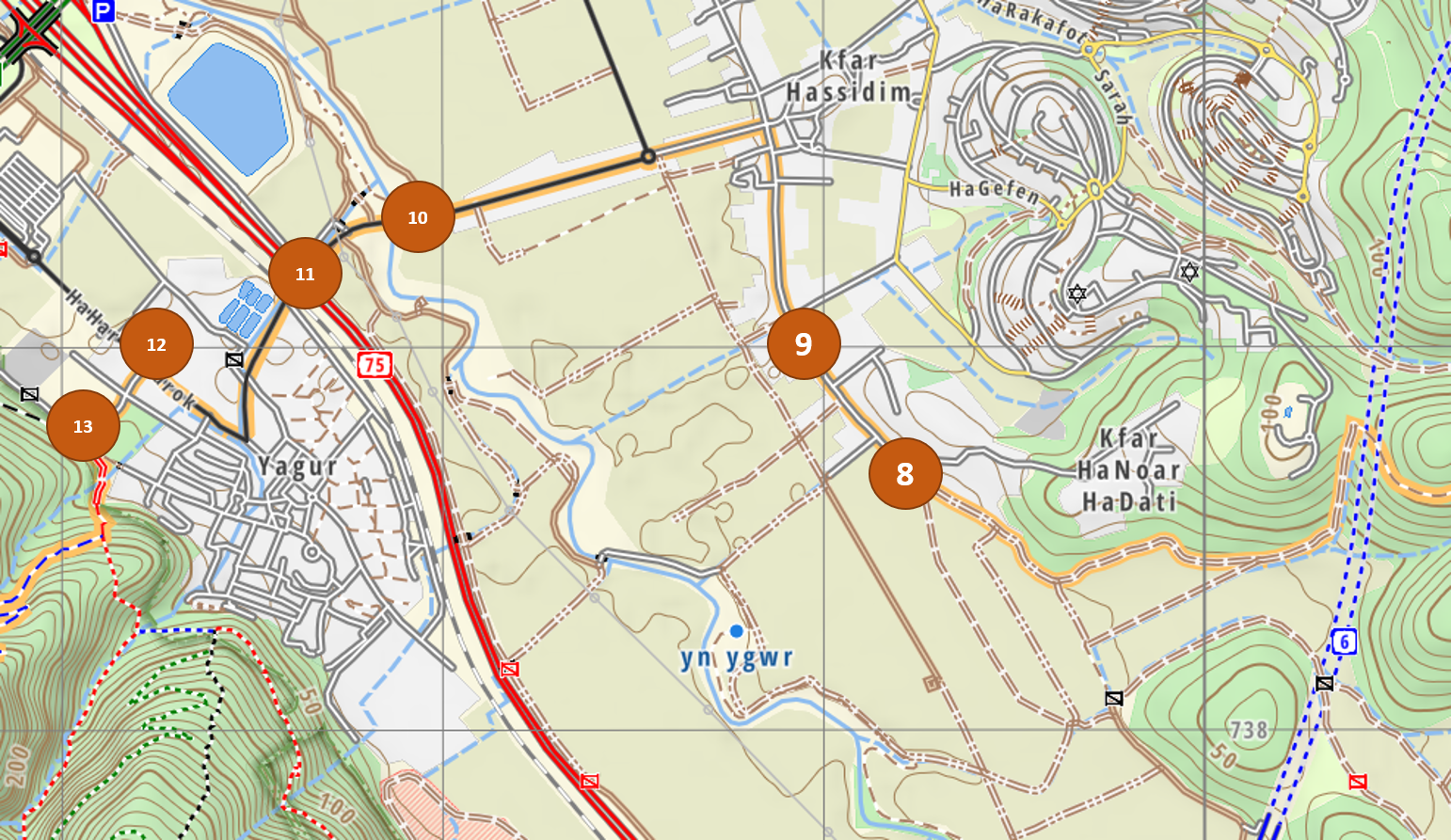 We left the camp at Abu Atef's Agricultural Hospitality (1), walked a few meters north to a wide gravel route and continued left along the Israel National Trail, which at this point overlaps a blue-marked trail. The trail goes above the channel of the Zippori Stream, so you can clearly see the stream flowing to the right. It's a beautiful and very peaceful view.
But the trail leaves the Zippori Stream very quickly. After about 830 meters, it reaches the access road to Ras Ali (2), a small Muslim village, that lies on a hill above the Zippori Stream. We turned left onto the road and walked on the sidewalk for about 650 meters.
Straight ahead, we could see Mount Carmel and on top of it – two towers, which are probably very high and massive, because we were a long way from Haifa. I think they are the two Panorama Towers, which were built in Haifa during the 1980s. They are the third highest towers in Haifa, both rising to a height of about 88 meters. One of them is a building of luxury apartments and the other is the building of the Dan Panorama Hotel. To the right of the road there's a hill with a lone tree on top – that's Tell Khali, an archeological site which doesn't have much to see. People have built their houses on this site over and over again, and slowly-slowly a mound was formed.
We left the road and turned left (3) into a woody area. After about 330 meters, the trail turns left onto a wider gravel route, that makes its way below the community settlement of Nofit. About 1.5 km afterward, we turned right (4) and found some shade under a big tree for breakfast. As usual, we ate some bread with raw tahini, some nuts and dried fruit.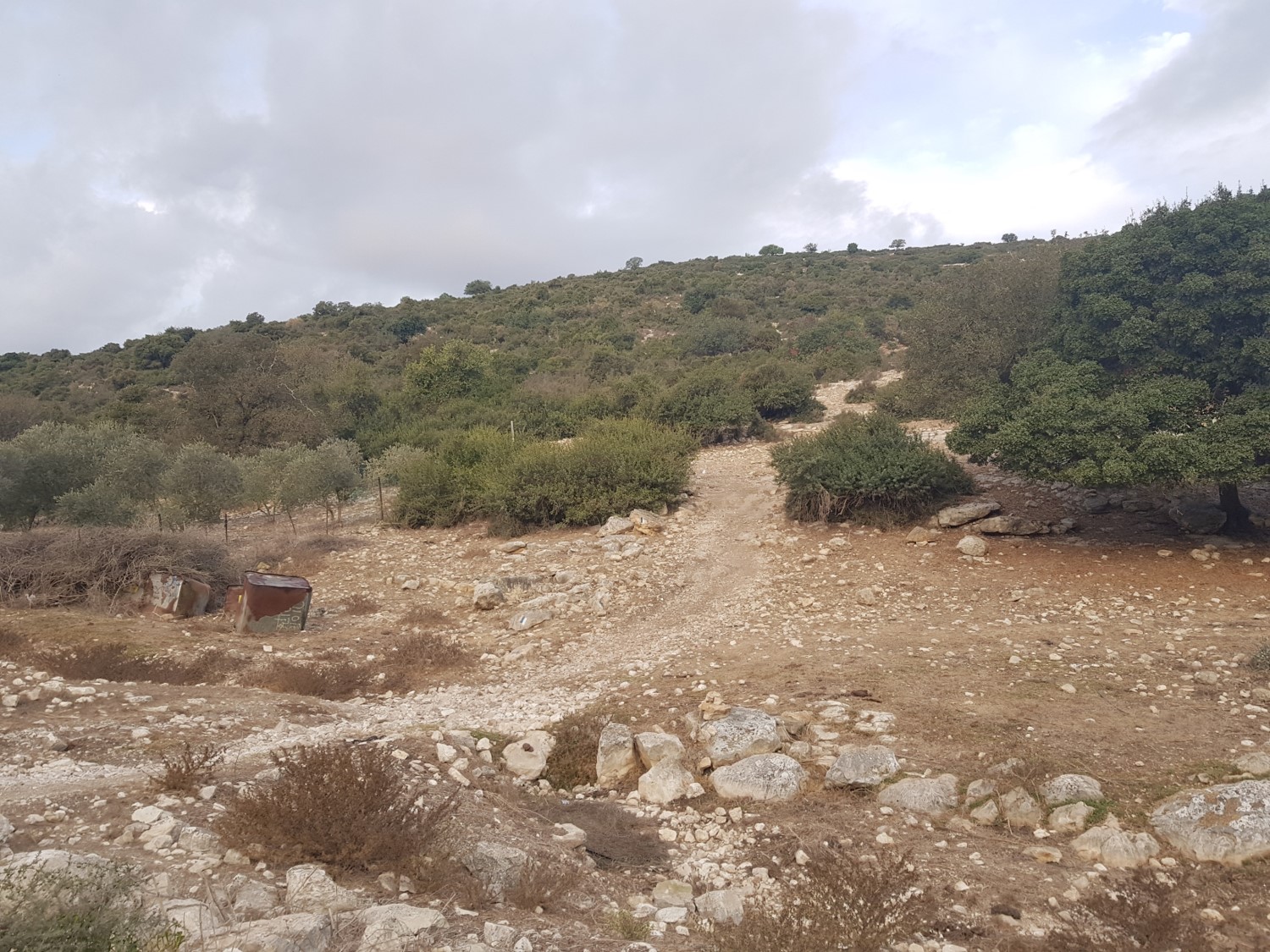 Then, we continued on the trail for a very short while and arrived at a closed gate, which had a sign on it, with a picture of a cow and the request: "Please close the gate". So, we opened the gate to pass and then closed it behind us. Now, we were hiking through a huge grazing area of cows. We saw lots of cows. We saw a young cow, drinking milk from its mother's teats. We also saw an old cow, that was laying down in the shade and had two other cows around it, that were licking it with their tongues. At first, we thought that that cow was pregnant, but then we thought that it might be an old and sick cow. Now, there's no way we can know.
About 1.8 km from the gate, the trail turns left (5) and starts ascending on a rocky terrain. It's a bit steep, but a very short climb, so it's not so difficult. After about 570 km, we got to road number 762, turned right in the roundabout and then crossed the road to the left and walked on a narrow trail, that goes parallelly above the access road to Basmat Tab'un and Zubaydat. Here and there there's some trash, but overall, the trail is nice, as it goes through a lovely wood. About 380 km from the roundabout, the trail goes out of the woods and arrives at Supermarket Nizar (6).
Here we decided to take another break. There's a large space behind the supermarket, with plastic chairs and a tree that offers lots of shade. First, I went to the supermarket to check what ice cream they have. But then, when I came back to our sitting area, I discovered that there's something even better in the area. Nitai gave me a bourekas filled with mashed potatoes. It was so delicious. I can't even describe it in words. "Where did you get that?" I asked him.
"From the bakery over there," he said and pointed at a bakery and konditorei, which stood opposite to the supermarket. It's called Duvdevan Konditorei (meaning "cherry konditorei").
I went over there with Ayelet and we chose some bourekas and baklava. It was a dream. I really recommend!
After eating some wonderful food, we continued to the west, passed another roundabout and continued along a street of Zubaydat until we arrived at another roundabout (7). This time, we turned right from the roundabout, onto a dirt trail and again, started walking through the woods. At some point, there's an opening in the woods, from where you can view the city of Haifa, laying on the eastern slope of the Carmel. The tall building at the top of the mountain is the tower of the Haifa University. This tower rises to a height of 102 meters and was the highest tower in Asia until 1989.
The trail continues through the enchanting woods. Along the way, there are some ascends and descends. Near the end, there's a moderate to steep descend, with lots of rocks. And then, about 4.5 km from the last roundabout in Zubaydat, the trail starts leaving the woods. There's much less shade and the trail is fully exposed, which wasn't so good for us, as it was already afternoon and the sun had no mercy on us. Luckily, this section isn't too long and after about 830 meters we arrived to a road in Kfar Hasidim (8).
We stopped to rest on the curb, underneath the trees that stood next to the road. Right next to us we could see the access road and the entrance to the Religious Youth Village of Kfar Hasidim (in Hebrew: "Kfar HaNoar HaDati").
Most of us were already very tired and frustrated, each with their own reason. Nitai and Paz were suffering with leg problems, and Ayelet wanted to get on a bus to visit her child, who was living somewhere in the area. I tried to cheer them up, saying that we were almost in Yagur. Actually, when we were descending down the trail, we could really see Yagur in the distance, beyond road number 75.
We got up on our feet and continued down the road. About 470 meters down the road, there was a spot with a picnic table and a water cooler, called "Aliza Spot" (9). I filled the water bottle just in case we won't find any water in Yagur.
Then, we continued 540 meters along the road, turned left and continued another kilometer along another road. At this point (10) there's a monument to the right of the road. A menorah-shape is engraved on a stone, bearing the name of Meir Max Bineth. Bineth served in the Israeli intelligence, operated in Egypt, and was captured by the Egyptians following the Lavon Affair. The Egyptians tortured him in for four months in hope of getting intelligence information, but Bineth didn't talk. A day before his trial, he committed self-suicide.
We continued a few steps ahead, passed above the Kishon Stream, which was quite stinky, and then reached a passage, that went underneath road number 75 (11). This passage leads into Kibbutz Yagur. This kibbutz, which was established in 1922, is today one of the largest in Israel. During the British mandate over the Land of Israel, Yagur was one of the most important centers of the Haganah, the main paramilitary organization of the Jewish population. In 1946, the British arrived to the kibbutz and found a huge hideaway of weapons.
We walked along the streets of the kibbutz. About 440 km from the entrance to Yagur, we turned right and then continued for about 330 km and turned left right before the yellow gate, which is the main entrance to the kibbutz (12).
We passed by a small coffee shop, which was closed, and a horse range, where children were learning how to ride on horses. After about 260 km, we arrived at a small picnic area, which had a sign next to it saying that it's a camping place for INT hikers (13). This is the ending point of this segment. There's a drinking tap next to the picnic tables, and there's a restroom building a few steps away. It seemed like a lovely, quiet place.
We sat down next to two of the picnic tables and ate something for lunch. An annoying cat jumped onto the table and put its head into my bourekas bag, so sadly, I couldn't eat that anymore.
Ayelet left us for a few hours, and we got ourselves organized for the night and the following day. Some of us went to the supermarket, that's located about one kilometer away, outside of the main entrance to Yagur, and bought some food supplies for dinner and the following day.
When Ayelet came back, we made something tasty for dinner. Then, we quickly cleaned up, packed everything in our bags and settled down on the wide flat dirt square right next to the picnic table area. We knew that rain was supposed to fall that night, so we covered ourselves with whatever we had. Paz and Sapir had thick nylon covers, while the rest of us had all kinds of improvisations. I, for example, had brought my tent's rain cover, which was super light. We hoped that we'll be able to sleep through the rain, but little did we know that the rain wasn't the only thing that will trouble us that night.
About two hours after we settled down to sleep, we started seeing flashlights around us. People were shouting: "Dror! Dror!" Personally, I wasn't paying too much attention to it at first, because I thought that maybe Dror was a dog or something. But then, as the time went on, more and more people were shouting "Dror! Dror!", helicopters were flying above us, and blue and red lights of police cars were penetrating my rain cover. It had already started drizzling some rain.
The climax point was when a policeman actually came up to us with his flashlight and demanded: "Take off your covers. We're looking for a missing person who might be suicidal." We took off our rain covers, the raindrops washed our faces, and the policeman passed above our heads, lighting our faces with his flashlight. I don't know what was he thinking exactly. He didn't ask us anything. Maybe he was thinking that Dror had joined us and was hiding beneath one of the rain covers. Or maybe he was afraid that Dror killed us or something, because underneath the rain covers, we looked like a row of dead people.
When the policeman didn't find Dror underneath our rain covers, he went over to someone's nearby tent, knocked on it, and demanded him to open. I think that he showed the person in the tent a photograph of Dror, because I heard him asking: "Did you see this guy?"
The searches went on into the night, and we got scared that we might find Dror dead somewhere tomorrow during the hike. I closed my eyes and tried going back to sleep and was really able to fall asleep, but not for too long. Around 3 AM, I woke up, feeling dampness on my head and around my feet. The voices of the people searching for Dror have gone, but the sound of heavy rain caught their place. The raindrops were falling hard on my rain cover and the wetness was so significant, that the raindrops were crossing through the rain cover, and getting my head wet. The lower part of my sleeping bag was also not so secure under the rain cover. I raised my hands up above my head, hoping that it will help get the wetness away from me. It did help, but it was tiring. At some point, I sat up right and just prayed that the rain will stop for a few moments. My plan was to wait for the rain to pause and then run to the restroom building, which was located nearby.
"Lior?" I heard a familiar voice.
"Ayelet?" I asked.
"Are you also wet?" she replied.
"Yes."
"Do you also want to go to the restroom?"
"Yes."
"I think the rain has stopped," she said, and we both took off our rain covers. Our heads were completely wet. It looked like we had just done a shower. Nitai was nowhere in sight. Sapir and Paz, who had the nylon covers on them, seemed completely peaceful and didn't say a word. I couldn't believe it, that they were sleeping so well in this rainy situation, but it seemed like they were. The conclusion is, that if you're travelling without a tent, you should bring with you a thick nylon cover. It works best against rain.
We quickly gathered all our things, left Sapir and Paz, and ran to the restroom. There, we hung our sleeping bags on the doors of the restroom stalls, changed to dry clothes, and sat on the toilet lids, waiting for the rain to stop and the morning to begin. "We're in the restroom," we sent a message in the Whatsapp group, in case someone woke up and didn't find us. That's how we found out that Nitai also had a tough night, and found shelter from the rain underneath a horse carriage in the area. Because the rain had stopped, he came over to the restroom to keep us company.
In the restroom, we found a news report through the phone, which said that people were searching for a missing person in Kibbutz Yagur. According to the report, the person was called Dror and he was a convicted pedophile. It also turned out that he was last seen searching for his mother in Yagur's cemetery, which was located a few steps away.
When our wake-up time arrived, we went over to Sapir and Paz and told them that we're waiting for them in the restroom. When they came, we tried to come to a decision – should we hike Mount Carmel. We figured that the trail would probably be muddy, and we were with only a few hours of sleep.
So, what did we decide? I'll tell you in the next post ?
That's all for now. I wish you a fantastic hike on the Israel National Trail!
Continue to the next segment – Hiking Mount Carmel on the Israel National Trail.
If you want to leave the trail after this segment, there are many buses that leave from the road outside Yagur. If you're travelling to Jerusalem, you can catch bus number 960 from Yagur Intersection. If you're travelling to Tel Aviv, you can catch a bus to the Haifa Central Station and continue from there.
Get ready for the trail by reading my post – The Israel National Trail: Ultimate Preparation Guide.
And check out previous segments of the Israel National Trail.
Pin this post for later!
---
Hiked the trail on November 2020.
If you liked this post or found it useful, would really appreciate a like, a share and a comment (:
If you need any help with planning this hike, feel free to contact me at [email protected]. I also offer guided hiking tours on several segments of the Israel National Trail.
Also, feel free to follow this blog and like my Facebook Page – Backpack Israel.
Yours,
Lior