After sleeping next to the railway at Tel Afek, we woke up to another day on the Israel National Trail. We planned to hike to Shoham and stay at a relative's house. It isn't exactly on the trail, but it's a small detour away.
The segment from Tel Afek to Shoham is quite boring. One interesting spot is an ancient mausoleum. The other is an impressive memorial for the fallen soldiers of an Israeli armored corps brigade. But the highlight of this segment was the ice cream factory store in Shoham Industrial Park. They sell ice cream at ridiculously cheap prices!
Trail length: About 20 km. You can also hike it from the other direction. If you want to go to Shoam, it's an additional 2 km back and forth.
Trail duration: About 10 hours, depending on your pace.
Difficulty level: Easy to moderate.
Best season: Fall (October-November), Winter (December-January), and Spring (February-April).
Water along the way: There is a drinking tap at the Yarkon National Park Overnight Campground, at the beginning of the segment. Next, there's a water tap at the "Water Corner" (about 4.2 km from the start). You can also fill water at the ice cream store in the Shoham Industrial Park (about 16.2 km from the start).
Stay options at the end of the trail: There are many trail angels in Shoham. Check the list here.
Continue to the next segment – From Shoham to Moshe Shaiyah Lookout.
Safety instructions and general notes
· The hike is under your responsibility, so please be careful.
· Make sure you hike with good hiking shoes, have at least 3 liters of water (and 5 on hot days), and wear a hat. Pack food and snacks for the whole day, BUT make sure to bring a garbage bag as well and take your garbage with you, including toilet papers.
· Don't go on the hike when it is too hot (over 30 degrees Celsius), because it's not enjoyable and can end with heatstroke. There are many parts without shade on this segment. Also, after rainfall, parts of this segment could be muddy.
· Pay attention to sunset hours (in Summer around 6-7 PM, in Winter around 4-5 PM). Try to begin the hike before 8 AM so you will have time to rest a bit during the hot hours of the afternoon and still get it to the end of the trail.
· The phone signal is good throughout the trail.
· Before you begin the hike, make sure you have a good trail map. The trail isn't always well marked, so it's good to have a map. You can also use a navigation app such as the Israel Hiking Map. With GPS, you can also see where you are exactly. Though, remember that wherever you do see a trail mark – this trail mark is superior to what's shown on your map.
· The trail is marked with the Israel National Trail colors, orange-blue-white.
· If you need any further help with planning your trail, I recommend posting on the Israel National Trail forum on Tapatalk. Of course, you can also talk to me through [email protected].
How to get to the head of the trail?
This segment starts in Yarkon National Park Overnight Campground. It's possible to reach the spot by car, but there's no organized parking lot there. From road number 486, you will need to turn onto the road that merges with the Israel National Trail. It will take you to the campground.
By public transportation:
In any case, you will need to reach Afek Junction (in Hebrew: צומת אפק). The trail crosses the junction. So you can skip the first 1.5 km of the segment and join it there. No matter where you come from, you'll need to change buses in the middle. It's best to use Moovit or Google Maps to find the best route for you.
The trail from Tel Afek to Shoham
From Tel Afek to road number 6
The first part was quite uninteresting. We woke up early and left Yarkon National Park Overnight Campground (1). We walked a while parallel to the railway and then continued on a flat road to Afek Junction (2). There, we carefully crossed road 483 and then continued on a straight dirt route between the agricultural fields. After about 1.5 km, it turns left toward road number 6 and the railway. We stopped a short while later for coffee and waffles.
Then, after taking a group selfie, we continued a few steps and turned right. Now, we were parallel to the road and the railway. After about 600 meters, we reached an old bridge from the Ottoman era (3). This bridge was part of the Eastern Railway. It crossed the Sharon Plain and the eastern Negev to Sinai. The Ottomans used it to transfer soldiers and resources during World War I. Later, the British expanded it to Haifa. Following the establishment of the Coastal Railway, we stopped using it in 1969.
Ben Gurion International Airport is nearby, too, so we got to see some airplanes flying over our heads. You might see some, too.
We continued another 1.9 km and reached a tunnel underneath the railway (4). We passed through it, turned right, and continued for another 840 meters. Then, we crossed a bridge over road number 6. We stopped in the middle of the bridge to take another group selfie. We also took a few moments to watch the cars rushing beneath us.
From road number 6 to Mazor Mausoleum
We left the bridge and turned right onto a small dirt route that went along the agricultural fields. There, we met an old man in a Jeep, who stopped by us. "I'm proud of you," he said. It wasn't uncommon because many people have stopped to tell us how proud and impressed they are. It seems that a lot of people dream of hiking the Israel National Trail. Not many do it. We took it as a challenge, and we were doing quite well. So, we were proud of ourselves, too.
We continued by the fields for about 900 meters and then climbed up to road number 444 (5). The road passes near Elad, a city established for the Ultra-Orthodox and Religious Zionist Jewish populations. We crossed the road and continued on the trail that goes parallel to it, to the south. Make sure to walk beyond the road railing.
After about 680 meters, we reached the Mazor Mausoleum (6), one of the most preserved Roman buildings in Israel. It was built for an unknown couple in the 3rd century CE. They must have been important or wealthy because not many got the honor to get buried in a mausoleum. Later, Muslims added a prayer niche to the southern wall of the building. It was used as a mosque and was called Maqam en Neby Yahyah, "Shrine of the Prophet John." Prophet John is John the Baptist. Because of its sacredness, no one harmed it over the years. When we were there, it was under repairments.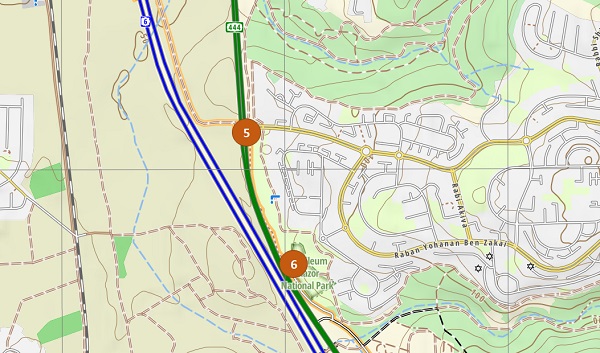 From Mazor Mausoleum to Shoham Industrial Park
We continued another 460 meters and reached a big wooden sign with a map of Giv'at Koah Forest (7). The forest, which is also known as Qula Forest, was planted by KKL in the 1950s. From the sign, we continued straight on the peeling asphalt route. Very quickly, it turned to a wide and easy dirt path.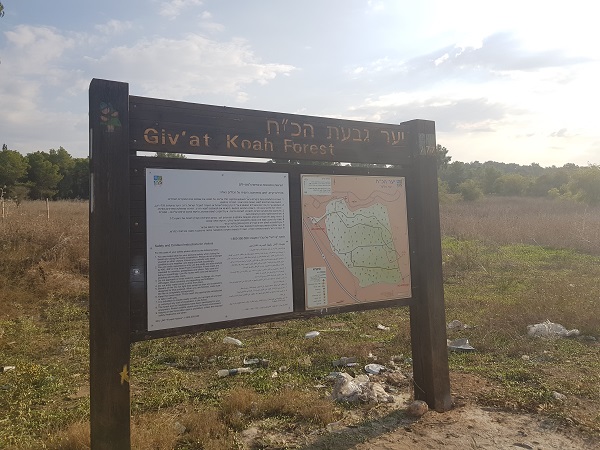 The trail curves through the forest for about 1.6 km until it reaches road 465 (8). We carefully crossed the road and got to an impressive memorial for 147 fallen soldiers of the 27th Brigade (9). This Israeli armored corps brigade is also known as the "Fist and Lance Brigade." It was founded in 1952 as the first reserve brigade in the IDF. They took part in many battles, including the Sinai War, the Six-Day War, and the Yom Kippur War. The memorial site includes one tank and two half-tracks which were damaged by the Egyptians during the Six-Day War. There's also a large explanation sign, but it's in Hebrew.
The trail continues through the forest on an easy path for about 1.5 km. Then, we reached a moderate climb that led us to a large electricity pole connected to an electricity line. A short while later, we stopped for one of our "conversation circles." During "conversation circles," we sat down to talk about various topics. This time, someone put a horrible song about rape and murder and asked what we feel about it. Is hurting someone else part of human nature? I'll keep it as a point of thought.
From the electricity pole, we went on for about 850 meters. Then, we reached a tunnel underneath road 6 (10). Then, we walked through a large quarry and entered the boundaries of Shoham Industrial Park.
In Shoham Industrial Park
Shoham Industrial Park is a compound full of industrial headquarters. We walked south on the main road. After about 800 meters, we spotted a gas station to the right of the road. Every time we saw a gas station on the trail, we thought about the popsicles and ice creams sold there. So, we almost went over there. But then, we spotted a large statue of an orange-haired baby, the trademark of Bamba (11). Bamba is one of Israel's most beloved snacks. It's made from peanuts and corn. We hurried over to the statue to take another group selfie.
Then, we noticed a small ice cream store nearby. It was the factory store of Nestle. When we entered, we were amazed by the prices. They were so good that each of us bought two and even three ice cream bars. The seller was also friendly. We sat down on the small porch of the store and chatted with him a bit. The store is open Monday to Thursday from 1 PM to 6 PM and on Friday from 9 AM to 2 PM. If you love ice cream bars, it's a great place to visit!
From Shoham Industrial Park to our endpoint
After eating all the ice cream bars, we continued about 260 meters and then turned left onto a dirt path (12). Very quickly, it became an asphalt route that went up the hill. Now, we entered the boundaries of Shoham Forest.
At the top of the hill, we reached Horvat Tinshemet, "the Owl Ruins" (13). Most of the ruins are not accessible to the public. But there is an impressive mosaic floor that was part of a Byzantine-era church called St. Bechachus Church. There are even signs in English, which explain what you can see on the ancient floor. One of the fascinating findings in the church is the Tyche Medallion, which shows the pagan goddess of fortune and fate.
From the church, we continued on a paved route for about 670 meters until the base of Saflulim Hill (14). In Hebrew, "saflul" is the outer casing of the acorn. Just before we started climbing the hill, a man got out of his car and asked us: "Excuse me, do you know what's a saflul?" My friends explained to him, and I continued up the hill.
There's a nice view from the top, but nothing too impressive. Then, the trail starts descending. About 1.4 km from the top of the hill, we decided to stop for the day (15). This endpoint is in the middle of nowhere, but there's a trail that leaves the Israel National Trail and turns right toward Shoham. It has no specific color mark.
Shoham is one of the wealthiest towns in Israel. It is named after one of the 12 stones on the Hoshen, the sacred breastplate worn by the Jewish high priest.
How to get from the trail to Shoham?
From the endpoint, we turned right onto a trail that went in the direction of Shoham. After about 800 meters, we turned right. Then, after about 480 meters, we turned left to a tunnel underneath road 444 (16). From there, we went into Shoham and walked for about 20 minutes to the commercial center. There, there's a supermarket and some restaurants. It's near Edmond Safra Square on Emek Ayalon Street.
We got some supplies, bought something to eat, and then contacted our relative. We were lucky to stay at her place because it rained that night.
That's all for now. I wish you a fantastic hike on the Israel National Trail!
If you want to leave the trail after this segment – You can catch bus number 500 from Shoham. To all major places, you will need to change buses, so it's best to check the best route for you by using Moovit or Google Maps.
Read more
Get ready for the trail by reading my post – The Israel National Trail: Ultimate Preparation Guide.
And check out previous segments of the Israel National Trail.
Pin this post for later!
---
Hiked the trail in November 2020.
If you liked this post or found it useful, would really appreciate a like, a share and a comment (:
If you need any help with planning this hike, feel free to contact me at [email protected]. I also offer guided hiking tours on several segments of the Israel National Trail.
Also, feel free to follow this blog and like my Facebook Page – Backpack Israel.
Yours,
Lior