It rained for about two days. During that time, we stayed at an organic farm in Bat Shlomo. When it ended, we woke up early and made our way to the Bat Shlomo Junction. From there, we got on a shared taxi to Shfeya Junction, although we could have waited two minutes more for a bus, which is cheaper. The drive was about five minutes, so we could start the hike very quickly.
Check out the previous segment – From Ein Hod to Ofer Junction.
The segment from Shfeya Junction to Beit Hanania was a charming one. It started with a bit of confusion, but very soon we found the trail, hiked through beautiful woody landscape, visited the amazing gardens of Ramat Hanadiv, and enjoyed a stunning view of the Mediterranean Sea.
Trail length: About 13 km. You can also hike it from the other direction.
Trail duration: About 5-7 hours, depending on your pace.
Difficulty level: Easy-moderate.
Best season: Fall (October-November) and Spring (February-April).
Water along the way: There's a supermarket near road number 652 (about 6.8 km from the start point), where you can purchase water. There's free cooler water at Ramat Hanadiv (about 8.2 km from the start point). There's also a drinking tap just before you reach the tunnel below the railroad (about 11.5 km from the start point). And of course, you can fill water at the end point in Beit Hanania.
Stay options at the end of the trail: As far as I know, there's no camping ground near Beit Hanania (let me know if I'm wrong). Because of the forecasted rain, we decided to call a Trail Angel and ask about shelter in Beit Hanania. The lovely lady let us sleep inside the veterans' club of the moshav. If you also want to stay at a Trail Angel's place, you can check out trail angels in the area. I know there's also a hostel in nearby Jisr az-Zarqa.
Before we begin, let's go over some safety instructions and general notes:
· The hike is under your responsibility, so please be careful.
· Make sure you hike with good hiking shoes, have at least 3 liters of water (and 5 on hot days), and wear a hat. Pack food and snacks for the whole day, BUT make sure to bring a garbage bag as well and take your garbage with you, including toilet papers.
· Don't go on the hike when it is too hot (over 30 degrees Celsius), because it's not enjoyable and can end with a heatstroke. Also, it's not recommended to hike after rainfall, as the trail could be muddy and slippery.
· Pay attention to sunset hours (in Summer around 6-7 PM, in Winter around 4-5 PM). Try to begin the hike before 6 AM so you will have time to rest a bit during the hot hours of the afternoon and still get it to the end of the trail.
· The phone signal is good throughout most of the trail.
· Before you begin the hike, make sure you have a good trail map. The trail isn't always well marked, so it's good to have a map. You can also use a navigation app such as the Israel Hiking Map. With GPS, you can also see where you are exactly. Though, remember that wherever you do see a trail mark – this trail mark is superior than what's shown on your map.
· The trail is marked with the Israel National Trail colors, orange-blue-white.
· If you need any further help with planning your trail, I recommend posting on the Israel National Trail forum on Tapatalk. Of course, you can also talk to me through [email protected].
How to get to the head of the trail?
To reach the head of the trail, you will need to reach Shfeya Junction (in Hebrew: צומת שפיה). There isn't a direct bus from Tel Aviv or Jerusalem, so it's best to use a navigation app like Google Maps or Moovit to find the best route for you. If you're having trouble finding the right route, feel free to contact me through Facebook or [email protected].
The hike
From the bus station at Shfeya Junction (1), we crossed to the other side of the road and followed the Israel National Trail marker, which took us down to an agricultural route. We continued on this route for a short while, parallel to the busy road until we reached a point where we couldn't spot the trail mark anymore. There were a lot of dry weeds, which might have been hiding the trail marks, or maybe, they weren't marked properly. Anyway, we tried walking in all kinds of directions until we glanced at the trail map through our phone and continued in the right direction, which was east.
After a few meters, we reached the flowing channel of Dalia Stream, a place where we had to climb down a slippery slanted wall of stones and cross a very muddy area. I guess that when it's dry, this place isn't difficult. For us, it took a while to cross safely without slipping.
About 800 meters from Shfeya Junction, we reached an undercrossing of a small road (2), which links between Zikhron Yaakov and road number 70. And then again, we were hiking on an agricultural route, with a lot of agriculture around us. At some point, there starts a mild ascend, but it's nothing difficult. The landscape turned woody and the trail was super muddy. Our shoes caught more and more mud as we went, so every step became heavier and heavier. Of course, we stopped to get the mud out of our shoe soles once in a while, but it was a helpless battle.
About 2 km from the undercrossing we stopped to rest under some big trees. The guy who we met at Bat Shlomo, Shavit, joined us for the beginning of the hike, so he sat down to eat with us. Then, we continued on our way according to the trail marks, along the overhead power lines.
About 1.5 km from the stop, we arrived at an old quarry (3), which has turned into a wall-climbing site. From there, we continued on a very easy route, that made its way through another agricultural area.
After about 2 km of walking on dirt paths and small paved routes, we reached a huge parking lot of Readymix Industries (4). The huge concrete mixer trucks were moving around the parking lot, and we had to find a path between them. Compared to them, we felt like little ants, that could get smashed any minute.
We passed the trucks successfully and then continued a few hundred meters till road number 652. We crossed the road and stopped at a supermarket, which stood on the other side (5). There was a shaded picnic table next to the supermarket, so we took advantage of the shade and sat down to eat lunch. Like always, it was made up of a few pieces of bread, tahini, and tomatoes.
We crossed the supermarket's parking lot and continued through a gap between two concrete obstacles. A few meters afterwards, we arrived at the parking lot of the ORT Binyamina High School (6). ORT is the largest educational network in Israel for science and technology education. Next to the parking lot, we saw a Dabur-class patrol boat, which was placed there as a memorial for the fallen soldiers who used to study at ORT Binyamina.
We passed by the Dabur and continued on a short path, that led to the entrance of Ramat Hanadiv Park. The park encompasses about 5,000 acres and is the southernmost tip of the Carmel Mountain Range. We hiked along the pleasant trail for about 250 meters until we reached the ancient ruins of the Ein Zur Bathing House (7). The bathing house was built in the 1st century BCE and was active until 70 CE. It was used by the residents of nearby Hurvat Elek. The water came from the adjacent water spring, Ein Zur. A tunnel was dug to the source of the spring, and an impressive water aqueduct carried the water from there to a storage pool. It is one of the most complete ancient aqueducts discovered in Israel. You can still see water flowing through it like in the past, which is a wonderful sight.
From Ein Zur, we continued upwards on the Israel National Trail, marked here also by a blue-marked trail. The trail here is well-maintained and there are even small stairs, which make it easier to climb. After a short while, we saw the ruins of Hurvat Elek. This small town was established during the Hellenistic-Roman period, around the 1st century BCE. The name, "Elek" is probably connected to the leeches, which were found in the nearby water spring, called "elek" in Arabic.
We continued about 550 meters on the blue-marked trail until we reached a small gate, that led to the central part of Ramat Hanadiv – the Memorial Gardens (8). Here, we said farewell to Shavit, who continued on the Israel National Trail. We decided to have a look inside the Memorial Gardens. These beautiful gardens are a combination of European formality and Mediterranean vegetation. They were built in honor of the Baron de Rothschild, who is also known as the "well-known philanthropist" (in Hebrew: "Hanadiv Ha-Yaduha"). Ramat Hanadiv literally means "the philanthropist plateau" or "the generous plateau". Baron de Rothschild donated a great amount of donations to the Zionist movement, which helped establish many of the Jewish dwellings in the Land of Israel, amongst them nearby Zikhron Yaakov. Without those settlements, we might not have been able to establish a state.
The entrance to the gardens is free of charge. They are open Sunday to Thursday and Saturday from 8 AM to 4 PM, and Friday from 8 AM to 2 PM. Out first stop was the restrooms, which were so clean and shiny. Then, we continued into the gardens themselves. At the entrance, there's a blue gate with the symbol of the Rothschild family above it. The bronze shield is supported by a lion and a unicorn, which both symbolize control and power. On the bronze shield itself are an eagle, a lion, an arm with a fist, and a hand holding five arrows. Those five arrows symbolize the five sons of the Rothschild family. Together, they are strong and cannot be bent. This symbol was hung above the Rothschild's family house in Europe, when it was not allowed to show Jewish family names on the door.
The guard beyond the blue gate was very friendly, asked us to keep our masks on throughout the entire visit, and offered to leave our large backpacks near the entrance. "I'll keep an eye on them," he said.
The Memorial Gardens include several areas, including the Rose Garden, the Cascade Garden, the Fragrance Garden, and the Iris Garden. We strolled around until we found the Crypt, where the tomb of Rothschild and his wife is located. Before his death, Rothschild requested to be buried in the land that he loved so much. The bones of the couple were brought from Paris and buried here in 1954.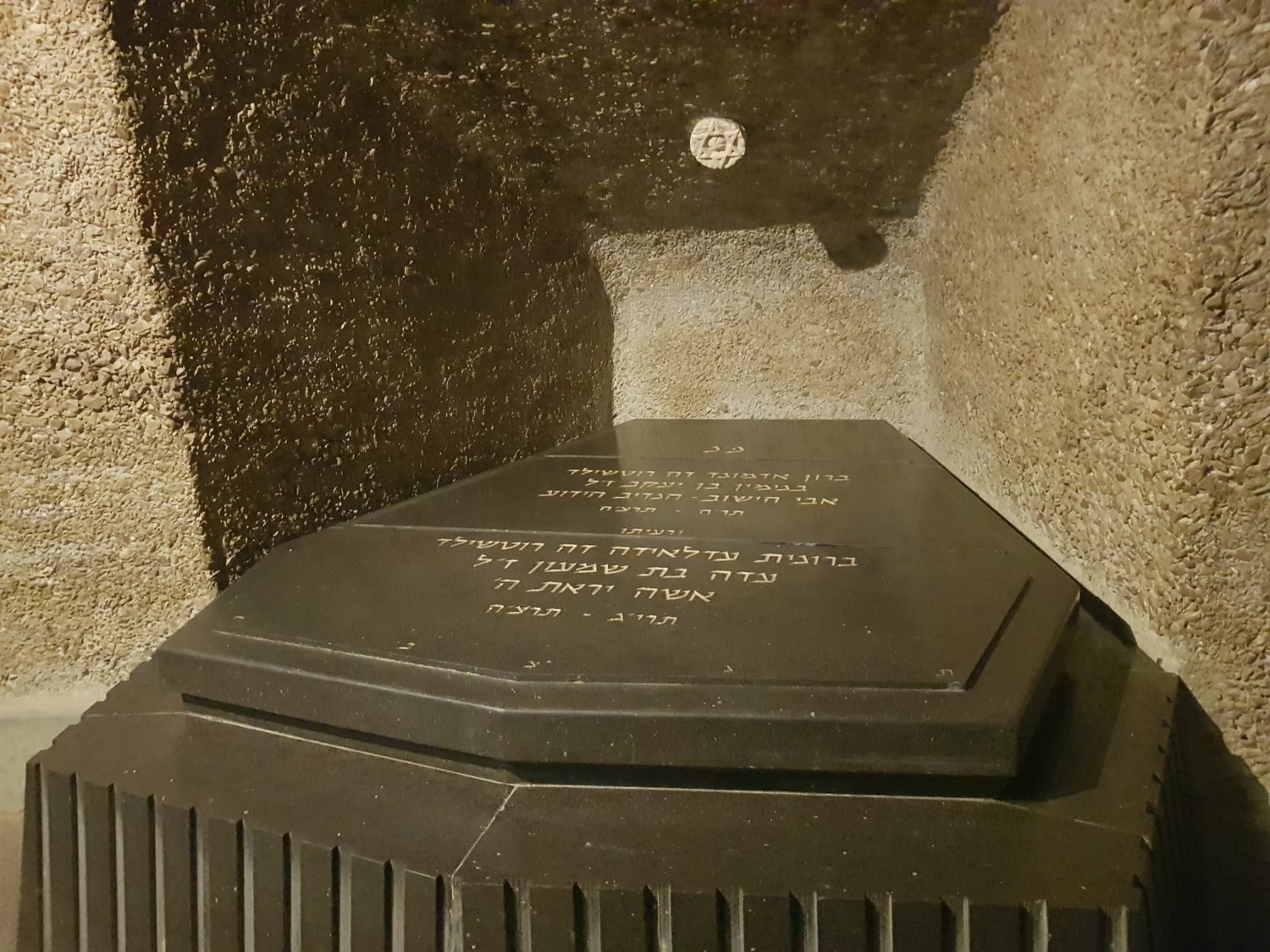 After visiting the gardens, we bought some ice cream bars at the park's kiosk and then continued on the Israel National Trail. From the Memorial Gardens, the trail turns south onto a red-marked trail and continues through the woody landscape, though it is not very shaded.
About 1.5 km from the Memorial Gardens, we reached Hurvat Akav (9). This is a fascinating archeological site, that includes ruins from the Second Temple period and the Byzantine period. At first, it was an impressive Jewish villa. Later, it turned into a large farm with horse stables and storage rooms. In Arabic, this site was called "Masur el-Aqeb". It is located on the highest point of Ramat Hanadiv, at a height of 141 meters above sea level, what offers a fantastic view of the Mediterranean Sea. It's no wonder that the Jewish family in the 1st century CE decided to build their villa here.
We stopped for a while to admire the stunning view. A small group of hikers arrived a short while after us and started chatting with us. It turned out that one of them was hiking with some of us in the south, when we were hiking as part of the Nifgashim Be'Shvil Israel group. "Where are you planning to sleep tonight?" we asked them. "I don't know," one of them replied, "I think somewhere around the Aqueduct Beach." "Hope that no one will tell you to leave from there," I said, because I know that there are some places along the beach which are forbidden for camping. "I hope so, too," he said, and they continued on their way.
We left a few minutes after them and continued for about 500 meters southward. To our right still lay the fantastic view of the Mediterranean Sea and the Coastal Plain. Then, we reached an opening in a fence, with two signs next to it (10). The signs said that we were about to start hiking down a slope covered with remnants of an ancient burial site. The site includes about forty stone tumuli, which are rectangular burial chambers, surrounded by circles of fieldstones and covered by a heap of soil. It is believed that it was created by a group of shepherds, who lived in this area of the Carmel between 2500 to 2000 BCE.
We continued slowly down the slope, which was quite steep. Near the end, there was a place with a wired fence on the ground, probably meant to prevent the stones from crumbling and falling down. It was a bit challenging to cross this wired fenced piece of ground, and Paz even slipped and fell with her head down. Luckily, she didn't get hurt. So, just watch your step. About 500 meters from the top of the slope, we reached the tracks of the railway (11). Here, we turned slightly left and continued parallel to the tracks. Don't attempt to cross the tracks, because it's dangerous!
We continued for about 550 meters parallel to the tracks and then arrived at a drinking water tap (12). A few meters afterwards, we could see the undercrossing beneath the railway. We climbed down some steps and then saw that we had a problem. The whole crossing was flooded by the Taninim Stream. In Hebrew, "taninim" means "crocodiles." In the 4th-5th centuries BCE. There was a town nearby called Crocodeilopolis, which means "the city of crocodiles". In 1912, a crocodile was hunted in this stream. The legend tells that the first two crocodiles were brought here from Ancient Egypt. Luckily for us, it seems there are no more crocodiles in the stream.
We stood in front of the flooded crossing and pondered what to do. There was no other way to cross the railway that run above. After a few minutes, we understood that there were large boulders at the side of the undercrossing, which we could stand on while crossing. Though, we still got quite wet.
After crossing the railway, we continued on a gravel path, which at this point was also marked by a green-marked trail. In the distance, we could see the southwestern edge of the Carmel Mountain Range, which is dubbed in Hebrew "Chotem HaCarmel", which means "the nose of the Carmel." After about 360 meters, we reached the remains of the Abu Nur flour mill (13). This mill, which was active until 1922, functioned thanks to the water of the Taninim Stream, which were taken to it by a dam and water canals.
From there, we continued through the green fields for about 610 km until we reached another undercrossing, this time beneath road number 4 (14). What was special about this undercrossing was that it had a huge block of stone inside it, so we had to lean down and stay low in order to cross through it.
Then, it was a short 200 meters walk to Beit Hanania (15). Beit Hanania is a moshav founded by Jewish immigrants in 1950. Near the entrance to the moshav, you can see an ancient aqueduct, which was part of the water system to Ancient Caesarea. If you'll take time to look at the aqueduct, you can spot two construction inscriptions made by the Legio X Fretensis, a legion of the Imperial Roman army, dated to the 2nd century CE.
We entered Beit Hanania, made our way to the center of the moshav and called our Trail Angel. Very soon, we were able to settle down in the moshav's veteran's club. It was early afternoon when we arrived, but we were quite exhausted from about two weeks on the trail, so we had to get some rest.
That's all for now. I wish you a fantastic hike on the Israel National Trail!
Continue to the next segment – From Beit Hanania to Sdot Yam.
If you want to leave the trail after this segment, you can catch relevant buses from the bus station at Beit Hanania Junction. There aren't any direct buses from there to Tel Aviv to Jerusalem, so you'll need to switch somewhere. If you want to get to Haifa, you can get on bus number 921, which reaches Haifa within 40 minutes.
Get ready for the trail by reading my post – The Israel National Trail: Ultimate Preparation Guide.
Want a guided tour? Check out my guided tours on the Israel National Trail.
And check out previous segments of the Israel National Trail.
Save this post for later!
---
Hiked the trail on November 2020.
If you liked this post or found it useful, would really appreciate a like, a share and a comment (:
If you need any help with planning this hike, feel free to contact me at [email protected].
Also, feel free to follow this blog and like my Facebook Page – Backpack Israel.
Yours,
Lior