After a rainy night at Mahal Memorial, we woke up to a rainy morning. We pondered if we could hike that day because the forecast said the rain should stop a bit later. But maybe it would be too muddy and slippery? We also have a rather serious ascent ahead. In the end, we decided that we'll hike only a short while to Beit Meir, about 5.6 km from Mahal Memorial.
The segment from Mahal Memorial to Beit Meir is short and beautiful. We enjoyed some stunning views of the surrounding Jerusalem hills and stopped by strategic points used by our forces in the 1948 Independence War. We arrived at Beit Meir early and got to work a bit in our trail angel's farm.
Trail length: About 5.6 km. You can also hike it from the other direction.
Trail duration: About 2 hours, depending on your pace.
Difficulty level: Moderate.
Best season: Fall (October-November) and Spring (February-April).
Water along the way: There is a drinking water tap at Mahal Memorial, the starting point. You can also get water at Beit Meir.
Stay options at the end of the trail: We stayed at a Trail Angel's house in Beit Meir. You can search for trail angels here. If you prefer camping, there's a small camping area near the access road to Beit Meir, called HaMasreq.
Continue to the next segment: From Beit Meir to Ein Karem.
Safety instructions and general notes:
· The hike is under your responsibility, so please be careful.
· Make sure you hike with good hiking shoes, have at least 3 liters of water, and wear a hat. Pack food and snacks for the two-hour hike. Also, make sure to bring a garbage bag as well and take your garbage with you, including toilet paper.
· Don't go on the hike when it is too hot (over 30 degrees Celsius) because it's not enjoyable and can end with heatstroke. We hiked after rainfall and the trail was a bit slippery here and there, so be careful!
· Pay attention to sunset hours (in Summer around 6-7 PM, in Winter around 4-5 PM). Make sure to start hiking early, so you will get to the end of the trail from sunset.
· The phone signal is good throughout most of the trail.
· Before you begin the hike, make sure you have a good trail map. The trail isn't always well marked, so it's good to have a map. You can also use a navigation app such as the Israel Hiking Map. With GPS, you can also see where you are exactly. Though, remember that wherever you do see a trail mark – this trail mark is superior to what's shown on your map.
· The trail is marked with the Israel National Trail colors, orange-blue-white.
· If you need any further help planning your trail, I recommend posting on the Israel National Trail forum on Tapatalk. Of course, you can also talk to me through [email protected].
How to get to the head of the trail?
To reach the trailhead, you will need to get to Mesilat Zion Junction. From there, take a taxi or walk 3.4 km to the Mahal Memorial. If you are coming from Tel Aviv, bus line 412 leaves from the Savidor Center Railway Station. From Jerusalem, bus line 417 leaves from the ICC, near the Central Station. Line 415 leaves from Central Station Jerusalem. There are also other options, so it's best to use a navigation app like Google Maps or Moovit to find the best route for you.
The hike from Mahal Memorial to Beit Meir
From Mahal Memorial to Post 21
So, we woke up at the Mahal Memorial (1) and waited for the rain to stop. It stopped around 10 AM, and then we started the hike. We hiked on a flat, red-marked route for a bit. Then, we started climbing the ascent on a green-marked trail. Water was still flowing down the slope between the rocks. At first, there were small rocks. As we climbed further, they became bigger and bigger. The climb itself was a bit steep but overall moderate. The views that surrounded us were definitely worth it! In the distance, we could see our target – the religious moshav of Beit Meir.
After about 1.8 km, we reached a trail fork with a blue-marked trail (2). We turned left and continued climbing on the green-marked route, which follows the Israel National Trail marks.
About 420 meters afterward, we reached Post 21 (3). This point is connected to the 1948 Independence War. Actually, the mountain ridge which we were hiking on is dubbed "the Convoys Ridge." It was a strategic ridge to the south of the road that led to Jerusalem, road number 1. The Jewish forces used it to protect the convoys which made their way to Jerusalem. Many of our soldiers died while trying to grasp the strategic points along the ridge, amongst them Post 21.
Our forces captured Post 21 on May 10, 1948. A day afterward, hundreds of Arabs from the neighboring village, Bayt Mahsir, came to attack the place. We were able to repel them and keep hold of this point, with six of our soldiers dead.
From Post 21 to Post 16
We continued for another 1.1 km and reached a lovely viewpoint over road number 1 (4). This point was also a strategic post on the ridge. Our soldiers probably stood here and kept an eye on the route to Jerusalem. There's a big tree here, which means a lot of shade. There's also a wooden bench, so we took advantage of the place and stopped to rest. It's a good place for a coffee break.
After about 450 meters, we reached another post, this time Post 16 (5). Here, there's a memorial for the Palmach forces. The Palmach was the leading Jewish fighting force before the establishment of the State of Israel. It was established with the help of the British. They wanted to train the Jewish people so that they could help them during World War II. In the end, the Nazis didn't get to the Land of Israel, but we gained a trained fighting force. During the Independence War, which began in November 1947 as a civil war, the Palmach were recruited. Later, in May 1948, when we established the IDF, they were integrated into the different units.
The Palmach memorial consists of three stone columns, each depicting a different period in the Palmach. The first column is dedicated to the operations against the Nazi forces, which the Palmach performed outside of the Land of Israel. It is also dedicated to the operations against the British authorities between 1946 to 1947. The second column is dedicated to the first part of the Independence War, until May 1948. The third is dedicated to the rest of the war, until 1949. On each column, you can see the number of fallen Palmach soldiers.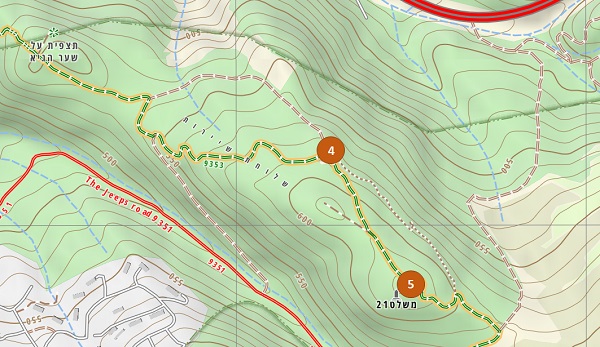 From Post 16 to Beit Meir
From Post 16, the trail begins a slight decline. We continued on the decline for about 850 meters and then turned left onto a red-marked route. After a short while, we were on road 3955, the access road to Beit Meir. Right next to the road, there's a camping site called HaMasreq (6).
We left the Israel National Trail and turned right onto the access road to Beit Meir (7). The religious moshav was established in 1950 on the ruins of the Arab village, Bayt Mahsir. It is called after Meir Bar-Ilan, an Orthodox Rabbi who was one of the leading religious Zionist leaders.
When we entered the moshav, a large van stopped by us. A young man jumped out and asked: "Are you hungry?" We were used to people who wanted to feed us, but this was surprising. He said that he has a catering company. He prepared some food packages, but they weren't eaten. "It's a shame to throw away," he said, "So please take some." And he gave us the food packages, which we later ate for lunch.
Our trail angel was a religious man with a farm, so we spent the afternoon helping him with the farm errands. We cleaned the livestock stalls, gathered freshly laid eggs, and chopped an enormous pile of wood logs. The jobs he gave us were a bit thick, but we had a roof over our head and were protected from the rain outdoors, so we couldn't really complain.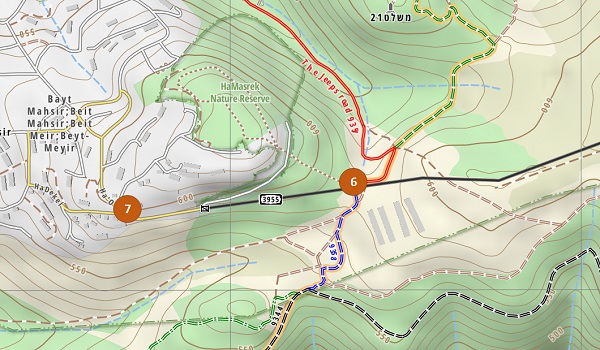 Leaving the trail
If you want to leave the trail after this segment – You can take bus number 186 that leaves from Beit Meir to Jerusalem. To get to Tel Aviv, you can change to the train in Jerusalem or change to another bus on the way. To get to Haifa, take bus 186 to Jerusalem and then switch to bus number 960 to Haifa. It's best to check the best route for you by using Moovit or Google Maps.
Read more
Get ready for the trail by reading my post – The Israel National Trail: Ultimate Preparation Guide.
And check out previous segments of the Israel National Trail.
Pin this post for later!
---
Hiked the trail in November 2020.
If you liked this post or found it useful, would really appreciate a like, a share and a comment (: Also, feel free to update about trail changes!
If you need any help with planning this hike, feel free to contact me at [email protected]. I also offer guided hiking tours on several segments of the Israel National Trail.
Also, feel free to follow this blog and like my Facebook Page – Backpack Israel.
Yours,
Lior