Har Shlomo – or Mount Solomon – is one of the most prominent peaks in the Eilat Mountains. It's black and high – rising to over 700 meters. It's also one of the most challenging hikes in the region and maybe even in whole Israel. It includes a lot of climbing. I have always wanted to hike Har Shlomo but didn't have the right companions. Last month, I finally hiked it with the "Encounters on the Israel Trail" group. This lovely project connects people from all around Israel. It takes them on meaningful hikes from the south to the north in memory of our fallen soldiers.
When hiking with "Encounters on the Israel Trail," I didn't need to worry about transportation. But if you're coming on your own, bear in mind that the trail I'll be writing about is a one-way trail and requires a pick-up car at the end or walking further to the main road. Alternatively, you can try making it a circular hike, but I haven't done that, so I can't tell you how it is.
Disclaimer: This post contains affiliate links, meaning I get a commission if you decide to make a purchase through the links, at no extra cost to you. These links help me keep the website alive and not depend on sponsors! Thank you in advance.
Trail length: About 7.5 km. It's a one-way trail.
Trail duration: Around 5-8 hours, depending on your pace and fitness level.
Difficulty level: Challenging. There are many places where you need to climb down dry waterfalls using leg and hand bars.
Best season: Spring (February-May) and Autumn (October-November).
Water along the way: There's no water along the way. Make sure to pack enough.
View the full trail on a map here.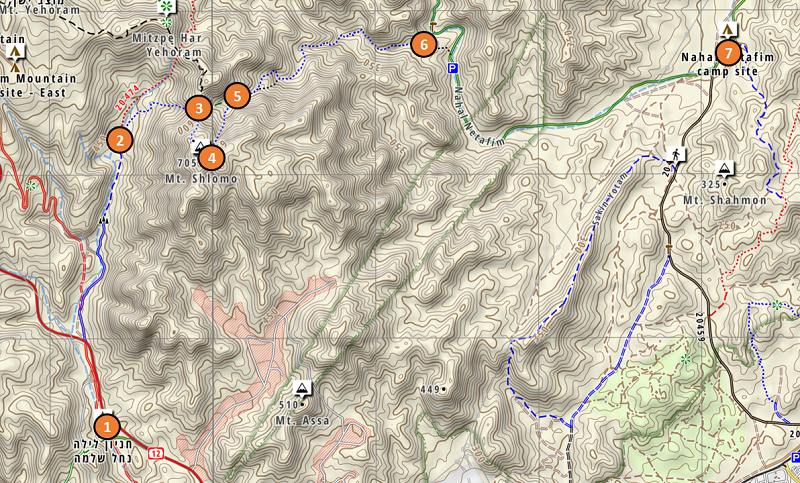 Safety instructions and general notes
The hike is under your full responsibility, so please be careful
Make sure you hike with good hiking shoes, have at least 3 liters of water, and wear a hat. You can pack some snacks for the way. Also, make sure to bring a garbage bag so you can take your trash with you.
If you plan to hike on a hot day, make sure to start the hike as early as possible. I'd recommend a bit before sunrise. Otherwise, it would probably not be enjoyable and can end with heatstroke.
DO NOT hike after rainfall! This trail is super slippery even without being wet.
This hike is not recommended to people afraid of heights.
Phone signal does not work everywhere along the trail.
The trail starts on a blue-marked trail and ends on a green-marked trail.
Where to stay in Eilat?
If you're coming to Eilat for a couple of days, you probably need a place to stay. If you're on a tight budget, you can camp at one of the campgrounds in or around Eilat. For this specific trail, it's best to camp at the Upper Nahal Shlomo Campground, the campsite near the trailhead. It's a free campground with no facilities, so come prepared. Learn more about the basics of camping in Israel.
If you prefer an indoor place, you can check out Abraham Hostel in Eilat. I've stayed at Abraham Hostel in Tel Aviv and Jerusalem, and they were both excellent, so I assume the one in Eilat is no different. Another option is the HI Eilat Hostel, located in the center of Eilat. HI is also a popular chain in Israel, but it's less about dorms and more about budget private rooms.
Read more in my full travel guide to Eilat.
How to get to the head of the trail?
The best way to get to the head of the trail – the Nahal Shlomo Campground – is by car or taxi.
If you prefer public transport, you can take line 392 from the Central Station in Eilat and get off at "Mahane Metsuda 396 Intersection" (צומת מחנה מצודה 396). It's about a 15-minutes drive. From there, you will need to walk about 1 km VERY CAREFULLY northward on the road until you see the trail. Remember that the trail I'll describe is not circular, so you will need to find a way back from the endpoint. It's possible to hike about 5 additional kilometers from the endpoint to road number 90 through Nahal Roded.
The hike on the Har Shlomo and Nahal Mapalim Trail
Climbing up Mount Solomon
We started our hike early from the Nahal Shlomo Campground (1), a bit south of road number 12. Very soon, we reached an underpass beneath the road and started hiking on a blue-marked trail that took us toward Har Shlomo (Mount Solomon). You can already see the mountain from the beginning of the trail. It's the pointy black mountain to the north of the road.
From the road, we walked on an easy route for about 1.4 km until we reached the start of the climb to Mount Solomon (2). The first part of the climb is steep but not too difficult. Then, after about 600 meters, we reached the saddle (3), from where you can choose to either continue on the blue-marked trail to the top of Har Shlomo or to go down a green-marked trail to Nahal Mapalim. If you are afraid of heights, it might be better to go down the green-marked route to Nahal Mapalim. Anyway, that's the next part of the trail after the climb up to the peak of Mount Solomon.
We continued with the blue-marked trail toward the peak. From this point, there are already railings that you can use to safely climb up the mountain and not fall off the cliff. Once in a while, make sure to look around – because the view is stunning!
After about 450 meters, we reached the peak of Har Shlomo (4) and enjoyed a fantastic view of the Red Sea Gulf. It's totally worth the climb!
Down from Mount Solomon via Nahal Mapalim
After enjoying the view, we made our way down the peak of Har Shlomo. At first, the descent isn't difficult, but after a while, it becomes very steep and slippery, and you have to carefully tiptoe your way down or always keep close to the ground. After about 400 meters, we reached the point where the blue-marked trail meets the green-marked route (5). The green-marked trail is the one that bypasses the peak of the mountain.
This is where the trail becomes more challenging. It goes down Nahal Mapalim, named after around 15 dry waterfalls that have formed throughout it. "Mapalim" in Hebrew means "waterfalls." The waterfalls are tall, some reaching a height of over five meters, and you have to climb down them using hand and leg bars stuck in the rock. For me, it was alright, but for short people, it was more challenging because there was a lot of space from one bar to the other, and they had to really stretch to reach each one.
There is a point where a black-marked trail leaves from the blue-marked route to the right. You can take it if you prefer to bypass some of the waterfalls, but if not – the blue-marked trail is more exciting.
These dry waterfalls go on for about 1.5 km. Then, we turned right on a black-marked trail (6) toward Nahal Netafim.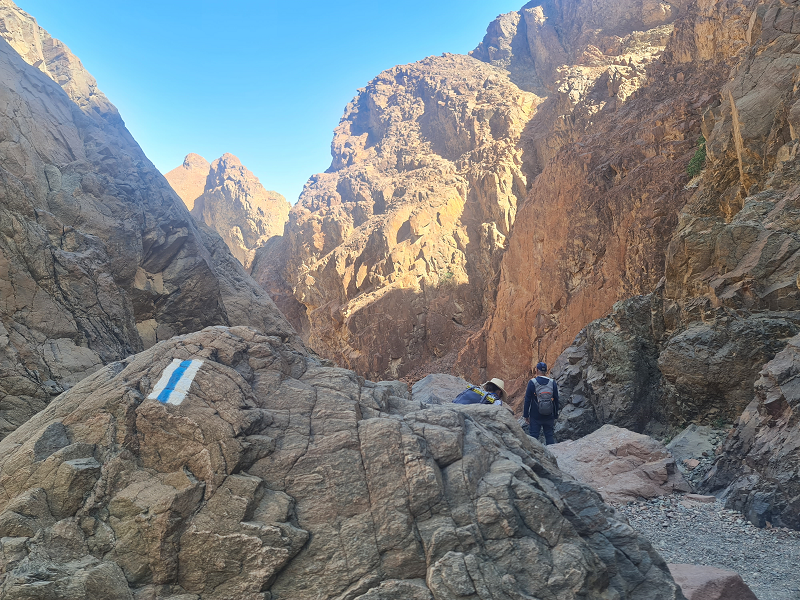 Via Nahal Netafim to the campground
We turned right onto Nahal Netafim and walked eastward toward the endpoint – Nahal Netafim campground. The route that goes through Nahal Netafim is very wide and easy. After about 2.2 km, we were already at the campground (7).
The campground is also very spacious. Of course, the campground has no facilities, but if you've carried enough water, you should be good.
The way to the campground is accessible by car, so if you want to leave a vehicle at the endpoint, that's an option. If not, you can hike about 5 kilometers more to road number 90 via Nahal Netafim and Nahal Roded.
More hikes in the Eilat Mountains
Conclusion
The trail up Har Shlomo and down Nahal Mapalim is a challenging yet beautiful trail that is very recommended for experienced hikers. It includes stunning views of the Eilat Mountains and the Red Sea Gulf and fun climbing down dry waterfalls. If you don't have two cars, you can either make it a circular hike or hike all the way to road number 90 and catch a bus from there. The most important thing is to have fun!
---
If you liked this post or found it useful, please don't hesitate to like, share or comment (:
Also, feel free to follow this blog and like my Facebook Page – Backpack Israel.
If you need help with planning your trip itinerary to Israel – contact me.
Yours,
Lior