We decided to take it easy on our sixth day on the Golan Trail. But instead of taking a full day of rest, we decided to do a short hiking day. So, we decided to go from Givat Yoav to Amphi Golan, only 6 kilometers. We started late, arrived early, and had a nice nap at the campsite. Check out the previous day – Daliot Campsite to Givat Yoav.
The segment from Givat Yoav to Amphi Golan isn't too interesting. It has some fantastic views of the Sea of Galilee, but we already had that the day before. There's a gradual climb near the end, but it's not too long, so not too bad. Overall, it's a perfect segment if you're looking for a light trail.
Trail length: About 6 km.
Trail duration: 2 to 4 hours, depending on your pace.
Difficulty level: Easy to moderate.
Best season: Spring (February-April).
Water along the way: You can fill water at Givat Yoav. They have a grocery shop if you want to buy new water bottles. Other than that, there's no water on the way. There's also no water at the campground at the endpoint. If you are desperate for water, you can walk about 2 km from the endpoint to kibbutz Afik, where you can fill water.
Stay options at the end of the trail: We stayed at the Amphi Golan Campground. If you prefer someplace more organized, you can walk about 3.5 km from the campground to Neot Golan, where there are many zimmer options. I also saw that there's a trail angel in Neot Golan.
View the map of the trail here
Disclaimer: This page may include affiliate links that help me maintain the site. When you buy something through these links, I get a commission. It does not cost more for you.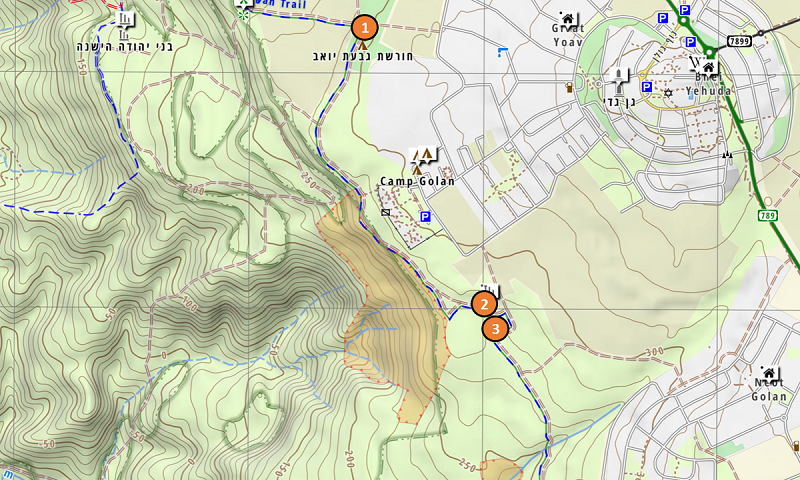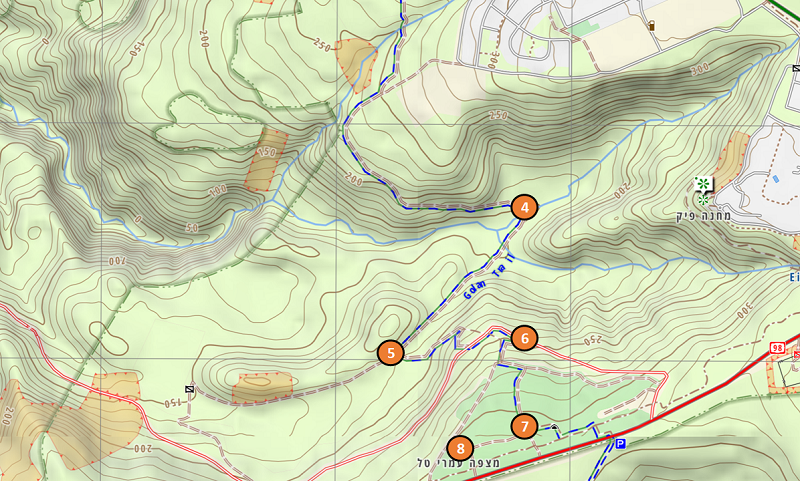 Important to note
The hike is under your full responsibility, so please be careful while hiking.
Make sure to take enough water for the day (at least 3 liters).
Don't go hiking when it's too hot (over 30 degrees Celsius). It's not enjoyable and can end with heatstroke. Almost all parts of the trail are completely exposed to the sun. Also, hiking after rainfall is not recommended because the route could be muddy and slippery.
Pay attention to sunset hours (in Summer, around 6-7 PM; in Winter, around 4-5 PM). Try to begin your day hike early so you can rest during the hot afternoon hours and still get to the trail's end.
The trail passes near minefields, so please stick to the trail and do not cross fences. If you see any suspicious artifact on the ground, do not touch it, and inform the authorities. It might be an old mine that shifted out of the minefield zone because of rainfall.
Network connection was overall good.
Bring good hiking shoes, a hat, and anything else you might need for the day. Also, make sure to bring a garbage bag to carry your trash.
The Golan Trail is marked by a green-blue-white mark. The trail is well-marked, but it's always good to bring a map or use a navigation app to make sure you're on track. I use Israel Hiking Map and Amud Anan.
If you need further help with planning your hike, you are welcome to contact me at [email protected].
How to get to the head of the trail?
The hike starts from Givat Yoav, so you'll need to get there. If you're coming from Jerusalem, there's bus number 966 that leaves three times a day from the Jerusalem Central Station to Katzrin and stops on the way at Givat Yoav ("Bnei Yehuda Junction"). It departs at 8:30 AM, 12:15 PM, and 5:30 PM and takes about 2.5 hours to arrive. On the other hand, if you're coming from Tel Aviv, you will probably need to take a bus to Tiberias and from there to Givat Yoav.
In any case, check Moovit or Google Maps for the best route, depending on your departure point.
If you have a car, you can drive it up to Givat Yoav and park it there. Givat Yoav is a central place in the Golan, so it will be easier for you to get back there by bus to pick up the car.
Read about public transportation in Israel here.
Description of the hike
We woke up later than usual and made breakfast in the spacious and clean kitchen of Village on the Cliff. Afterward, we left for Givat Yoav's grocery store, Ha'Shuka. It has plenty of options, including bread, fruits, vegetables, spreads, snacks, and more. We bought whatever we needed and then headed out to the back entrance of Givat Yoav, which leads to the Golan Trail.
The Golan Trail leaves from the Givat Yoav Woods (1), located at the back of the settlement. Everything looked wet, so we were happy we stayed indoors that night. It could have been a nice place to sleep outdoors if it hadn't rained. There are no facilities, but it's really close to the settlement, so you can get whatever you want from there.
We went with the trail, bypassing Givat Yoav. To the left, we could see where we stayed the night, and to the right, the gorgeous view of the Sea of Galilee. After about 1.7 km, we reached an exciting point – an old bunker used in the past to store ammunition (2). I've read somewhere that it was Syrian, but I can't really tell the difference between Syrian and Israeli bunkers. If it's a Syrian bunker, it makes sense because the Syrians were positioned right above the Sea of Galilee, where they could shoot toward the farmers of the Israel settlements down below. We peeked at it and continued on our way.
A bit after the bunker, there was a right-hand turn and then another right-hand turn toward some agricultural buildings (3). According to the map, there's supposed to be a water faucet there, but I didn't see it. Some buildings looked like sleeping huts for farm workers, so there might be some faucet over there, but we didn't stop to check. In Amud Anan, people say it's next to the chicken coops.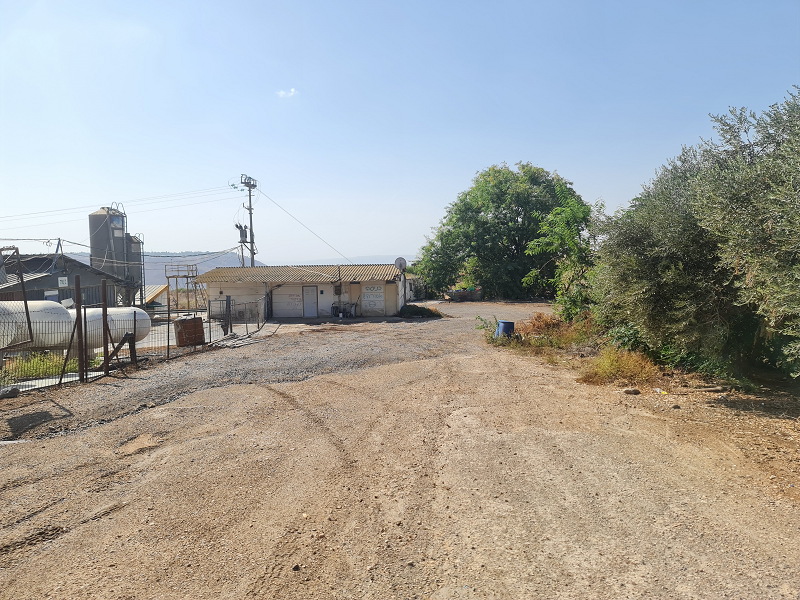 From there, we passed by some orchards and then started our way down to the wadi separating Givat Yoav and Amphi Golan. After about 2.2 km, we reached the bottom of the wadi (4). The whole way down had views of the Sea of Galilee but no shade at all, and because the hour was already afternoon, we were desperately yearning for some shade. Luckily, there was a huge tree at the bottom of the wadi where we could stop for an afternoon break.
To pass the time, we talked about what each of us was happy about and what would make us happier. There's a famous phrase that says, "Who is rich? He who is happy with what he has." Overall, it seemed like most of us were happy and content with our lives.
After the discussion, we ate a bit, looked at a cute turtle that passed by, and then got up and mounted our backpacks. We went about 800 meters on a very gradual climb, then turned left (5), and continued the gradual climb. After about 500 meters, we reached an asphalt road, turned left, and after another 380 km, turned right, off the road, to the main ascent (6). We stopped in the middle after about 180 km because there was a bench facing the view, but then we continued up to Amphi Golan campground (7). The climb isn't too bad and is very short compared to other climbs we've been through.
The campground doesn't seem to be next to the Amphitheatre itself because we didn't see it. We settled on one of the half-circle cement surfaces and spent most of the afternoon doing nothing. We did go up to the Omri Tal viewpoint (8), located about 280 meters from the campground, but that's about it. Also, we tried knocking down some pines from the trees, but there weren't any pine nuts inside.
At some point, a group of men arrived for some meetup, and they gave us water, so we got to fill our water bottles before the next day. That was good because, without them, we would have had to wait a long time until we reached the next drinking faucet.
Other than those men, the place was quite deserted. When they left, we were all alone.
Continue to the next segment – from Amphi Golan to the Sea of Galilee.
Conclusion
The segment from Givat Yoav to Amphi Golan was nice and easy but nothing too special. If you want to take it easy like us, doing this short segment could be a great idea to keep moving but not too hard.
Save this post for later!
---
Hiked the trail in October 2022.
Think this post is useful or helpful? Don't forget to like, share and leave a comment 🙂
Also, check out my Facebook page, Backpack Israel.
Yours,
Lior