After a creepy night at Hurvat Khishniyah, we woke up as early as possible. Then, we headed to our next destination – Daliot Campsite. Check out the previous day – Ein Zivan to Hurvat Khishniyah.
The segment from Hurvat Khishniyah to Daliot Campsite is all downhill, which means it's pretty easy. We passed by some fascinating remains from the past, including a fabulous structure in an ancient Jewish village and an even more ancient tumulus dating about 5,000 years back. The vast yellowish plains looked like they were taken from the African savannas, and there were lots and LOTS of cows.
Trail length: About 17 km.
Trail duration: 8 to 10 hours, depending on your pace.
Difficulty level: Easy to moderate.
Best season: Spring (February-April).
Water along the way: There is no place to fill water at the start of the trail. If you have a shortage, you can try cutting to Keshet. There's a right-hand turn to Keshet about 2.5 km from the start of the segment. From there, it's a 4-km detour to Keshet and back to the trail. There's a drinking water faucet about 9.5 km from the start of the trail, at Jeremy's Rujm. There's no drinking water at the end of the segment. If you are completely out of water, you can continue about 1.3 km to a water faucet and then return to the campsite. Just remember that it's a military training zone, so if you're not traveling on Friday or Saturday, you'll need to coordinate your entrance by calling the HQ at (+972) 04-6977808.
Stay options at the end of the trail: We stayed at the Daliot Campsite, a nice campsite with picnic tables, a chemical toilet, and plenty of room. But there's no drinking water there. If you prefer more organized accommodation, you can take bus number 84 from the nearby Daliot Junction to Avnei Eitan. There, you'll find all kinds of zimmers and camping options. One of the most recommended options on the web is Chan El Al, where you can stay with your tent at a reasonable price. I haven't stayed there but have heard about this place often, and it's a cheap option near the trail. To return to the trail the next day, you can take the bus back to Daliot Campsite or take a red-marked trail and then a blue-marked trail and connect to the trail from Ein Kshatot.
View the map of the trail here
Disclaimer: This page may include affiliate links that help me maintain the site. When you buy something through these links, I get a commission. It does not cost more for you.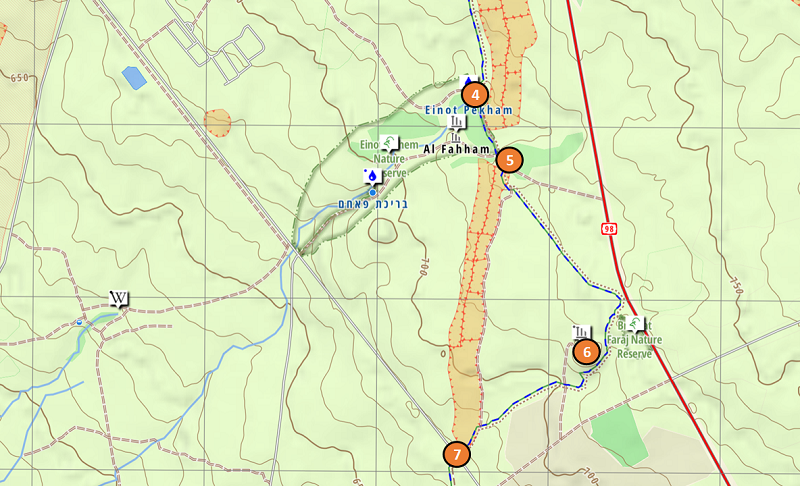 Important to note
The hike is under your full responsibility, so please be careful while hiking.
Make sure to take enough water for the day (at least 3 liters). Remember that there's no water at the end of the day, so make sure to fill enough water at Jeremy's Rujm at the middle of the segment.
Don't go hiking when it's too hot (over 30 degrees Celsius). It's not enjoyable and can end with heatstroke. Many parts of the trail are completely exposed to the sun. Also, hiking after rainfall is not recommended because the route could be muddy and slippery.
Pay attention to sunset hours (in Summer, around 6-7 PM; in Winter, around 4-5 PM). Try to begin your day hike early so you can rest during the hot afternoon hours and still get to the trail's end.
This segment passes by some minefields, so stick to the trail. If you see any suspicious artifacts on the ground near the minefields, do not touch them and stay away. They might be mines that drifted outside of the minefields after rainfall.
Parts of this segment pass through areas marked on the map as military training zones. I didn't see any signs mentioning this in the field itself, but just in case – it's recommended to call the HQ at (+972) 04-6977808 and confirm that it's safe to hike the segment. If you're hiking on Friday or Saturday, it's safe because there's no training during those days.
Network connection was overall good.
Bring good hiking shoes, a hat, and anything else you might need for the day. Also, make sure to bring a garbage bag to carry your trash.
The Golan Trail is marked by a green-blue-white mark. The trail is well-marked, but it's always good to bring a map or use a navigation app to make sure you're on track. I use Israel Hiking Map and Amud Anan.
If you need further help with planning your hike, you are welcome to contact me at [email protected].
How to get to the head of the trail?
If you want to start your hike from Hurvat Khishniyah, you will need to get to Katzrin and from there, take bus number 15 to the bus station "Keshet" (NOT "Keshet A"). From there, you will need to walk on the side of the road to Hurvat Khishniyah. It's about 10 minutes on foot from the station. Usually, the roads in the Golan aren't very active, but if you prefer not to walk on the side of the road because of safety measures, you can walk from the settlement of Keshet (bus station "Keshet A") to Hurvat Khishniyah using a nature trail that goes out from the settlement and connects to the Golan Trail. Or you can stay the night at Keshet and start the segment from there.
Read about public transportation in Israel here.
Description of the hike
From Hurvat Khishniyah to the Battalion 95 Memorial
We left the mosque at Hurvat Khishniyah (1) and started hiking in complete darkness. The first 2 kilometers were on a pretty easy dirt route, but then we reached a point where there started being more and more rocks on the path. There's a trail junction there (2) and two signs pointing towards Keshet (in Hebrew: קשת) and the Golan Trail (in Hebrew: שביל הגולן). About 500 meters later, we reached a large water pipe encircled by a fence (3). From what we saw, there's no drinking water here. We decided to rest a bit next to the pipe before moving on.
On the pipe's fence, there's a strange sign with the "Golan Trail" written on it and what seems to be a backward arrow. After a while, we realized that it meant that the Golan Trail continued behind the pipe. So, we went behind the pipe and continued on the trail.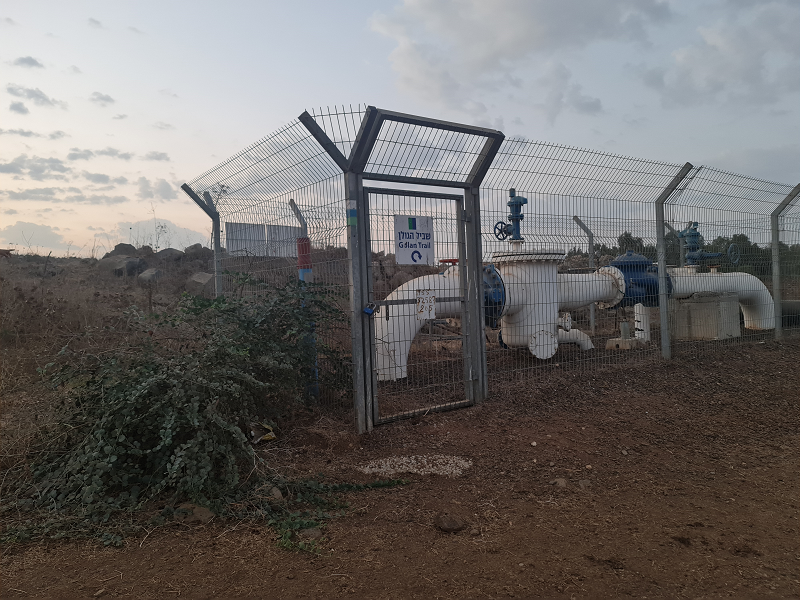 From this point, the trail turned to a narrow route covered with large rocks. Walking there wasn't fun, especially with our hiking poles, but it didn't go on for too long. And we could see the beautiful sunrise to our left, which was nice.
After about 1.3 km, we reached a left-hand turn into the Pehem Springs Nature Reserve (4). This Pehem Springs is where the Gamla Stream begins. It's a green and lovely place. When we were there, we didn't see a lot of water in the springs, but I suppose it's full of water in springtime.
About 400 meters from the turn, we reached a memorial built in memory of the fallen soldiers of Battalion 95 from the Kiryati Brigade (5). The soldiers took part in the battles in this area of the Golan during the 1973 Yom Kippur War. It's an honorable memorial encircled by a fence, with the names of the fallen soldiers carved into stones at the base of the flagpole. We stayed there for a while before moving on.
A visit to the magnificent Farej Ruins
We followed the trail and, about 1.5 km later, reached the ruins of the ancient village of Farej (6). This village has some of the most impressive and well-preserved structures I've seen in Israel. We stopped to explore one of the ancient villas that has multiple rooms, a beautiful wall of windows, magnificent arches, and incredible decorations. If you have time, you should look inside, too. It's STUNNING!
According to the sign next to the ruins, Farej was established sometime in the Hellenistic or Early Roman period, most likely around the 1st century BCE. The Itureans might have built it because this area was where they lived. But the most impressive buildings were built in the Byzantine period. Based on the decorations and construction found here, it seems like the people who lived here were rich. In the 19th century, Circassians came and settled here. On the buildings, archeologists found writings in Hebrew and Aramaic, which means that this place was also inhabited by Jews sometime in history. There are also lulav and menorah decorations on some of the building stones.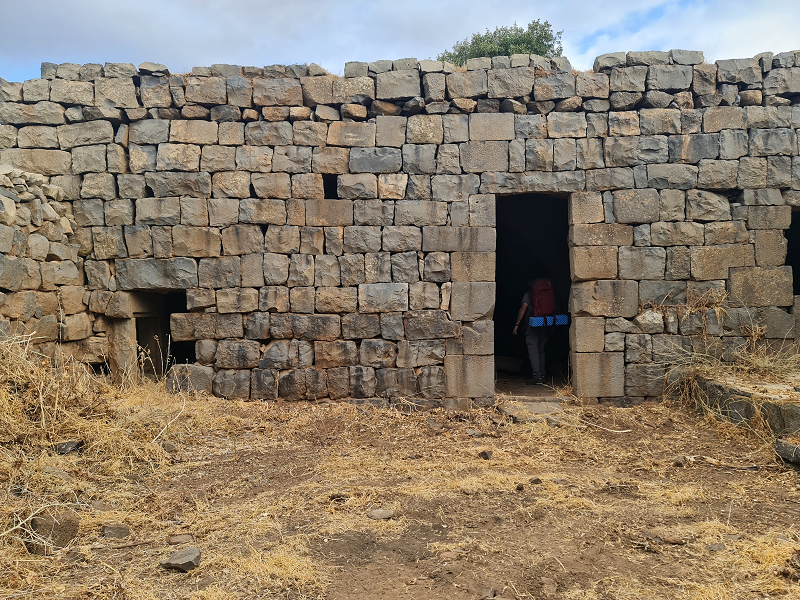 From Farej Ruins to Jeremy's Rujm
After enjoying this magnificent place, we continued on the trail. It passed through a field of yellowish plants and thorns. I suppose that in springtime, this area is all green and beautiful. After about 1 km, we reached the TAP Line Road (7). This road starts from the border with Syria near Mount Peres and goes all the way to the border with Lebanon in the north. It was built next to the Trans-Arabian Pipeline, which used to transfer petroleum from Iraq to Lebanon. Today, the pipeline no longer transfers petroleum. Instead, it transfers water.
We crossed the road and continued another 1 km until we reached a nice swing chair next to some water source (8). We waited there for everyone and then went a few more meters to the Golan Trail sign, which indicated the end of section number 8. As I've told in previous segments, the Golan Trail is divided into LOTS of segments. We usually did two sections a day.
A short while later, we reached a right-hand turn onto a narrow asphalt road (9). We went on the road for about 650 meters, turned left, and continued on the road for another 280 meters until we reached Jeremy's Rujm (10). This is where we could finally fill water. It's a nice place with picnic tables, a water faucet, and an IDF bunker used during the 1967 Six-Day War. The place is also known as Nechama Ruthshtein Viewpoint, named after a woman who died from cancer and used to live in the nearby village of Yonatan.
We stopped at the viewpoint to eat a late breakfast.
There were two people there who worked in the INPA and were watching for birds. Birds migrate and pass above Israel during fall and springtime, so we came during the fall migration. Since Israel connects Europe to Africa, it's a popular migration route for millions of birds each year.
From Jeremy's Rujm to Rujm el-Hiri
From there, we continued on a wide dirt route for about 1.7 km until we reached a right-hand turn (11). Then we continued on another dirt route, which had some small stones on it. I hate walking on trails with stones because it's bumpy. We passed by a large herd of cows, that were coming back from somewhere in admirable order. They were walking one after the other in a straight line. When they saw us, they shifted aside and slightly changed their route. Human beings are scary.
We continued on the trail, passing through vast fields that looked like the African savannas. There was one large tree where we stopped for an afternoon nap. About 1.9 km from the right-hand turn, we crossed the Daliot Stream (12). It's amazing to see how all the plants around the stream are green as opposed to the yellowish plants beyond it.
About 350 meters later, we reached Rujm el-Hiri (13), also known as Galgal Refaim. We learned about it in the tour guide course, and I never thought I would see it because it's in the middle of nowhere, so I was excited to get there. But in reality, it wasn't so exciting. From the aerial pictures, it looks much better. When you're on the ground, you just see walls of rocks and, in the middle, a huge pile of rocks which is a dolman, an ancient stone gravesite. Archeologists say this structure, built from three circles of rocks, is about 5,000 years old. We climbed the huge pile and got inside a hole in the center. There wasn't anything special there.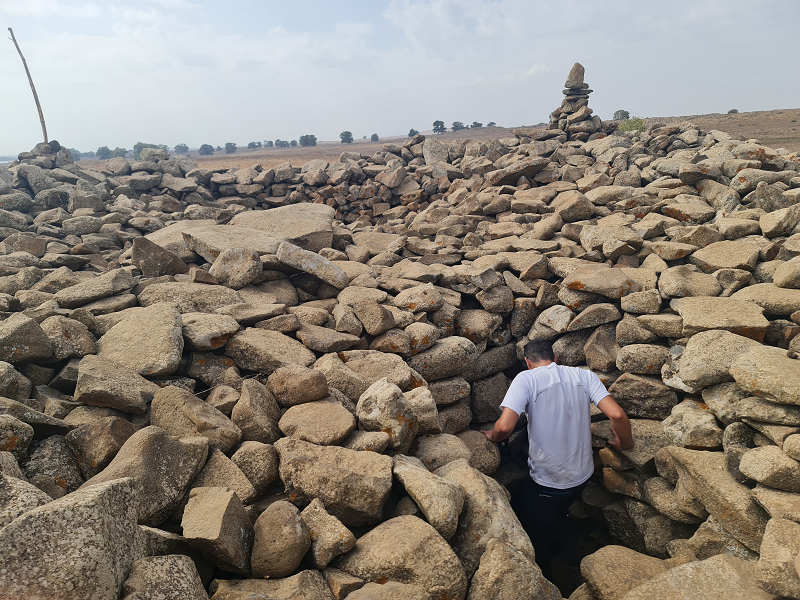 From Rujm el-Hiri to Daliot Campsite
We continued another 930 meters until we reached another intersection with the Daliot Stream (14). There, we found a nice one-seat swing and lots of shade, so we decided to stop to rest some more.
After resting, we walked along the Daliot Stream, which now looked quite miserable. About 1.8 km from our resting point, there was an unclear spot with two trail marks, one crossing the stream and one pointing to the left. At first, we thought to take the one that crossed the stream, but then we checked our map and understood we needed the left turn. The trail goes next to the Daliot Reservoir, a huge body of water that gets its water from the Daliot Stream.
Then, the trail goes down to road number 808 (15). We carefully crossed to the other side of the road and walked in a field of thorns all the way to the Daliot Campsite (16). For some reason, the Golan Trail circles around the campsite and then arrives at the place. We were tired from all the walking, so we just cut straight to the campsite.
Like all the campsites on the Golan Trail, this campsite has camping areas protected by half-circle walls. There are also many pine trees, so we started gathering the pine nuts that fell off the tree. Later, we added them to our rice.
In the evening, three boys with a dog came and set up tents next to us. They told us that they saw some scorpions at the campsite, which stressed us out because we were camping without a tent. But luckily, we had no encounters with scorpions during the night.
Move on to the next segment – From Daliot Campsite to Givat Yoav.
If you want to leave the trail, it's possible to catch a bus from Daliot Junction.
Conclusion
The section from Hurvat Khishniyah to Daliot Campsite is a lovely segment that includes some fascinating archeological sites and beautiful water sources. It's easy, fun, and recommended for anyone who wants to experience a bit of the Golan Heights!
Save this post for later!
---
Hiked the trail in October 2022.
Think this post is useful or helpful? Don't forget to like, share and leave a comment 🙂
Also, check out my Facebook page, Backpack Israel.
Yours,
Lior