One of the most popular resort districts in Israel is Ein Bokek, located on the southern shore of the Dead Sea. There are four declared beaches along the Dead Sea: Kalia Beach, Biankini Beach, Neve Midbar Beach, and Ein Bokek Beach. Ein Bokek is the only free-of-charge beach that's also declared. That's why I stop there every time I want to float in the water for free. So what do you need to know about Ein Bokek Resort? And do you have to book a night at a hotel to enjoy the place? Hopefully, you'll find all the answers in this guide.
Disclaimer: This page contains affiliate links, meaning I get a commission if you decide to purchase through my links, at no extra cost to you. Whatever I recommend is based on my own experience.
A bit about the Dead Sea
The Dead Sea is a natural wonder. It's a huge lake of salt located at the lowest point on Earth. In Hebrew, we call it "Yam Ha-Melach," which means "The Sea of Salt." Its average salt concentration is about 34 percent – about 10 times saltier than the Mediterranean Sea!
Today, the lake's level is about 430 meters below sea level, but it keeps dropping at a rate of about one meter per year. The truth is that the lake located next to the Ein Bokek Resort is artificial. The southern basin of the Dead Sea has dried up completely and was replaced by evaporation pools built by the Dead Sea factories. But don't worry – you probably won't feel the difference.  
What's the weather like in Ein Bokek?
The Ein Bokek Resort is in a "rain shadow desert." On one side, there's the Dead Sea and on the other, the Judean Mountains. The mountains block humid air from coming to the area, so get ready for a dry climate. Rainfall is very rare. If there is rainfall, it usually leads to flash floods in the area.
In the summer (June to September), temperatures can reach over 50 degrees Celcius (122 degrees Fahrenheit)! That's hot! If you want to feel like you're visiting an outdoor sauna, you can visit at this time of year. Just make sure to put on sunscreen.
During the rest of the year, the weather is usually pleasant. In January, the coldest month, the temperature ranges around 15 degrees Celcius (59 degrees Fahrenheit) during the day. For the best weather, I'd aim to go in March-May or October-November when the temperature is more pleasant, around 20-25 degrees Celcius (68-77 Fahrenheit) during the day.  
Things to do in Ein Bokek
The Ein Bokek Resort is all about relaxation. Some come here for a few hours, some for a full day, and some for several days. But everyone comes to experience the wonder of the Dead Sea and relax. So, the main thing you can do in Ein Bokek is float in the Dead Sea. If your budget allows it, you can also order some special treatment at one of the spas. 
Other than that, there's not much to do. The beach strip is aligned with luxurious hotels, a few restaurants, and shops. There's also the new Dead Sea Mall that opened in 2018. I've looked around the mall and didn't find anything too interesting besides ice cream and Dead Sea mud. But maybe that's just because I don't like shopping malls in general.
Enjoy the Ein Bokek Beach
So, the best thing to do at the Ein Bokek Resort is to chill out on the beach and float in the water. The whole floor of the Dead Sea is covered with salt crystals, so water shoes could help. The moment you enter, you can slowly bring up your feet, look up to the sky, and enjoy the feeling of floating. You'll also feel the salt all around you, nurturing your skin.
The free Ein Bokek Beach is very long and there are many lifeguard towers, so you can feel safe entering anywhere you see a lifeguard. Just make sure to follow the guidelines that I'll write about shortly.
On the beach, there are toilets, outdoor showers, and changing "rooms." The rooms aren't exactly rooms, because there's no door, but if you have someone with you, they can block the entrance for you.
There are also many spots with overhead shade. There are even some shaded open pavilions INSIDE the water.
If you want a chair, you'll need to rent one. I always bring a beach mat. The sand is very flat and if you don't have problems sitting on the ground, it's comfortable.  
The beach is always open, though the lifeguard service works only until 5 PM every day.
Try the Dead Sea mud
When you'll be at Ein Bokek, you'll probably see many people covered in mud. The Dead Sea mud is rich with minerals, helps improve blood circulation, and soothes your skin. In Ein Bokek, you can't find any mud on the beach itself. You need to go to one of the shops on the promenade to buy a package of mud. Just look around and you'll find it. It should cost around 5 shekels (1.5 USD) for a package and the package has enough mud for two people. I bought my mud from the Dead Sea Cosmetics shop in the Dead Sea Mall.
Once you get the mud, put the package in the sun for about 3-4 minutes, and then apply the mud onto your skin. Read the instructions on the package. Then wait for the mud to dry up and go wash it off in the Dead Sea. It's fun and feels nice!
Walk the promenade
If the weather is nice or if you're staying in the evening at Ein Bokek, you can walk along the lakeside promenade. It stretches to a length of over 5.5 kilometers, so you'll have plenty of walking time. It's nice to walk, look at the beautiful view of the Dead Sea and the Jordanian mountains, and do some people-watching. If you have an option, you can also bring a bike and cycle along the promenade.
Visit other places in the area
If you have a car, you can explore other sites in the area, like Masada National Park (about 15 minutes away) and Ein Gedi Nature Reserve (about 25 minutes away). There are also some nice hiking trails in the area, including the Mount Sodom Hike and Nahal Arugot Hike, both around 15-25 minutes from Ein Bokek. 
Are there lockers on the beach?
If you're coming for a few hours and want to keep your valuables safe, there are lockers adjacent to the backside of the Dead Sea Mall. You will need a 5 shekels coin to open the locker. Then, you'll need to take the key with you and use it later to open the locker. The key won't work if you'll put it inside the water, so make sure to keep it in a dry place.
If you arrived at Ein Bokek with a car, I think the safest option is to keep your stuff in the car as long as they're not visible from the windows. I haven't heard about car breaks in Ein Bokek. Another option is to just put your stuff on the beach, hidden in your clothes or bag or something, and hope that you won't fall on a thief. I've left my stuff several times on the beach, and no one touched it. Just keep an eye on it when you're in the water.  
Some safety guidelines and general recommendations
Do not put your face in the water! Remember it's full of salt, which can burn your eyes and harm your vision.
Do not swallow the water. If you'll swallow too much, it may lead to death!
Make sure to drink a lot of water to avoid sunstroke.
If you have any open wounds, DO NOT enter the Dead Sea! It's going to be very painful because the salt hurts in contact with cuts and scrapes.
If you need to shave your legs or other parts of the body, make sure to do it at least 24 hours before you arrive at Ein Bokek. 48 hours is even better. Entering the Dead Sea a short while after shaving could be painful. 
Stay in the Dead Sea for up to 20 minutes each time. Too much continuous time in the water may cause dehydration and other problems. So, enjoy some time and do some onshore breaks in between. 
Use flip-flops or water shoes to walk on the beach and get into the water. The beach might get very hot during the afternoon, so it's not fun walking on it barefoot. 
After you get out of the water, make sure to wash off the salt with fresh water. Don't touch your face before washing your hands. 
What's better – a day trip or an overnight stay? 
There are many ways to experience the Dead Sea, and you can choose the best one for you based on your needs and limits. While staying overnight could be more relaxing because you don't have to rush anywhere, you can still enjoy Ein Bokek Beach with only a few hours at hand.
How to get to the Ein Bokek Resort? 
If you only have a short time to enjoy the Dead Sea, I recommend renting a car. You'll have to pay for parking at Ein Bokek (6 shekels per hour), but it's a much better usage of your time. Learn more about parking in Israel here.
Traveling to Ein Bokek by bus can be time-consuming, as there are only a limited number of buses every day. If you do want to use the bus, the best option is to catch bus number 486 from Jerusalem Central Station and get off at the Dead Sea Hotels. The ride takes about 2 hours and costs 16 shekels. If you want to return to Jerusalem, the last bus leaves around 7:45 PM. Another option is to take the opportunity and continue from Ein Bokek to Eilat. You're already halfway.
Another option is to join an organized day tour to the Dead Sea. These tours usually include a visit to Masada, too. But there are also tours focused only on the Dead Sea, like the Dead Sea Chill Out Tour by Abraham Tours.
"Fun Day" at the Dead Sea
Many Israelis go on what is called a "Fun Day" at the Dead Sea. In Hebrew, we say "Yom Kef." Many Ein Bokek hotels offer this concept, which usually includes access to the hotel's spa and facilities and breakfast or lunch in the hotel's dining hall. If it's within your budget, it could be a nice experience, especially if you are traveling as a couple. Just call the hotels and compare prices.
When you book a "Fun Day" at a hotel, you also get to park in the hotel's parking lot for free.  
Camping at Ein Bokek
There are many luxurious hotels at Ein Bokek, but you don't have to stay at any of them. At the northern entrance to Ein Bokek, there's a new free-of-charge campground with toilets and drinking water. I haven't stayed there yet, but it looks very nice. Though, keep in mind that it's right next to the road and there's no security. So, keep your eyes on your stuff. Read more about Israel's camping basics here.
The declared Ein Bokek Beach is a short walk from there on the promenade.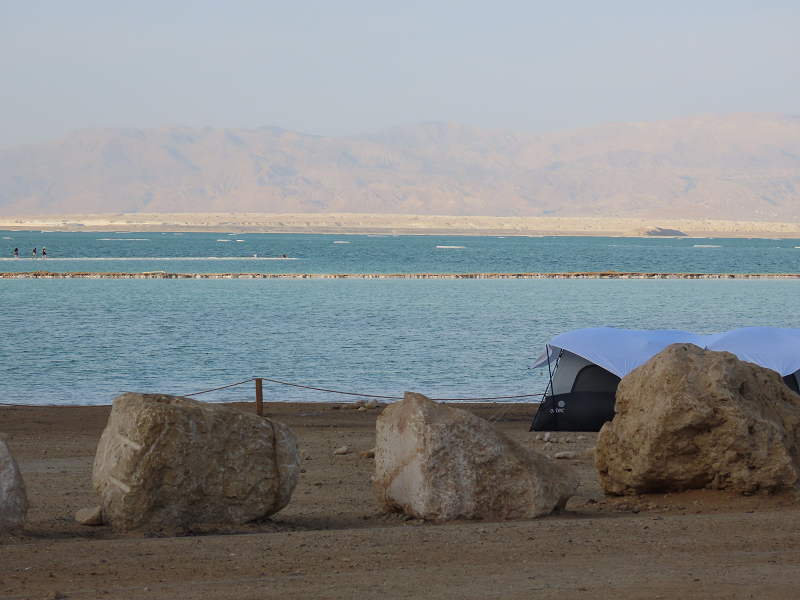 Staying at a hotel
If you still prefer the hotels, I can personally recommend the Noga (Ganim) Hotel by Isrotel Collection. They have fabulous breakfast and dinner, a wonderful swimming pool, and a very professional staff. The room is clean, spacious, and nicely designed. If you book a half-pension stay, you get free beer during dinner! 
Are there good restaurants at Ein Bokek?
There aren't a lot of good food options at Ein Bokek. There are some fast food and chain restaurants on the beach, but nothing too special. If you're coming for a day trip, I recommend preparing something in advance and bringing it with you.
Conclusion
Ein Bokek Resort is a relaxing place that is open to everyone. You can come here for a few hours, a full day, or more than a day – whatever is right for you! While other declared beaches require payment, Ein Bokek beach is free of charge, making it perfect for budget travelers. I hope the information in this guide helped you plan your trip.
Think this post is useful or helpful? Don't forget to like, share and leave a comment 🙂
Also, check out my Facebook page, Backpack Israel.
Need help planning your trip? I offer trip planning service.
Yours,
Lior