Safed is a charming city nested in the hills of the Upper Galilee. It is one of the Four Holy Cities of Judaism and is known as the City of Kabbalah. Kabbalah is the mystical side of Judaism, and many Kabbalist Rabbis lived in Safed, especially in the 16th century. The alleys of its Old City are painted in blue, there are many art galleries and old synagogues, and there's a beautiful view of Mount Meron.
Yes, Safed has a lot of potential, but like other cities in Israel, I feel it's not reaching its full potential. Most of the day, it's quite deserted. Attractions and shops close early, and it's hard to experience something special here unless you are part of a group. But it does have a charm, and you can spend a day roaming around the pretty alleyways. It's also a great base for exploring the surroundings.
By the way, Safed appears in many different spelling versions. So, if you see someplace that mentions Tsfat or Zefat or Safad or even Tzfat – all of those are spelling versions of Safed. In Hebrew, we usually say "Tsfat," but I found that most English websites call it "Safed". No matter what you call it, it's a lovely city to spend a day, two days, or even three days in if you plan to explore the Upper Galilee and the Sea of Galilee area.
This travel guide to Safed includes everything you need for a perfect visit to this mystical city. And I'm updating it all the time. So if you plan to visit Safed soon, check it out.
Planning a trip to Israel? Here are 11 tips to Planning Your Budget Trip to Israel.
Disclaimer: This page contains affiliate links, meaning I get a commission if you decide to make a purchase through the links, at no extra cost to you. These links help me keep the website alive! Thank you.
Don't have time to read it now? Save it for later! 😉
5 top things to see and do in Safed
Enjoy the view from the ancient citadel
One of the top attractions in Safed is the Safed Citadel, situated on the top of a hill in the middle of the city. It offers stunning views of Safed as well as the surroundings. On a clear day, you can see all the way to the Sea of Galilee and the Golan Heights.
Once upon a time, during the Crusader period, this citadel was one of the largest fortresses in the Middle East. But today, not much has remained of it. Still, one of the best-kept secrets of the Safed Citadel is its enormous waterhole, which you can find below the viewpoint. It's pitch-black inside, so make sure to use a flashlight. There's a short tunnel that leads into the waterhole, which has wonderful acoustics. The people of Safed sometimes come here to sing together or play music.
It's free to enter!
Visit Beit HaMeiri Museum
If you want to learn about the history of Safed, Beit HaMeiri Museum is a great place to go. The museum is located in a historical 3-story building in the lowest part of Safed's Old City. Even if you're not interested in history, the building itself is very impressive and worth a visit. Though, keep in mind that there are only stairs and no elevator, so if you have a problem with mobility, it could be a problem.
The museum tells the story of major figures in Safed's history, shows tools and equipment from Safed's early days, and shows how the people lived here during the 19th century. It's not a huge museum, so you can see it all in up to one hour.
There's a small entry fee – 20 shekels per adult.
It's open only Monday to Thursday from 8:30 AM to 2:30 PM.
Address: Keren HaYesod Street 158. Next door is the HaMeiri Dairy, the first dairy established in the Land of Israel, which is open for visitors only on Friday at 12:00 noon.
Get lost in the alleyways of the Old City
The Old City isn't big but is full of winding alleyways and charming buildings. So, I would recommend spending a while getting lost in the alleyways and absorbing the calm and spiritual spirit of Safed. You can start by walking into the Old City through Beit Yosef Alley and then start wandering around.
Synagogues in the Old City
There are many synagogues in the Old City of Safed. They don't have defined opening hours and most of the time, they are closed to visitors. But, if you happen to reach them when they're open, you can peek inside and appreciate the beautiful designs, which are quite uncommon in other synagogues in Israel. Here are the most famous synagogues in Safed:
Abuhav Synagogue: My favorite synagogue in Safed is the Abuhav Synagogue, which seems to be open more frequently than the others. Try to come around prayer hours and you might be luckier. Women can enter the Ezrat Nashim, the porch intended for women. The most beautiful feature of this synagogue is the inner side of its dome. There, you can see paintings of the symbols of the 12 tribes, musical instruments, and the "5 crowns", which are connected to the Kabbalah.
Joseph Caro Synagogue: This synagogue is located on Beit Yosef Alley, the main alley of the Old City. It has a blue door, so it's hard to miss. Joseph Caro was one of the greatest Rabbis who lived in Safed in the 16th century and was the author of "Shulchan Arukh," one of the most important Jewish law books. The synagogue was most likely a beit midrash, where the Jews of Safed studied Torah and Jewish law.
Ari Ashkenazi Synagogue: This synagogue is named after Ari HaKadosh, who is considered the father of modern-day Kabbalah. Usually, this synagogue is closed to the public, but if you happen to get inside, make sure to look at its wooden holy Torah ark. It's beautiful!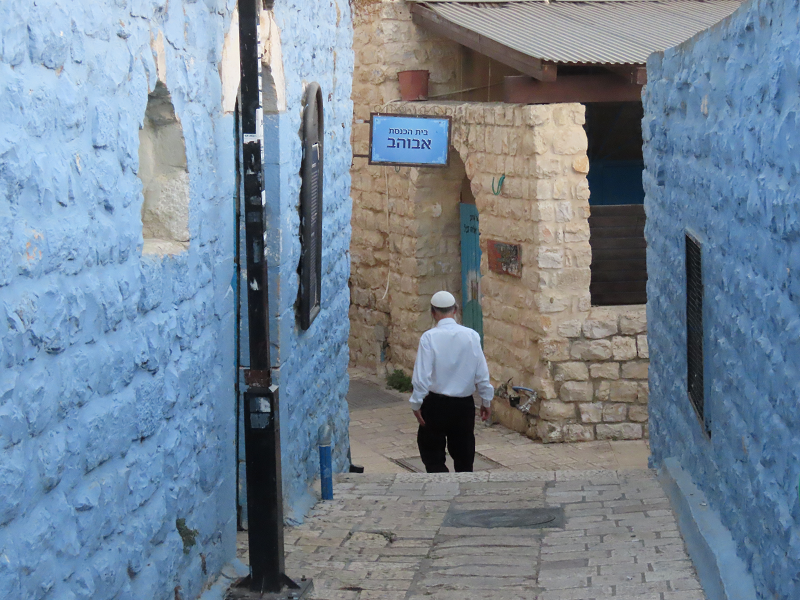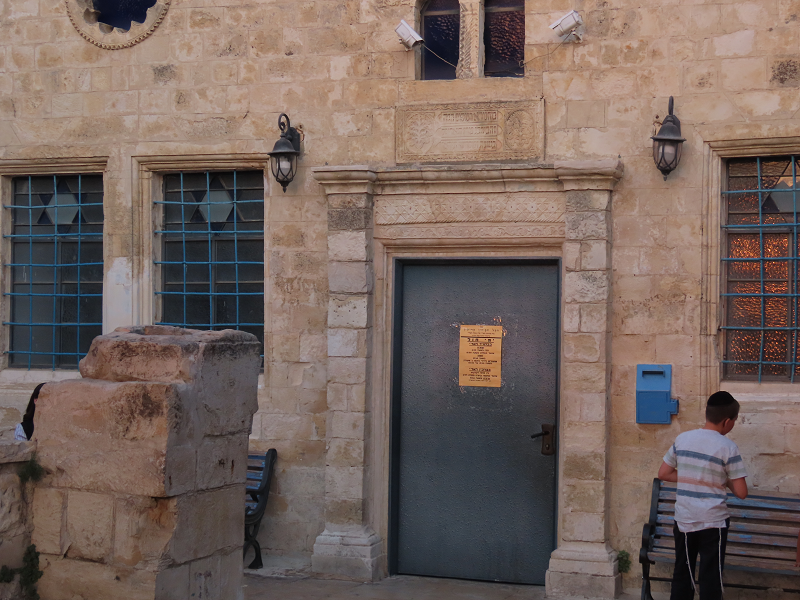 Two more interesting spots in the Old City
The Messiah's Alley: If you walk on Shimon Bar Yochai Street, you'll see at some point a very narrow alley with stairs, going down to the left. That is the Messiah's Alley. Legend tells that when the Messiah will come, he'll come from this alley. It's a great spot for photos.
Ma'alot Olei HaGardom Street: This street is actually a long-long staircase. Following the Arab Revolt in 1936-1939, the British built this street to separate the Jewish Quarter from the Muslim Quarter. There was a British sniper at the top of the street, and whoever crossed the street got shot. Today, there are no Muslims in Safed because they all fled during the 1948 Independence War.
Check the art galleries
Safed is a city of artists. The Artists' Colony was established after the 1948 Independence War, in the buildings of the former Muslim Quarter. The spiritual ambiance and the beautiful scenery gave them a lot of inspiration, and dozens of artists arrived from all over Israel. From the 1970s, the colony started falling apart, but you can still find many galleries in the place where it once flourished. If you like art, you can peek into some of the galleries and appreciate the beautiful artwork. Some galleries include items that combine the symbols of Kabbalah, such as the Tree of Life.
Take a guided tour of the Old City
I believe the best way to understand Safed is by taking a guided tour. Without it, you'll be walking around the city without really knowing the stories behind it. Unfortunately, there aren't many public guided tours in Safed, only during vacations or the Israeli summer break. So, if you're going to Safed, it's worth googling "Safed guided tour" before you arrive, but most chances are that you won't find something open to the public.
The alternative is to hire a private tour guide. There are many guides in the northern area of Israel who can show you around. If you can't find anyone, you can contact me at [email protected]. I'm also a tour guide and while I don't usually guide in Safed, I might be able to do it one time.
More things to do in Safed
If you're looking for more things to do in Safed, you can read my post – Top Free Things to do in Safed.
Another reason why people come to Safed is the tombs of the righteous, found in Safed and its surroundings. In Hebrew, we call a righteous person "tzadik." Tzadikim are people who behave according to justice and morality. Usually, they study Torah and are very close to GOD. So, some people believe that those tzadikim have a special connection to GOD even after their death and that they can help pass their prayer directly to GOD. That's why they visit their tombs and ask for prosperity, matchmaking, and good health.
Some of the most popular tombs in Safed include the tomb of Ari HaKadosh in the Old Safed Cemetery, and the Shem and Eber Cave, where several tzadikim are buried according to tradition.
How many days to visit Safed?
One day is more than enough to experience the Old City of Safed. But if you've already reached Safed, I recommend staying a few more days to experience the Upper Galilee area. The Sea of Galilee is about 40 minutes by car or bus. So, you can definitely use Safed as a base for exploring the surroundings. Later in the post, I'll recommend some day trips in the area.
When to come to Safed?
Safed is a good destination all year round in terms of weather. Winter (December to February) might be cold and might even be snowy, but other than winter, it's very pleasant in Safed. The evenings are always chilly, even in summer, unless there's a heatwave. So, make sure to bring something warm for the evenings.
If you want more chances to see things, it might be best to come during Israel's summer break, from the end of June to the end of August. This is when more people come to Safed, so the people of Safed have more motivation to open the shops and attractions and run guided tours.
Where to stay in Safed?
Safed doesn't have a lot of budget stay options. The best-known hostel is Safed Inn (also called Ruckenstein B&B). I haven't stayed there, but the reviews seem very positive. There's a mixed dormitory room as well as privates. But from what I understood, if you want the cheapest private room, it's a very old room. Also, the hostel is located about 3 km from the Old City, so you will need to walk a while.
When I stay somewhere, I usually like to be close to the main attractions. So, that's why I looked for a budget stay right next to the Old City of Safed. The truth is, it's hard to find something budget-friendly there. Most of the places are boutique hotels or zimmers. But we found a small guesthouse – Off the Square – which offered private rooms at a reasonable price. It's located at the edge of the Artists' Colony, 2 minutes on foot from the Old City. You can read my full review of Off the Square here.
If you have a large budget, I recommend Ruth Safed Hotel. I stayed there a few years ago and it was an unforgettable experience. The hotel has a remarkable view of Mount Meron, it's a short walk away from the Old City, and offers fun activities every day. Oh, and the breakfast is amazing!
Where to eat in Safed?
Most of Safed's good restaurants are located on Jerusalem Street, the city's main street. There are also some nice options in the Old City. Here are some restaurants we liked while visiting Safed:
Lahuhe Zfat: Also known as Lahuhe Original Yemenite Food Bar, this small food bar is a fun place to eat in the Old City of Safed. They serve lahuhe, a type of flat and spongy bread eaten regularly in Yemen. You can add three or five types of cheese to the lahuhe as well as tomatoes, zaatar, and spicy sauce. One lahuhe with three types of cheese costs 35 shekels. It's delicious, and the inside of the food bar is also beautiful! Address: Simtat Alkabetz, parallel to Livnot U'Lehibanot.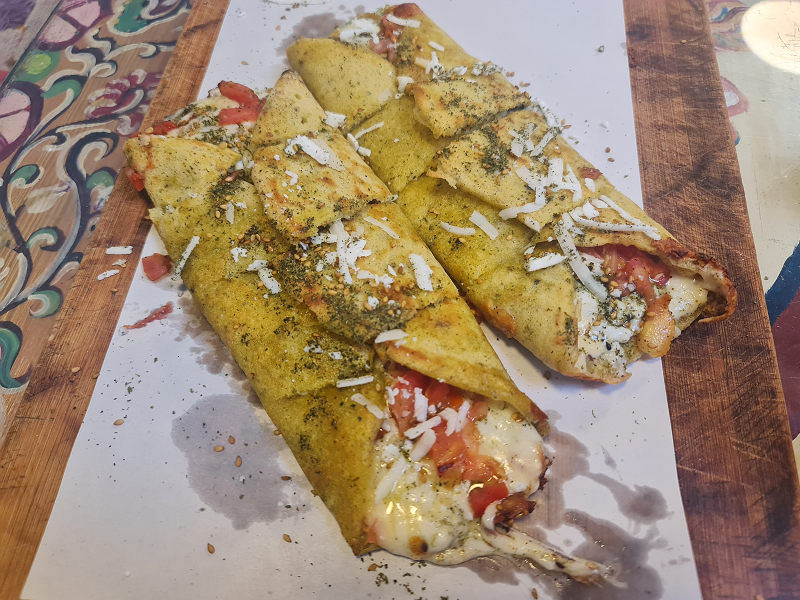 Bella Bakery & Café: We went to Bella for breakfast. Their bakery specializes in sourdough bread, so you'll find here dishes mainly based on bread. There's a variety of bruschettas, focaccias, and sandwiches. And nothing costs more than 50 shekels. Address: 2 Arlozorov Street.
Café Monitin: If you're hungry, I recommend going to Café Monitin. They have large and delicious dishes. We ordered their stir-fried dishes, but they also serve breakfast, salads, sandwiches, shakshuka, wraps, pasta, and fish. The waiter was friendly, and the ambiance was fun. Address: 70Jerusalem Street.
Falafel Yitzhak – Falafel is always a good choice. And Falafel Yitzhak has great prices and great falafel. Address: 39 Jerusalem Street.
How to get around Safed
If you stay near the Old City of Safed, you can easily explore the city on foot. Though, you should keep in mind that Safed is built on a hill, so get ready to climb up and down a lot of stairs. If you come in a car and are staying near the Old City, there's plenty of parking on Keren HaYesod Street.
If you plan to explore places outside of Safed, it might be best to rent a car. This way, you'll save time instead of waiting for buses. Also, if you're going to visit Safed during Shabbat, from Friday eve to Saturday eve, you will be able to move around only with a car. There's no public transportation on Shabbat.
If you prefer public transportation, there are some destinations that are quite accessible from Safed. For example, you can reach Tiberius with bus number 450, which leaves every 40 minutes from Safed's Central Station. Meron, where Rabbi Shimon Bar Yochai is buried, is also very accessible, with a variety of buses going there at every hour of the day.
Annual events and festivals in Safed
The Ladino Festival
Next year is not set yet – usually in the beginning of July.
The Ladino Festival is one of the two main festivals in Safed. Ladino, also known as Judaeo-Spanish, is a Romance language that originates from Old Spanish. The Ladino culture was very common in Safed of the 16th century when some of the greatest Jewish Rabbis came to the city from Ladino-speaking counties. During the Ladino Festival, you can enjoy live music shows all around the Old City until the early morning. The entrance is free.
Watch this video by Israel Home:
The Klezmer Festival
Next year is not set yet – usually in the beginning of August.
The main music festival in Safed is the Klezmer Festival. Klezmer is Jewish music that originates from Central and Eastern Europe. During the festival, which usually lasts 3 days, you can walk around the city and enjoy live shows by some of Israel's top Klezmer musicians. The streets fill up with music, Jewish poetry, and food stalls. The entrance is free.
Watch this video by ILTV Israel News:
Recommended day trips from Safed
Safed is centrally located in the Upper Galilee. It is about 40 minutes by car from the Sea of Galilee and from the northernmost city in Israel, Metula. It's also about 40 minutes by car from Katzrin, the Capital of the Golan Heights. So yeah, it could be a great base for exploring the surrounding regions.
Here are some recommended day trips from Safed:
Mount Meron
Mount Meron is the second highest mountain in Israel, rising to a height of 1,204 meters above sea level. It can clearly be seen from Safed, but if you're looking for a nice hiking experience, you can definitely go on a day trip to Mount Meron. It's even accessible by public transportation!
Take bus number 367 from Safed Central Station to Meron Field School. From there, you can start the hike up the mountain while following the Israel National Trail. You'll reach the top of the mountain, enjoy a spectacular view of the surroundings, and then make your way down towards moshav Meron. Read more about the trail here.
When you reach moshav Meron, you can climb up into the village and visit the tomb of Rabbi Shimon Bar Yochai, one of the greatest Jewish sages who lived in the 2nd century. People believe he was a Kabbalist, who told the secrets of the Zohar, one of the most foundational works of the Kabbalah. That's why hundreds of thousands Jewish people visit his tomb every year. After visiting the tomb, you can catch bus number 361 or 367 from moshav Meron to Safed.
Agamon Hula and Rosh Pinna
Another great day trip, which is also possible by public transportation, is a day that combines Agamon Hula and Rosh Pinna. Using a car will save you at least half an hour, but if you prefer public transport, you can take two buses to the access road to Agamon Hula in the morning and then take bus number 500 or 505 from that access road, the HaHula Authority Intersection, to Rosh Pinna. From Rosh Pinna, you can take bus number 23, which leaves every hour to Safed. I recommend using Moovit to navigate the buses.
Agamon Hula is one of Israel's most beautiful nature parks. It is located on one of the most important bird migration routes in the world, so you can see here lots of birds in autumn (October-November) and spring (February-April). What I love to do in Agamon Hula is to rent a bike and cycle around the lake. The route is about 8 km long. Learn more on Agamon Hula's official website.
Rosh Pinna is one of the loveliest villages in Israel. It was one of the first moshavot established in the Land of Israel in the 19th century. You can walk around the ancient buildings, stop at one of the cafes, and enjoy the charming ambiance of the place before returning to Safed.
Christian sites around the Sea of Galilee
While you can do this by public transportation, this day trip is much better in a car. You won't have to wait for the bus every time you want to move to the next site.
As I said, the Sea of Galilee – called "Kinneret" in Hebrew – is about 40 minutes away from Safed. And some of the main attractions around the lake are the Christian sites connected to the story of Jesus. No matter if you're Christian or not, visiting the different Christian sites could be a fascinating experience.
Some of the main sites include Capernaum, where Jesus lived during his missionary years, Magdala, the "city of Mary Magdalene," and Yigal Allone Center in Ginosar, where you can see the "Boat of Jesus."
Recommended to watch
A brief history of Kabbalah by Bim Bam: