Mitzpe Ramon is a small town on the edge of the magnificent Ramon Crater. It's in the middle of nowhere, surrounded by the vast desert and the quiet. Yes, Mitzpe Ramon is very quiet. The people who live here aren't hurrying anywhere, and there are no honking cars or traffic jams. People come here to practice yoga, learn juggling, do stargazing, and immerse in spiritual activities. Because Mitzpe Ramon is the perfect place to take a break from everyday worries, breathe deeply, and just enjoy life. It's also a great place for hiking in the desert – and Ramon Crater!
Keep in mind that you'll probably need a car for your visit, as public transportation isn't good in this area of Israel.
This travel guide to Mitzpe Ramon includes everything you need for a perfect visit to this desert retreat. And I'm updating it all the time. So, if you plan to visit Mitzpe Ramon soon, check it out.
Planning a trip to Israel? Here are 11 tips to Planning Your Budget Trip to Israel.
Disclaimer: This post may contain affiliate links, meaning I get a commission if you decide to make a purchase through the links, at no extra cost to you. These links help me keep the website alive! Thank you in advance.
5 top things to see and do in Mitzpe Ramon
1. Hike in Ramon Crater
Mitzpe Ramon's biggest attraction is the Ramon Crater, officially known as Makhtesh Ramon. It's one of Israel's greatest natural wonders, the biggest erosion cirque in the world! It was formed over millions of years by the power of water and climatical forces. Today, it is in the shape of a huge heart, 40 kilometers long and 2-10 kilometers wide. It's full of ancient surfaces, beautiful rock formations, and stunning colors.
Many people drive into the crater and stop at several popular points, like HaMinsara, the Ammonites Wall, and the Colored Sands. Those places don't require much walking, because you can get the car very close to the point of interest.
But, if you want to hike through the beautiful landscapes of the Makhtesh, that's also possible. There are many hiking trails in the Makhtesh. Still, you will probably need a car to get to the trail heads. Here are some trails I've done in Ramon Crater and can recommend:
A Circular Trail to Shen Ramon
The Nekarot Horseshoe Circular Trail
From HaMinsara to the Prism Wall
2. Go stargazing
Mitzpe Ramon is the perfect base for stargazing. In 2017, Ramon Crater was named the first international Dark Sky Park in the Mideast. I haven't yet joined a stargazing tour in Ramon Crater, but I know many people who did it and enjoyed every minute. And it makes sense, because the sky here is very dark and there are almost no lights in the surroundings, what makes a perfect setting to view stars.
Every year, from 17 July to 24 August, there's also a beautiful meteor shower, which you can view very easily from Mitzpe Ramon. Star-lovers from all around Israel come to Mitzpe Ramon and enjoy the amazing view. So, if you happen to be in Israel during the meteor shower, make your way here. Just book your stay enough time in advance, because it will probably be packed!
Learn more about this stargazing gem in i24NEWS's video:
3. Go camping in the crater
Have you ever camped in the desert? It's an amazing experience. Everything is quiet, and in the morning, you wake up to a stunning yellowish landscape. In Ramon Crater, you have the chance to camp in Israel's friendly desert and enjoy a night full of stars and quiet.
Though, please keep in mind that you cannot set up a tent anywhere you want. Ramon Crater is a nature reserve, so camping is permitted only in designated places. That's because we want to minimize our interactions with the crater's wildlife and give the animals the space they need.
So, where are some good places to set up a tent in Ramon Crater? There are several free camping sites. These sites are "sign sites," that have no facilities at all. They are perfect for those of you who want to experience the desert without distractions. I've camped in Nahal Gvanim Camping Site, and it was great. It's a popular camping site for groups, and there are even ecological toilets over there (but they're not always open). Other than the toilets, there's nothing there. Just a large, flat space. Three more free campsites in the crater are Nekarot West Camping Site, Geves Pnimi Camping Site, and Mount Ardon Camping Site. I haven't stayed in any of them, but they seem alright.
If you prefer an organized camping site with lights, showers, and toilets, you can stay at one of the paid campsites in the crater. I stayed at Beerot Campground, a campsite run by the Israel Nature and Parks Authority. It was a very pleasant stay! There's also the Selina Glamping Site with luxurious tents.
Learn more about the basics of camping in Israel.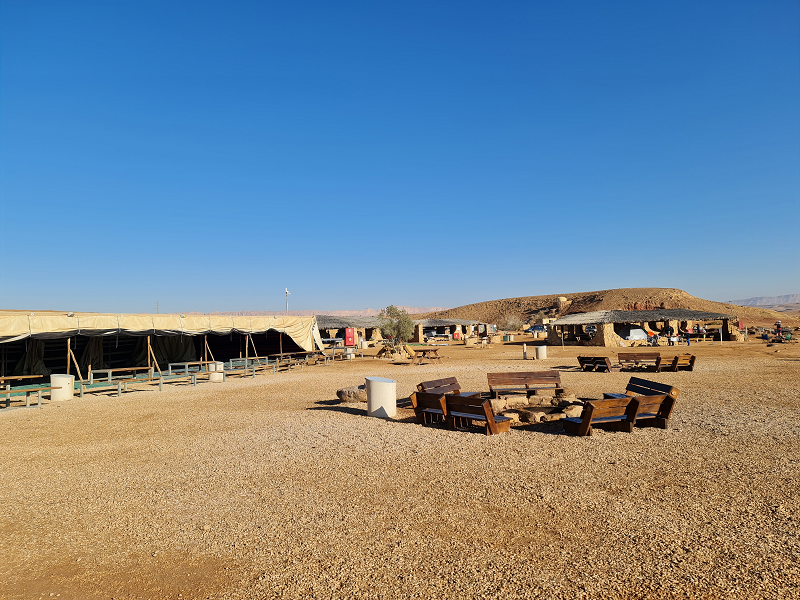 4. View the amazing sunrise
Mitzpe Ramon is one of the best spots to view the sunrise in Israel. Before the sun rises, Makhtesh Ramon is completely dark. Then, the sun starts rising above the crater and wakes up the crater's beautiful colors. It's remarkable! If you're not morning people, you can also enjoy the stunning sky near sunset.
I viewed the sunrise from the Barak and Amichai Viewpoint on road number 40, on the way into the crater. It's a good viewpoint, but if there are lots of people, you might not be able to find a place to stop there. So, I would recommend viewing the sunrise from the Albert Promenade. You can park your car next to Har Gamal and continue on foot to the promenade along the edge of the crater.
Watch this nice video by Isaac Gershon. Though, it's better in reality!
5. Take a selfie with an ibex:
The town is full of ibexes! If you love these beautiful animals, you'll probably enjoy your stay here. Usually, you'll find them around the edge of the crater, along Albert Promenade or next to the Barak and Amichai Viewpoint. If you'll stay in the luxurious Beresheet Hotel, they might even come up to your room. Just make sure not to feed them! They don't eat what we do.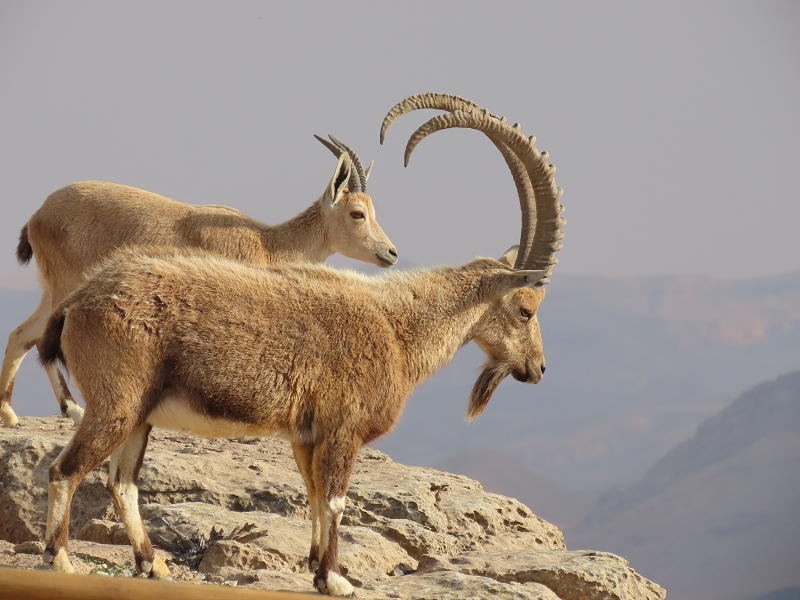 How many days to visit Mitzpe Ramon?
I have passed through Mitzpe Ramon many times on my way to Eilat. But then I didn't get enough time to appreciate the beauty and calmness of the place. So, if you want to experience the calm and relaxing vibe of Mitzpe Ramon, I recommend at least 2 days in the town. If you plan to do some hiking, it could even be 3-4 days. There's not a lot to see in the town itself, but nearby Makhtesh Ramon (Ramon Crater) offers lots of beautiful sites and experiences. You can also use Mitzpe Ramon as a base for traveling to nearby places like Avdat National Park and David Ben Gurion's Tomb.
When to come to Mitzpe Ramon?
In general, the best time to come to Mitzpe Ramon is in the fall, around October-November. February to May is also a good option. The days are usually pleasant for outdoor activities. Though, the nights may be chilly, because the town is located at a height of 840 meters. So, bring something warm for the night!
But if you'd like to see the meteor shower in Mitzpe Ramon, you'll need to come sometime between 17 July to 24 August. Also, make sure to book a stay enough time in advance, because it can get completely booked early.
Where to stay in Mitzpe Ramon?
When I stayed in Mitzpe Ramon, I usually camped in the crater. The only place I stayed in the town itself was the Spice Quarter Inn, but I'm not sure I can recommend it. You can read my full review about Spice Quarter Inn here.
A place that seems reasonably priced with fairly good quality is the HI Mitzpe Ramon Hostel, but I've never stayed there.
If you want to camp inside the Ramon Crater, I recommend Be'erot Campground. Read my review about Be'erot Campground here. Selina Ramon also offers some budget-friendly stay options, although they're a glamping site. There are also several free camping sites in the crater. Just keep in mind that camping is allowed only in designated places!
Where to eat in Mitzpe Ramon?
There are many restaurants in Mitzpe Ramon. Cheap restaurants can be found in the commercial center next to David Ben Gurion Boulevard. There are many fast-food restaurants over there, including a hummus place, Pizza Hut, and Mcdonald's. If you want to eat something more special, it might cost a bit more, but I think it's worth it.
In the Spice Quarter, there are some nice restaurants and shops. I recommend Ultra: Food from Israel and the Caucasus. It's a Kosher restaurant serving excellent dishes from the Caucasian kitchen. I ordered potato dumplings and got a beautiful plate with a LOT of dumplings, accompanied by plenty of salads. It costs 60 shekels and was completely worth it! Other than dumplings, you can also order hummus, Caucasian rice with meat, homemade kebab, and more! The restaurant is open Sunday to Thursday from 11 AM to 10 PM and on Friday from 10 AM to 3:30 PM.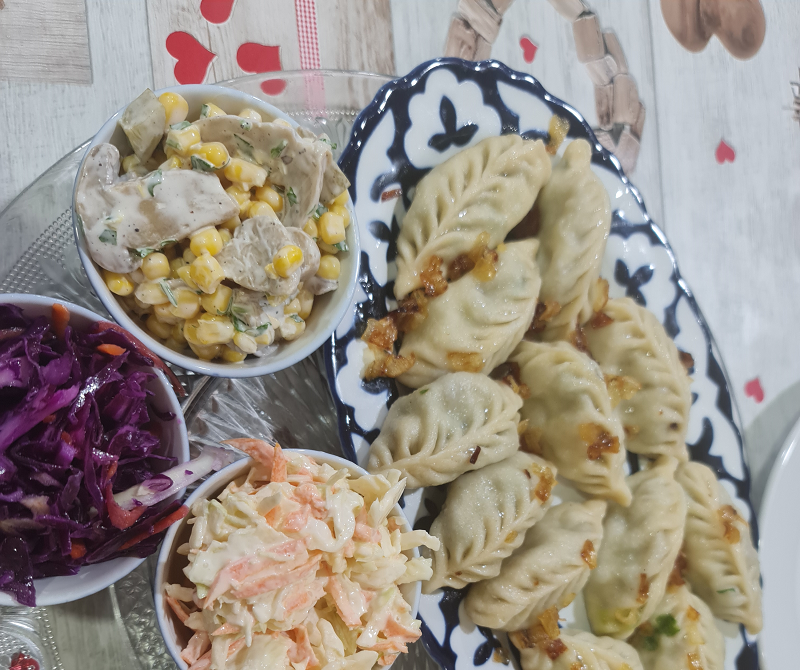 Another great restaurant, located in a residential neighborhood of Mitzpe Ramon, is Daroma Café. The place itself is beautifully designed and makes you feel welcome. It's a Kosher dairy-based restaurant, serving salads, sandwiches, pizzas, soups, and some special dishes. When I was there with my friends, we ordered Lidia's Khachapuri, which is a Georgian dish, and Baladi Eggplant with tahini. Both were delicious, but we were most waiting for the pancakes at the end of the meal. They were excellent, too! Each dish costs less than 50 shekels, so it's fairly priced.
Money-saving tips for Mitzpe Ramon
You can spend a lot or a little in Mitzpe Ramon, depending on the type of vacation you're planning. The town is full of luxurious places to stay, but you can also find some cheaper stay options. If you're fine with camping, you can even camp for free in the nearby Ramon Crater. Just keep in mind you'll need a car to get to Mitzpe Ramon, and that will cost you around 150-300 shekels per day.
How to get around Mitzpe Ramon?
Mitzpe Ramon is a very small place, so you can go around on foot. But you will probably want to visit Ramon Crater. So, for that, you'll probably need a car. Taxis are costly, and it's easier to get around the crater with a car. The basic cars should cost you around 150-300 shekels per day.
Another option to get into Ramon Crater is by hiking into it. But then you'll need to find somewhere to camp there or pay for a taxi back to Mitzpe Ramon, which is expensive.
Recommended places outside Mitzpe Ramon
Mitzpe Ramon is located in the heart of the Negev Desert, about 2.5 hours from Tel Aviv and 1.5 hours from Eilat. The nearest city is Be'er Sheva, about one hour away. So, you're very far from the busy city life and it's a good opportunity to get to know some interesting spots in the desert. Here are some suggestions for day trips outside Mitzpe Ramon:
Avdat National Park
Only 15 minutes by car, Avdat National Park is one of four Nabatean ancient towns in Israel and a UNESCO World Heritage Site. Begin your visit with a short movie about the site and then discover the city's ancient remains, nested on top of the hill. There's an entry fee. For more information, check the official website of Avdat National Park.
En Avdat National Park
Located 30 minutes by car, En Avdat is an oasis in the desert, a nature reserve with flowing water, desert foliage, and beautiful sights. There's an easy trail, that takes about 1-2 hours to the waterfall and back. There's an entry fee. For more information, check the official website of En Avdat National Park.
David Ben Gurion's Desert Home
Only 25 minutes by car, David Ben Gurion's Desert Home is a great place to learn about the early history of Israel. This hut in Sde Boker is where Ben Gurion, Israel's first prime minister, spent the last years of his life. There's an entry fee. For more information and booking, check the official website of Ben Gurion's Desert Home.
Yeruham
This developing town is located about 40 minutes by car from Mitzpe Ramon. You can meet the locals, go to the artificial lake, or check out the "Large Crater", now called Makhtesh Yeruham. For more info, visit Yeruham's official tourism website.
Narcissus in the Desert
If you're coming to Mitzpe Ramon around January, you can also go on an easy trail to see the narcissus flower blossoming in the desert. The trail goes through Nahal Hatzaz and is about 9 kilometers long. The trail head is about 30 minutes by car from Mitzpe Ramon. For more info, read my post – Narcissus in the Desert: A Hike for Flower Lovers.
Conclusion
Mitzpe Ramon is a charming town if you like the charm of the desert. It's a place to relax and connect to nature. And it's a perfect place for hikers who want to explore Israel's friendly desert! So, I hope you'll enjoy your time there!
Save for later: