Haifa, the third-largest city in Israel, is usually overlooked by locals and tourists alike. I often go there for the Holiday of Holidays Festival that takes place every December and celebrates the diversity of religions in Haifa. And while I'm there, I also stop by new and old restaurants and enjoy the city's exciting food scene. Yes, Haifa is well known for its food thanks to its large Arab population. Arab food is delicious.
But Haifa has more to experience than just food and the Holiday of Holidays. It has an interesting history, some nice beaches, and top-notch museums. Because it's situated on the slopes of Mount Carmel, it also offers some pleasant and beautiful nature trails. Oh, and I totally forgot the Bahai Gardens!
This travel guide to Haifa includes everything you need to know for a perfect visit to the city. And I'm updating it all the time.
Planning a trip to Israel? Here are 11 tips to Planning Your Budget Trip to Israel.
Disclaimer: This page contains affiliate links, meaning I get a commission if you decide to make a purchase through the links, at no extra cost to you. These links help me keep the website alive! Thank you.
5 top things to see and do in Haifa
Eat, eat, and eat!
Haifa is a food-lover paradise. Downtown is packed with a variety of restaurants, selling anything from street food to fancy food. I recommend checking out the restaurants in Wadi Nisnas and its surroundings. Read more >> The Best Restaurants in Haifa: Wadi Nisnas and Beyond.
Go on a free tour of the Bahai Gardens
The Bahai Gardens are the most famous landmark in Haifa. They are located on the slope of Mount Carmel and are BEAUTIFUL. The main building in the gardens is the Shrine in which the founders of the Bahai religion are buried. The Bahais offer free guided tours in the gardens, led by Bahai volunteers. Check out the available tours here.
I also recommend going to the German Colony a short while after sunset to view the Bahai Gardens in the dark. They are lit up and very magical.
Try the Carmelit
The Carmelit is an underground funicular that connects Downtown Haifa to the upper parts of Mount Carmel. You can call it is one of the shortest subways in the world, although it's not exactly a subway. You can use it to reach the Louis Promenade and the upper gate of the Bahai Garden, or just take a ride for fun. Read more about the Carmelit on its official website.
Visit a museum
Haifa has some of the best museums in Israel. The National Maritime Museum is a fascinating museum that shows the development of the shipping industry in Israel. There are many artifacts on display, that were taken from shipwrecks in the area.
Another museum I recommend is the Clandestine Immigration and Naval Museum which tells the story of the illegal immigration to the Land of Israel during the British mandate. You can also look into some of the navy's vessels.
Besides these two museums, there are many more museums, including the Hecht Museum, the Madatech Museum, and the Tikotin Museum of Japanese Art. So, if you're a museum-lover, you have plenty of museums to visit in Haifa.
Take a look at the view
Haifa offers fantastic views of Israel's northern coast. For the best view, go up to the Louis Promenade. The best way to get there is by taking the Carmelit up to Gan Ha'em Station and walking from there. When you look at the view from Louis Promenade, you can see the entire coast from Haifa Bay to the northern tip of Israel – Rosh Hanikra. It's BEAUTIFUL!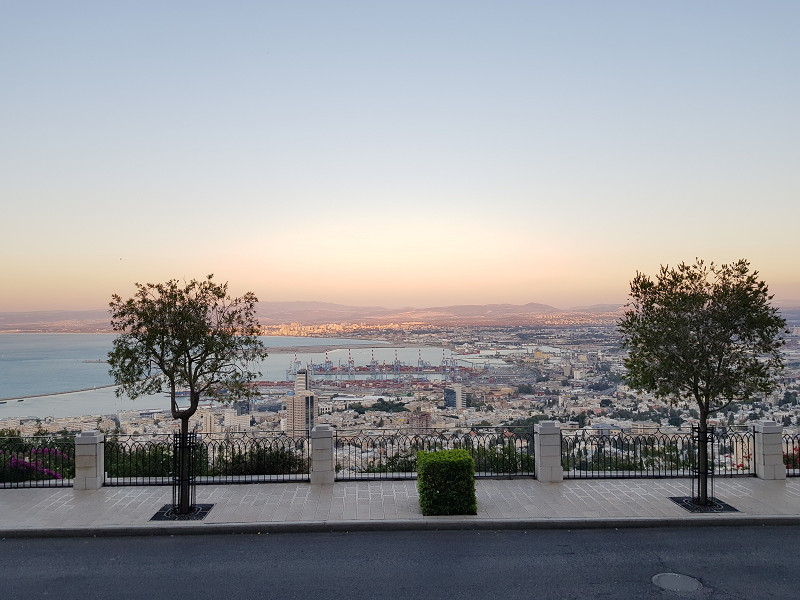 More things to do in Haifa
Explore the history of old Haifa
There are few remains from Haifa's old city. For many years, Haifa was a fishermen's village. In the 18th century, Daher al-Omar established the modern city and built defensive walls around it. In 1869, the city expanded outside the walls, which were later demolished. But we don't know much about the history of the city because most of the documentation was destroyed by fire during the violent events that took place in 1929 and 1936.
You can walk around the little remains in Downtown Haifa. At Falcon's shop on Kibbutz Galuyot 42 Street, you can see an old wall painting depicting the battle between the Turks and British. Here and there you can see some old and abandoned buildings. To really understand what you're looking at, it's best to take a tour guide.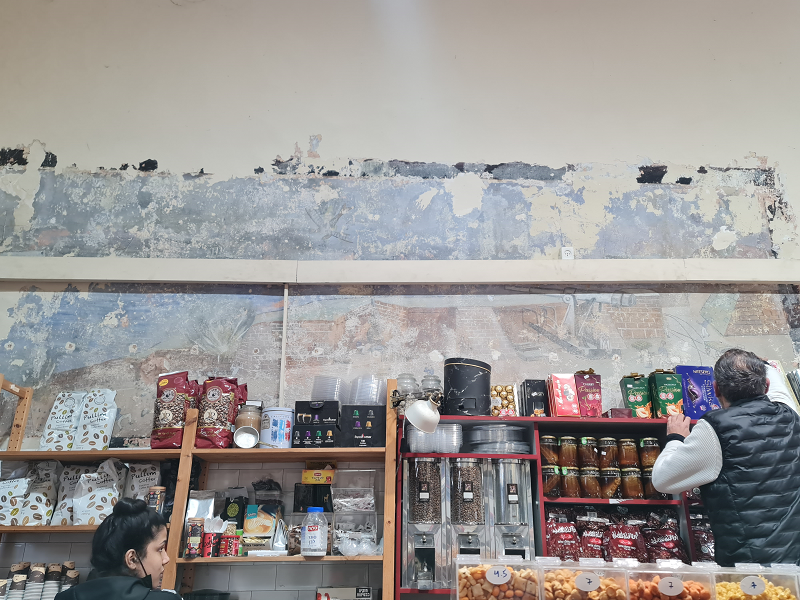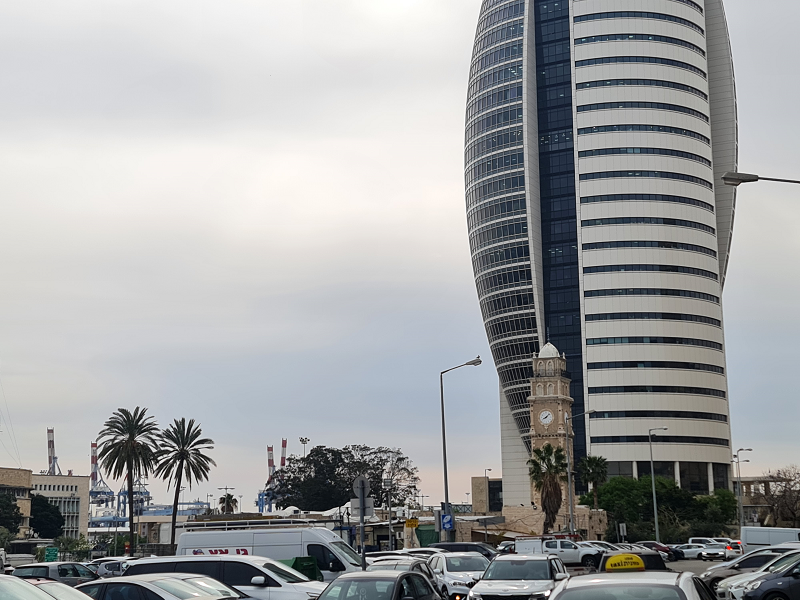 Go to the beach
There are several declared beaches in Haifa, so if you want to spend some time on the beach, it's a possibility. One of the most popular beaches is Dado Beach, but if you're looking for quieter beaches, it might be best to go to Bat Galim Beach or Neve Yam Beach.
Enjoy Haifa's nature trails
Haifa is located on the slope of Mount Carmel, and blends into the Carmel Forest. So, there are many nature trails all around the city, as well as outside it. For example, one of the most popular and pleasant trails in the city is the Nahal Lotem trail, which starts at Tishbi Street and ends at Gan Ha'em.
Here are other trails on the Carmel:
Hiking Down the Carmel Through Wadi Kelah and Galim
Hiking Mount Carmel on the Israel National Trail
Looking for a tour guide in Israel? I might be free to guide you while you're here. Contact me by email at [email protected].
How many days to visit Haifa?
It depends on what you want to do. Haifa is very accessible from Tel Aviv and can be a pleasant day trip by train. In one day, you can taste some great food, visit the Bahai Gardens, and maybe squeeze in another activity. If you want to see more and absorb the atmosphere, I'd say 2-3 days should be enough.
When to come to Haifa?
I think the best time to come is October-December or March-May when the weather is usually pleasant. Haifa is right next to the sea. If you're not planning on the beach, I would skip coming here in June-September because of the high humidity.
If you want to avoid the crowds, don't come in December because that's the time of the Holiday of Holidays Festival and everything is crowded.
Where to stay in Haifa?
I'd search for stay options near Downtown, the German Colony, or Wadi Nisnas. That's where all the good restaurants are located. Here are three places I've stayed during my visits to Haifa:
Nesthouse Haifa: A cozy place in Downtown Haifa, a few steps away from the train station. This place offers a mixed dormitory and private rooms. Read my full review here.
Hostel Roks: A clean place in Downtown Haifa, about 10 minutes walk from Wadi Nisnas. There are no dormitory rooms here, but the private room prices are cheap compared to other places. Read my full review here.
The Colony Hotel: This place is a boutique hotel, so it isn't cheap. But if it's within your budget, it's centrally located in the German Colony, and you can see the Bahai Gardens from its rooftop. The rooms have a special inner design. Though, breakfast wasn't so delicious (maybe because it was a Saturday).
Where to eat in Haifa?
As I've already mentioned, Haifa is a paradise for food lovers. If you're looking for good food, look in Wadi Nisnas and its surroundings. There's much more than falafel and shawarma. You can also try pita with cheese and za'atar, kanafeh, fatayer, and stuffed vegetables. Ask around and you'll probably get some good recommendations. Here are my favorite places to eat >>> The Best Restaurants in Haifa: Wadi Nisnas and Beyond.
Money-saving tips for Haifa
Like all places in Israel, Haifa isn't cheap. Expect to spend around 160-300 ILS (50-90 USD) per day, including food and accommodation. If you'll follow these money-saving tips, you can keep your budget low:
Use Couchsurfing.
If you want to save money on accommodation, Couchsurfing is a great option. They have started charging an annual subscription, but it's still worth it. Couchsurfing is a platform that connects travelers with local hosts, who will be happy to host you for free. This way, you save money and also get to know the local people! Couchsurfing is very popular in Israel, so it's easy to find a host. Just make sure to read the references before you send a request and stick to the safety basics.
Make your own meal.
An average meal costs 30-50 ILS. So to save money, it's best to purchase supplies in a local supermarket and make your own meals. Though, I do recommend eating out a few times just to taste the food. If you're staying in a hostel, you can use the shared kitchen. Don't go to the market because the prices there are generally higher than in supermarkets. Plus, the vendors can tell you a higher price just because you are tourists.
Drink during Happy Hour.
In Israel, alcohol is expensive. If you go to the supermarket, a bottle of beer costs about 10 ILS, depending on the type. In a bar, prices range around 30-35 ILS! So, if you want to hang out in one of Haifa's bars but also want to save money, come for Happy Hour. The nightlife scene starts late, around 10-11 PM, so you'll find Happy Hour deals earlier, around 5-8 PM. This way, you'll get more for less.
How to get around Haifa
It's not so easy walking around Haifa because it's situated on the slope of Mount Carmel. So, if you choose to walk, I recommend taking transport up to the highest point you plan to visit and walk down from there.
I think Haifa's public transportation is the best in Israel. There are regular buses going anywhere you need, and they usually have their own lanes which means less traffic jams. There's also the Carmelit, an underground funicular railway that connects Downtown Haifa to the higher parts of the Carmel. A one-way ticket costs 6.6 ILS. The bus fare is quite the same. Make sure to get a Rav-Kav public transit card before boarding any sort of transportation.   
To find the best route in the city, you can use the Moovit app or Google Maps.
To learn more, read my full guide to public transportation in Israel.
How to get to certain attractions from Downtown
If you're traveling on foot, it's easy to walk between Downtown places like Wadi Nisnas, the German Colony, and the nightlife area (HaNamal Street). But if you want to visit other attractions, here are some popular attractions and how you can reach them by public transportation:
The Bahai Gardens: You can look at the Bahai Gardens from the bottom of the gardens, but if you want to attend a free tour, you'll need to get to one of the garden's top entrances depending on the tour you're taking. To get to the middle gate on Hatzionut Street, you can walk uphill for about 20 minutes or take bus #136 from Downtown. To get to the upper gate on Yefe Nof Street, take bus #136 and get off at HaNassi/ Iris. Then walk a bit to the entrance.
Stella Maris Monastery: Take bus #58 from Downtown and get off at Cable Car/ Stella Maris station. It takes about 10 minutes.
Madatech Museum: Take bus #28 or #37 from Downtown and get off at Madatek/ Balfour station. It takes about 10 minutes.
Bat Galim Beach: Take bus #16 or #24 from Downtown and get off at Ha'Aliya Hashniya/ Lotz station. From there, walk a bit to the beach.
Annual events and festivals in Haifa
Holiday of Holidays
Dates not set yet – usually December
The Holiday of Holidays Festival in Haifa is one of the top events in Israel. It celebrates the three main monotheistic religions – Judaism, Christianity, and Islam. It's celebrated in December because Christmas and Chanukkah usually fall together in that month. Sometimes, the Muslim Ramadan also falls in December, but it's more rare.
During the festival, there are many tours that introduce you to the people that live in Wadi Nisnas. You get to hear their stories and sometimes taste some local food. Unfortunately, these tours are usually only in Hebrew. Besides these tours, it's nice to walk around Downtown and enjoy the Christmas decorations.
For more information, check out the official website of Holiday of Holidays.
Check out this video by Israel:
Haifa International Film Festival
This year – 8-17 October 2022
This is the first international film festival in Israel and one of the biggest cinematic events in the country. It takes place every year during Chol HaMoed Sukkot and screens hundreds of international and local films. If you love the movies, it's worth going.
For more information, check out the official website of Haifa International Film Festival.
Recommended day trips
Haifa is in northern Israel, about 1.5 hours by train from Tel Aviv and 2 hours by bus from Jerusalem. If you want to use it as a base to explore the North, it's about an hour by bus from Nazareth and 1.5 hours by bus from Tiberias/ the Sea of Galilee. If you want to use it as a base, I think it's best to rent a car.
Here are some recommended day trips from Haifa:
Acre (Akko): About one hour by train, Acre is one of the most charming towns in Israel. It has old and winding alleys, good food, and UNESCO Heritage Sites such as the Knights Hall. Read my post >> Top Free Things to do in Acre.
Daliyat al-Karmel: About one hour by bus, Daliyat al-Karmel is a famous Druze village on Mount Carmel. You can walk around the village, visit the market, and also take a short bus ride to Deir Al-Mukhraqa Carmelite Monastery.
Caesarea National Park: About 1.5 hours by bus, Caesarea is one of the leading national parks in Israel. It has an impressive Roman theatre and amphitheater, a beautiful view of the Med Sea, and some interesting exhibitions. Read my post >> A Walk Through Ancient Caesarea.
Conclusion
Haifa is a fascinating city that combines religion, history, and good food. While it's not a MUST, it could be a great addition to your trip itinerary.