December is a wonderful time of year to visit Israel, as long as you're ok with some cold and rainy days. It's when we celebrate two major holidays: Channukah and Christmas. But there's more to do in Israel in December. Here are some ideas that will help you plan your trip.
Disclaimer: This page may include affiliate links that help me maintain the site. When you buy something through these links, I get a commission. It does not cost more for you.
Post last updated on 1 December 2022.
Celebrate the holidays
Channukah in Israel
Channukah is celebrated for eight nights and days, this year from 18 to 26 December. It is a wonderful holiday filled with light and cheerful spirits. If you'll be wandering around in the main cities, especially Jerusalem, you will most likely see huge menorahs lit by electric bulbs and smaller menorahs sitting on the windowsills of houses. You'll also be able to enjoy the delicious jelly doughnuts ("suf-ga-nee-ot") that are sold in every bakery shop.
For more info, you can read my post about celebrating Channukah in Israel.
Christmas in Israel
Christmas celebrates the birth of Jesus, who was born in Bethlehem, not far from Jerusalem. This makes Israel a perfect place to celebrate the holiday! Come experience the prayers and the beautiful Christmas decorations.
If you're interested, you can go to Bethlehem and attend the Midnight Mass. The city is located in the Palestinian territories, so if you don't want to get messed up with transportation, you can use Abraham Tours' Midnight Mass Transportation.
Other places where you can enjoy the Christmas spirit throughout December are Jerusalem, Nazareth, Haifa, and Tel Aviv. In all those cities, you'll find beautiful Christmas trees. Check out my post about Christmas in Israel for more information about Christmas events in Israel.
Looking for a private tour?
Walking around the Old City of Jerusalem and enjoying the Channukah candles and Christmas decorations is fun. But if you want to learn a bit more about the holidays and about Jerusalem – I invite you to join me on a private tour of the city during the holiday season. Contact me at [email protected] for more info.
The Holiday of Holidays
One of the biggest holiday events in Israel is the Holiday of Holidays in Haifa. This fun festival will take place from 8 to 25 December this year and will include shows, tours, and many decorations. The festival celebrates Christmas, Channukah, and sometimes also Ramadan (when it falls in December). Since Haifa is known as the city of all religions, they celebrate all the holidays together.
Watch this excellent video by Uri Magnus to get the holiday spirit:
The New Year's Eve in Israel
At the end of December, there's New Year's Eve in Israel. We also celebrate this day, although we have our own Jewish New Year. If you want to be in the best location for New Year parties, I'd recommend aiming for Tel Aviv. The city is filled with bars, pubs, and nightlife venues and is the perfect place to start the year.
Explore the Israeli desert
December is a great time to explore the Israeli desert. Of course, you need to make sure it's not going to rain when you visit because there are flash flood hazards after rain. If the weather looks good, you can go on and explore the Negev and the Judean Desert. Some really nice places are Makhtesh Ramon (check out my Mitzpe Ramon guide for more information) and the area around the Dead Sea. It might be chilly to float inside, but it's beautiful from outside, too!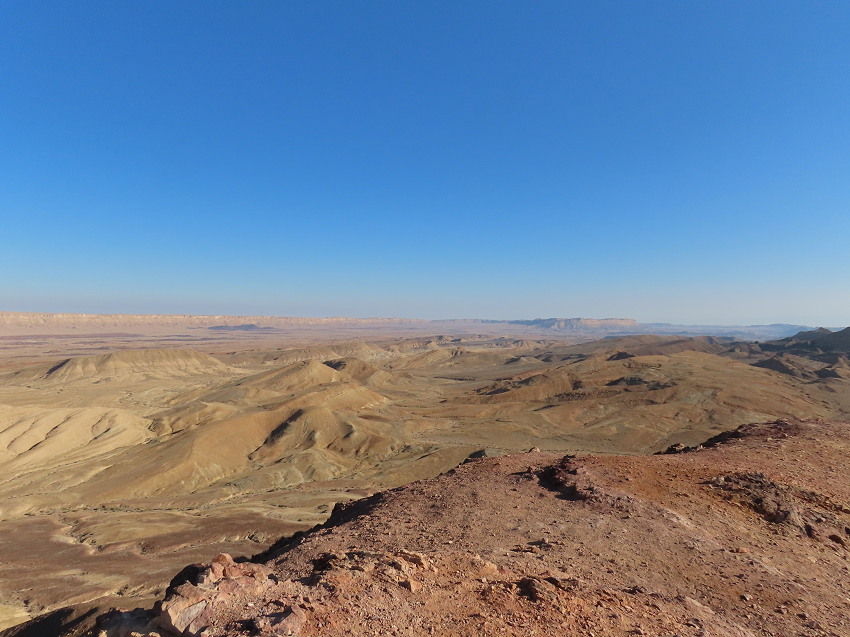 Enjoy the snow on Mount Hermon
I don't know how snowy it is in your origin country, but here in Israel snow is VERY rare! That's why we Israelis get very excited when out tallest mountain, Mount Hermon, gets covered in snow. If you also get excited from snow, you can head up north to Mount Hermon and enjoy the snow, that usually starts piling up in December. The ski season usually starts only in January, but you can still enjoy the white views and maybe even throw some snowballs.
If you decide to travel to Mount Hermon, you can also combine a trip to the Golan Heights, one of the most magical regions in Israel. There are waterfalls, streams, and water springs there, as well as beautiful and important archeological sites like Umm el-Kanatir and Gamla Nature Reserve.
Check out this video by Israel:
Visit some of Israel's top museums
When it's cold outside, it's a good idea to look for indoor activities. Luckily, Israel has TONS of excellent museums where you can spend hours of your day. In Jerusalem, the top museums include the Israel Museum and Yad Vashem's Holocaust Museum. For Yad Vashem, you need to make a reservation prior to your visit although it's free to enter. In Tel Aviv, you have the ANU Museum, the Tel Aviv Art Museum, and the Yitzhak Rabin Center. And in Haifa, you have the National Maritime Museum, the Madatech Science Museum, and the Immigration and Naval Museum. That's not all, of course. There are hundreds of museums all around Israel, but those are some of the best.
What to wear in Israel in December?
So, now that you know that there are plenty of things to do in Israel in December – what should you pack in your suitcase? I recommend bringing layers of clothes because you never know what would be the weather. Usually, the weather in Israel in December is chilly and sometimes rainy. So, bringing something warm is recommended, especially for the evenings. But if you're ok with temperature ranging around 18-25 degrees Celsius during the daytime, you can also bring something lighter. That's the average daytime temperature in December.
Of course, don't forget an umbrella or a raincoat in case it will rain! I recommend checking the weather forecast just before you come and see if rain is expected.
For more packing tips for December, check out my ultimate packing list for each season in Israel.
Conclusion
December might be colder and rainier, but Israel is a year-round destination, and you can find plenty of things to do here during the Israeli winter. It's also the best month for those who want to celebrate Channukah, Christmas, or New Year's Eve in the Holy Land! Have a nice time!
---
If you liked this post or found it useful, I'll be glad to get a like, share or comment from you (:
Also, feel free to follow this blog and like my Facebook Page – Backpack Israel.
Yours,
Lior