In 2019, I spent three nights with my friend in Abraham Hostel Tel Aviv. She came from abroad and had only five full days in Israel, so we decided to split it between Jerusalem, the Dead Sea, and Tel Aviv. And since I have not yet stayed in the famous Abraham Hostel Tel Aviv, which I've heard a lot about, I thought it would be an excellent opportunity to stay there. I told her: "If it is like the one in Jerusalem, then it should be awesome!"
Here's my full review of the hostel. 
Disclaimer: This post may contain affiliate links, including links from Amazon, meaning I get a commission if you decide to purchase through the links, at no extra cost to you. These links help me keep the website alive and not depend on sponsors! I appreciate your support.
As an Amazon Associate, I earn from qualifying purchases.
Here's a promotional video by Abraham Hostel Tel Aviv, which includes some shots from inside the hostel:
Short summary of Abraham Hostel Tel Aviv
Location: 5 stars – Perfect! It's near Rothschild Boulevard, and there are many restaurants and nightlife venues nearby.
Cleanliness: 5 stars – Everything was very clean.
Staff: 5 stars – The staff members were friendly and always at reception.
Security: 4 stars – I felt safe, but it seems like there are no security measures like in other hostels, such as an entrance code to the building. The doors seem always open.
Facilities: 5 stars – The common areas are huge and awesome. There's a cool bar and everything needed.
Atmosphere: 5 stars – Abraham Hostel always has something going on, but if you don't feel like doing something, there's always an option to chill out in one of the quiet corners of the hostel.
Value for Money: 5 stars – Compared to other hostels in Tel Aviv, it's reasonably priced (around 80-140 ILS for a bed in a dorm, depending on the season), and the facilities are great.
A detailed review of Abraham Hostel Tel Aviv
The location
The hostel is located in the heart of the city. Abraham Hostel Tel Aviv is just a few steps from Rothschild Boulevard, the first street in Tel Aviv. In this area, there are plenty of restaurants and nightlife venues. The Carmel Market is about a 15-minute walk from the hostel. The beachside and Old Jaffa are about a 30-minute walk. But if you don't feel like walking, you can always take a bus from one of the many bus stations near the hostel. The Central Bus Station is only 20 minutes by foot from the hostel, so yeah… The location is perfect!
The common areas
The lounge is enormous and offers a lot of resting places. It's the largest shared lounge I've ever seen, full of sofas, hammocks, and many types of chairs, which means you can rest in many different styles. If you don't feel like resting, you can play table soccer or snooker, watch TV in the TV room, or grab a drink from the bar, which operates from 6 PM till late. There's also a cool rooftop on the 3rd floor. There isn't a great view up there, but it was fun sitting there in the evenings, enjoying the nice weather.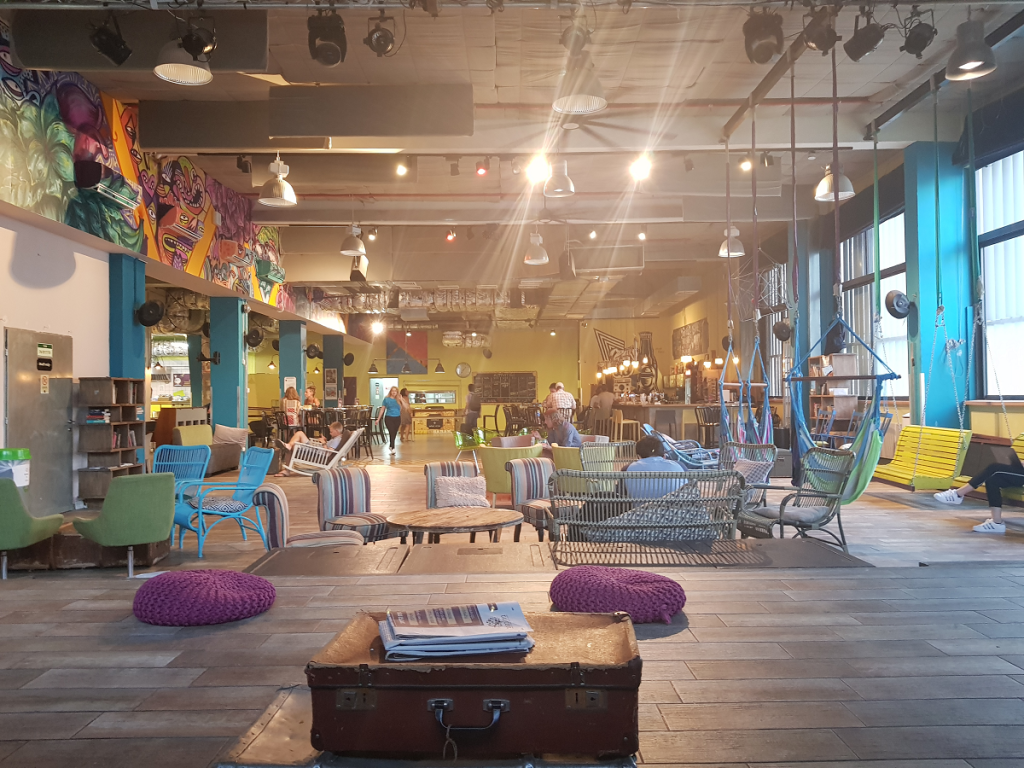 The dorm
The dorm is very spacious. We stayed in a 6-bed female-only dorm that actually had 8 beds. Everyone had enough space for their luggage and stuff. There was one sink, one shower, and one restroom, which was fine for us. If there's a queue, you can always go to the shared showers and restrooms, which are on the same floor as the dorms. There's soap in the shower if you forget yours.
The beds were comfy but a bit squeaky. Each bed has an electrical socket, a reading light, and a small shelf. When you first come in, you need to choose an available bed and place your name on the board according to your bed number. You also get bed linens and a towel when checking in.
There were both A/C and fans, which worked fine in the Israeli summer. The only thing that was a bit disappointing was that the lockers in the room didn't have locks, so we had to buy one from the reception. It costs 10 ILS. 
If you don't want to stay in a dorm, there are plenty of private room options, too.
Everything was very clean, both in the dorm and the shared spaces.
Breakfast
Breakfast is free and quite varied. It is served every day between 6:30 AM to 10 AM. They serve bread, halva, chocolate spread, jam, different kinds of cheese, salad, hard-boiled eggs, and cereal. You also have a free coffee and tea stand 24/7. You just have to wash all your dishes and cups after eating. 
If you prefer to make your own food, the shared kitchen is spacious and well-equipped. There are also two big refrigerators where you can keep your food.
Paid services
As I said, if you need locks for the lockers, you will need to pay 10 ILS, which isn't too bad. If you need to do laundry, there are laundry machines on the rooftop, which charge money. Also, if you forget to bring a beach towel, you can purchase one for 15 ILS and keep it.
Want a digital combination lock?
Abraham Hostel offers only a regular lock with a key, so if you want a lock with a code, you will need to purchase it in advance.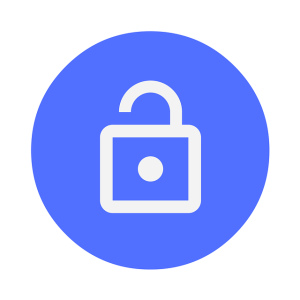 The staff
There were many staff members in the hostel, and they were all very friendly. Some even told us "good morning" when they passed by us on the staircase. When we did check-in, the staff member at the reception was very nice, explained everything we needed to know about the hostel, and answered all of our questions, including which bus leads to the airport.
The activities
There are tons of activities and tours. Abraham Hostels isn't only the main hostel chain in Israel but also one of the leading budget tour operators in Israel. There are plenty of self-guided and guided tours leaving directly from the hostel to many exciting places in Israel, so it's worth checking which tours happen on your travel dates. You can view hostel tours here. 
It's also worth checking out the hostel's weekly activities. There are many parties, cooking workshops, and language exchanges going on. Not all are free, but they are all on a budget.
Because we stayed in the hostel during Shabbat, we decided to join the hostel's Shabbat dinner. It costs 50 ILS per person, which is an excellent price for the amount of quality food you get. At the beginning of the dinner, you get a short explanation about what Shabbat is and the different Shabbat prayers and rituals. Then you begin the Shabbat feast, which in Abraham Hostel is mainly vegetarian, and get to know the fellow travelers who also came for the Shabbat dinner. Read more about Shabbat here.
Conclusion
Abraham Hostel Tel Aviv is the largest hostel I've ever been to, but despite its huge size, it felt like home. The staff members were always friendly and attentive, the breakfast was good (and free), the spaces were clean, and there was everything I needed for my stay in Tel Aviv. I was a bit disappointed that the hostel doesn't have locks for the lockers, but they sell locks for just 10 ILS, so it was OK. Also – I really liked the beautiful wall paintings in the main lounge! If you're looking for a hostel with quality facilities and an endless number of activities going on all week long – Abraham Hostel Tel Aviv could be the one!
STOP WORKING, START TRAVELLING!
Save this post for later!
Review written on June 2019. My stay in Abraham Hostel Tel Aviv was part of a personal trip and was not sponsored by Abraham Hostels or any organization.
If you liked this post or found it useful, please don't hesitate to like, share or comment (:
If you need any more advice, please don't hesitate to send me a message on my Facebook page or to contact me at [email protected].
If you're searching for a tour guide in Israel, I also offer private tours in Israel.
You can also support my work by buying me a coffee on Ko-Fi.  Your support helps me maintain the site and keep creating content about Israel. It's greatly appreciated!
Yours,
Lior