In Israel, we have our own holiday for celebrating love, and it's called Tu B'Av. But still, many people choose to celebrate their love also on Valentine's Day. This way, besides birthdays and anniversaries, they also have two more days to show love to each other. Since we're getting close to Valentine's Day, I wanted to share with you 5 places that I absolutely LOVE in Israel. You're welcome to share yours in the comments.
Mount of Olives Viewpoint
The Mount of Olives Viewpoint is one of the most beautiful lookouts in Israel. It overlooks the old and new City of Jerusalem, which I love as well. Day and night, this observation point is fantastic! The climb to the top is a bit challenging because you have to climb up a steep road or take a long flight of stairs, but if the weather isn't too hot, it's definitely worth the climb. If you prefer, you can also catch a taxi from the foot of the mountain.
There's a lot to see on Mount of Olives aside from the viewpoint. Learn more >> Read my post about things to do on Mount of Olives.
Tower of David Panoramic Viewpoint
Another beautiful viewpoint that I absolutely LOVE is the Tower of David Panoramic Viewpoint. You climb up to the top of one of the most ancient towers in Jerusalem – from the time of King Herod – and then enjoy a 360 degrees view of both the old and new city. My favorite view from here is the view of the Dome of the Rock over the background of Mount of Olives.
It costs 15 ILS to enter the viewpoint.
There is no elevator to the top of the tower, so people will mobility problems cannot go up there.
For more info, visit the official website of the Tower of David.
If you love viewpoints like me, there are many more beautiful viewpoints in Jerusalem. Learn more >> Read my post about the best viewpoints in Jerusalem.
Agamon Hula
Whenever I'm in the Upper Galilee, I like to stop here to enjoy a pleasant bicycle ride. In the center of Agamon Hula Park is a beautiful artificial lake where water birds rest, nutrias swim, and aquatic plants grow. Everything around is green – at least in springtime – and the path that encircles the lake goes on for about 8.5 kilometers, so I can easily bike here for around one or two hours (I'm a slow biker). Bikes can be rented at the entrance to the park, and if you prefer to walk around the lake, that's also possible.
They have made many changes to the site in recent years. Today, there is a fascinating visitors center at the entrance to the park, telling the story of the bird migration and the local fauna and flora.
There are some buses that stop close by, but the easiest way to get there is by car.
It costs 35 ILS per person to enter. If you would like to rent bikes or golf carts or to join a guided tour, that would cost you extra.
It's open Sundays to Thursdays from 8:00 AM to 4:00 PM and Fridays and Saturdays from 6:30 AM to 4:00 PM.
For more info, visit the official website of Agamon Hula.
Ein Avdat National Park
One of the most enchanting places in Israel is Ein Avdat. It's in the middle of the desert but is full of flowing water. The Tsin stream passes here in a beautiful canyon full of aqua plants and magnificent trees. There's a beautiful spot with a waterfall, and then you start climbing up a cliff where monks once lived in caves. I really like climbs and beautiful oasises in the desert, so this place in the Negev is one of my favorites!
The problem is that it isn't very accessible. You can get there by taking a bus to Sde Boker, but getting on a bus at the other end of the trail can be difficult. If you're coming with a car, that's difficult as well because you'll need one for pickup at the end of the trail. So… The only logical option is to go back the way you came.
This park is under the responsibility of the Israel Nature and Parks Authority.
It costs 28 ILS per adult to enter.
It's open Sundays to Thursdays and Saturdays from 8:00 AM to 5:00 PM, and Fridays from 8:00 AM to 4:00 PM. In winter, it closes an hour earlier.
If you plan to visit more national parks in Israel, I would recommend checking about the Israel Pass.
Makhtesh Ramon (the Ramon Crater)
I want to finish my list of favorite places with Makhtesh Ramon, also known as the Ramon Crater. This is one of Israel's greatest geological wonders. It is the largest of five erosion craters in the Israeli Negev and reveals ancient geological layers dating back millions of years ago. I love this place because it has so many colors and shapes and is full of wonderful hiking trails. But also those who don't like hiking can enjoy the view from the promenade in Mitzpe Ramon or drive down to some of the accessible parts of the crater, like HaMinsarah and the Nabatean Khan.
Learn more >> Read my full guide to Mitzpe Ramon (including details about Makhtesh Ramon).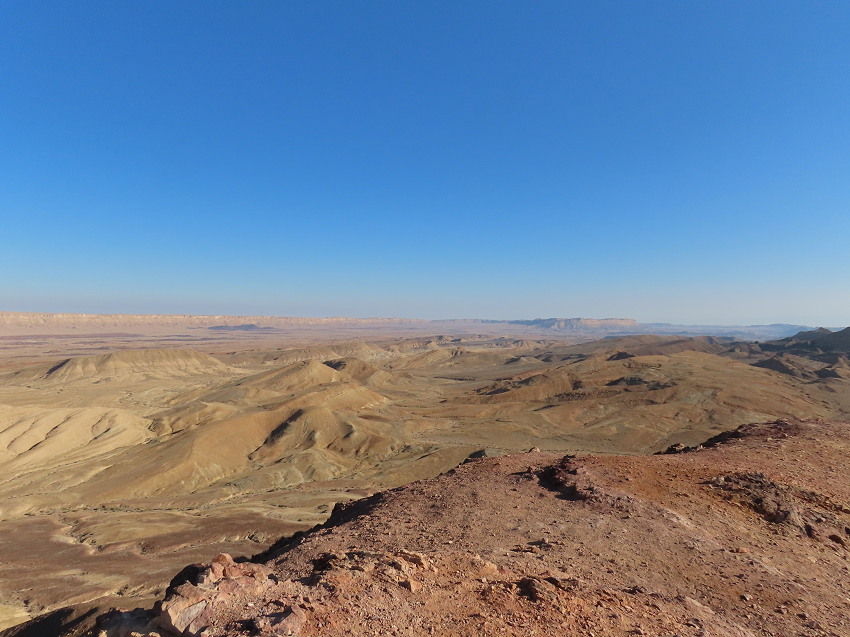 Sending you tons of love from Israel! Would love to hear your favorite places in Israel down in the comments.
---
If you liked this post, please don't hesitate to like, share or comment (:
Also, feel free to connect with me on Facebook – Backpack Israel.
Yours,
Lior