Tu B'Av, for those of you who don't know, is the time when we celebrate, here in Israel, "The Day of Love", a sort of "Valentine's Day". So in honor of the holiday, I want to express my love for Israel. Here are 10 things I love about Israel:
1 – It's Beautiful!
A lot of people imagine Israel as a wide, endless desert, but the truth is that Israel isn't just a desert. It's full of green forests, mountains, beaches, and sometimes there's even snow (on top of the highest peaks)! And the desert is also beautiful, with its colorful rocks. Come to Israel and see for yourself.
Here's a video from Israel:
2 – Israelis care about one another
If we see someone who seems lost, we will ask them if they need directions; if we see someone get hurt, we will stop and help as much as we can; if someone seems upset, we will try to cheer them up; if someone loses a job, we'll try to find them another one; if we hear on the news that one of our soldiers died, our hearts will go out to the family, and maybe we'll even attend the funeral. There will always be exceptions, but overall, we care for each other.
3 – The IDF
I absolutely love the Israeli Defence Force! We're a small army with a great heart. In Israel, men and women are obliged to join the army. I believe that the fact that most of us do two to three years makes us stronger and more united as a nation.
4 – The Holidays
We're a traditional family, so we celebrate the main holidays. In Israel, we have a lot of holidays, and some of us even celebrate not only Jewish holidays but also Christian and Muslim holidays. My family celebrates the Jewish holidays only, but there are a lot of them: about nine main holidays, if not more! On holidays, we all get together, eat something that's connected to the holiday, sing and have a great time. I love Passover the most, but Channuka, Rosh Hashana, and Sukkot are also fun times! Learn more about holidays in Israel.
5 – The Shabbat
As I said, we're traditional, not religious, but that doesn't mean I can't love the Shabbat here in Israel. Here in Israel, most stores and attractions close on Shabbat, and public transportation stops working. Then it gets much calmer. You can do things at your own pace on Shabbat. So I don't "observe the Shabbat", but I do love it.
Not sure what Shabbat is? Read more about Shabbat here.
6 – ELAL
Yeah, that's the main Israeli flight company. I love flying with them abroad and coming with them back home. I know that when I fly with ELAL, I'm in good hands. Our pilots are the best! And you can't imagine how happy I was to hear the flight attendant speak Hebrew after two months abroad, where I rarely heard Hebrew.
7 – The co-existence
Yeah, I know that most people don't think as I do, but I feel we have great coexistence here in Israel. Take Jerusalem, for example. The place is full of Jews, Muslims, and Christians, all walking around and living together. Yeah, there are sometimes some tensions and violence, but overall we're living together just fine. Arguments are always welcome as long as they don't lead to violence. Considering the situation, we have coexistence here, and it's magical.
8 – Hummus!
I love Hummus, one of the most popular food items here in Israel. You get it as a side dish in almost every Mediterranean restaurant, and you can add it to your pita every time you buy a falafel or shawarma, or just a regular schnitzel. We have it on our table every lunch. There are more food items that I love in Israel, but Hummus is one of the best.
9 – The History
We're not an old country – just over 70 years old – but we have a whole lot of history! And it's super interesting. Some of the buildings in Jerusalem are more than 2,000 years old, but if we'll look into the more recent years – we've got stories about the beginning of the Kibbutzim, about our wars, about the development of our language, about the first settlements and the many organizations that made Israel what it is today. So much history in this enchanting land!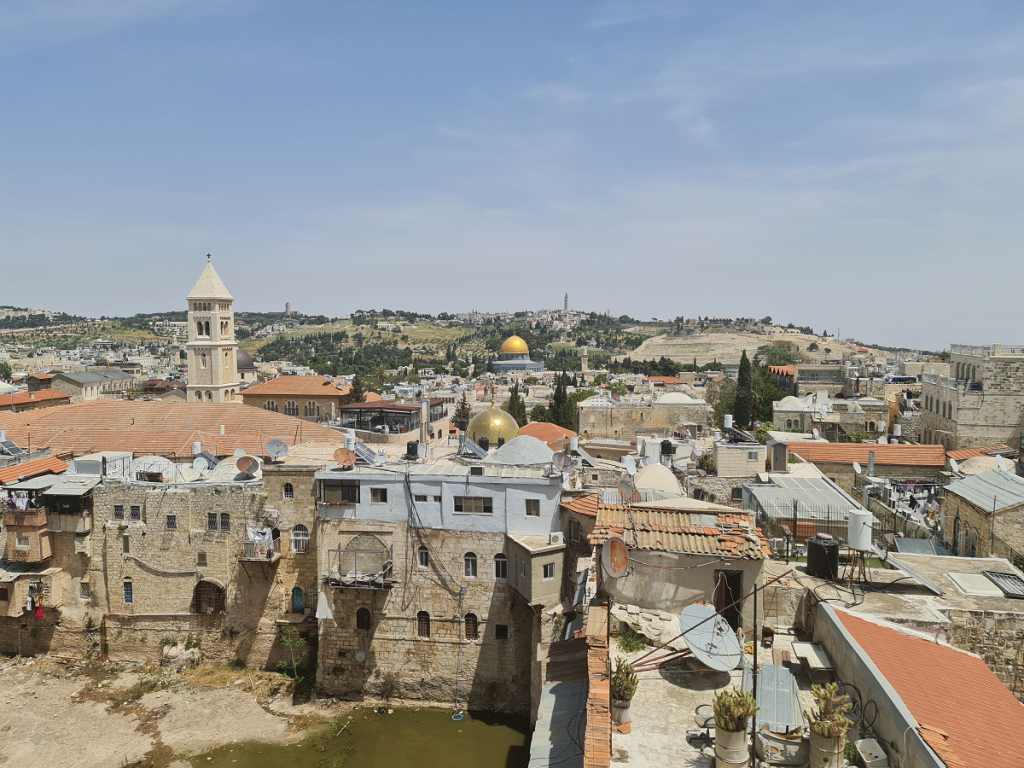 10 – Hebrew
I love speaking and hearing Hebrew, and you have plenty of it here in Israel. When I traveled abroad after my army service, I really missed hearing it. I love Hebrew!!! Learn some basic words in Hebrew here.
---
What do you love about Israel? Tell me in the comments!